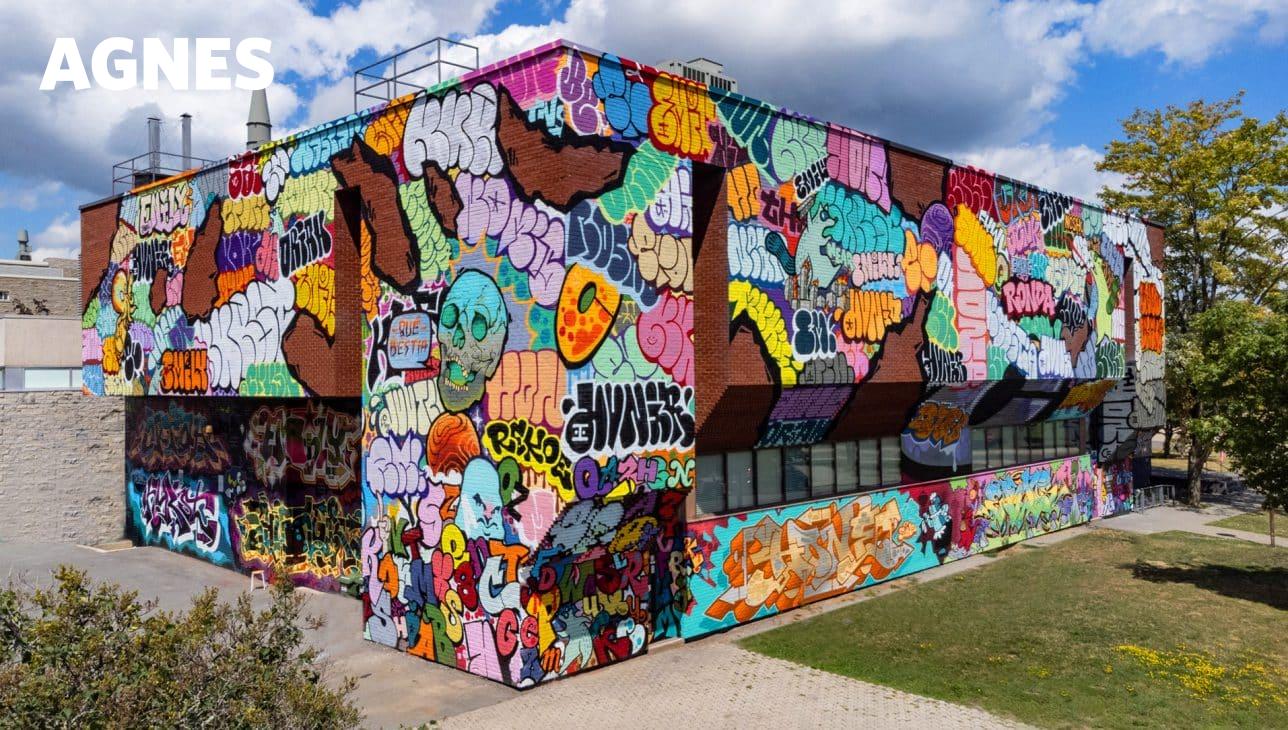 This Week at Agnes
Workshop
In-Person, 23 April, 2–4 pm
Led by Billie the Kid, From the Hearth, is a poetry and spoken word workshop. This session focuses on Community and Collaboration. Billie is a K'ai Taile Dené and Nehiyaw spoken word poet and storyteller and holds a Bachelor of Applied Science in Electrical Engineering from Queen's. Billie has performed at events across Turtle Island from CUPSI to the Canadian Festival of Spoken Word. All are welcome.  Sign up >
From the Hearth graphic, Artwork by Chantal Rousseau / Hero image: View of Transformations in progress, a site-specific commission by artists Oriah Scott, EronOne, HONE, HUNGR, AJ Little, Emily May Rose and guest graffiti artists from across the Montreal-Toronto corridor.
For Families
23 April, 2–3:30 pm
Creation Station is a free studio program designed to give families and children ages 2 and up an exploratory artmaking experience. Art educators ignite curiosity through painting, drawing, clay and mixed media activities. All required materials are provided.
This program is made possible by the Birks Family Foundation.
Creation Station. Photo: Garrett Elliott
Agnes is hiring!
Apply by 6 May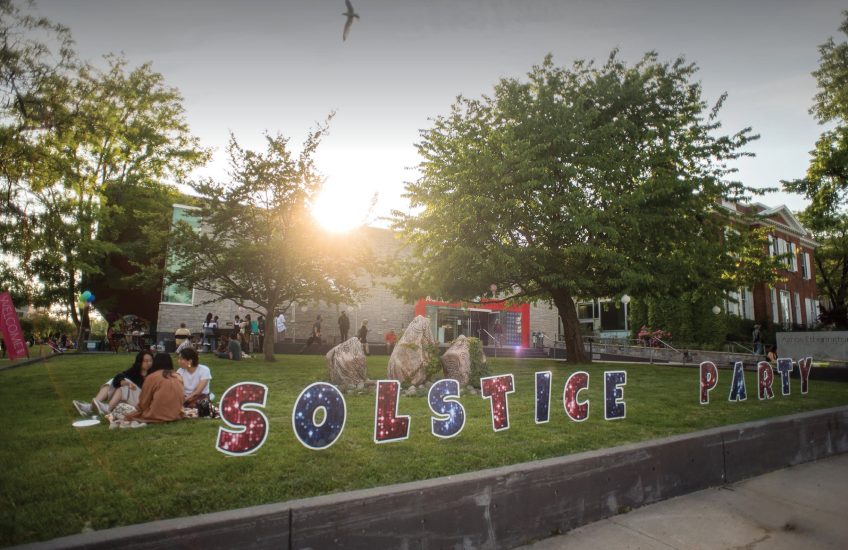 Are you an arts professional looking to gain hands-on experience in a variety of aspects of gallery work, paving the way for a future in the sector? Agnes is hiring! Join the team as Visitor and Events Liaison. (Full-time, 10-month-term, salary grade 5, $44,725–$46,274) Apply by 6 May 2023 >
Bringing a visitor-centric approach to the position and its key responsibilities, the Visitor and Events Liaison is uniquely situated at the convergence of many exciting aspects of Agnes and is a key player in all functions of the museum, from communications and outreach to greeting visitors and producing events.
Agnes's front facade during the Brown Butter Solstice Party.
Job Posting
Apply by 8 May 2023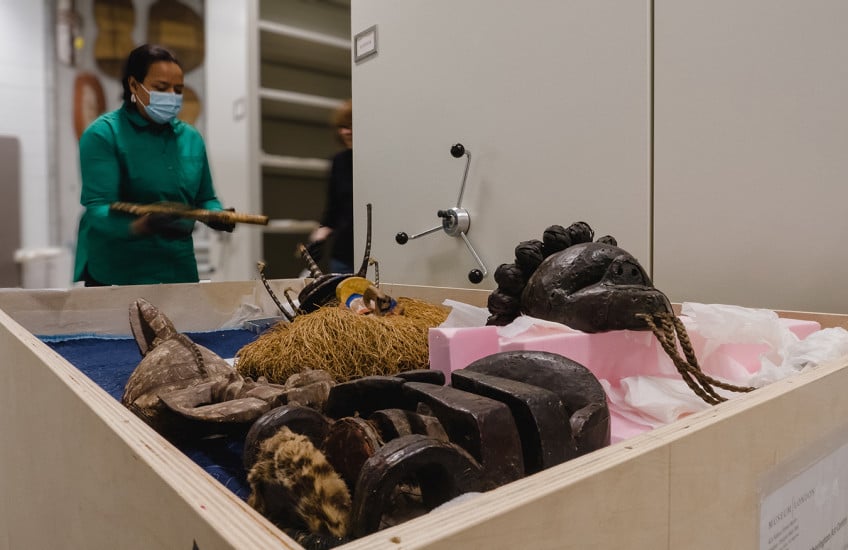 Agnes is seeking a dynamic and motivated culture leader to fill the role of Collections and Care Manager. This position plays a sector-defining and influential role that reimagines collection care within both a public and an academic setting. This is a full-time, continuing position, starting at $56,227/year + benefits. Join us at this pivotal and transformational moment in Agnes's future! See full job details and apply. >
Curator Qanita Lilla works with the Agnes team to move African Art.
AGNES COLLECTS
Available on Digital Agnes, Vimeo and YouTube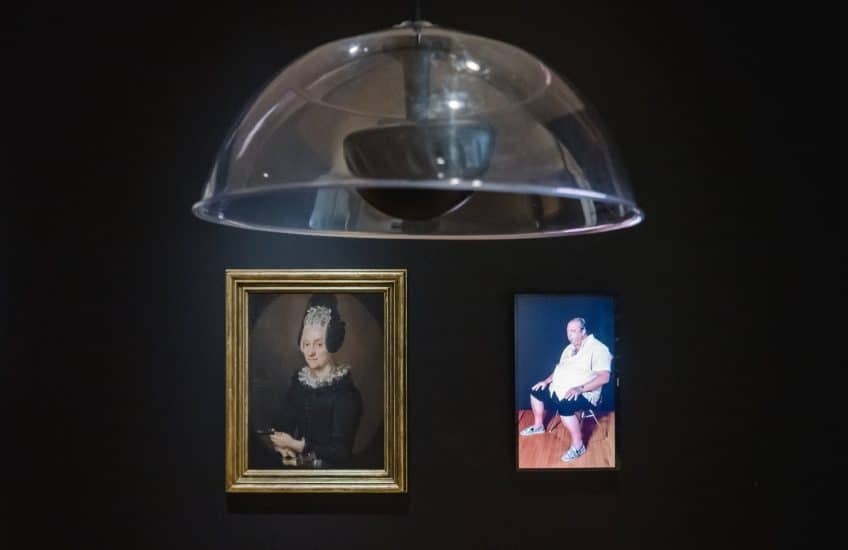 Collection Count + Care seeks relationships within and conversations across the collection. What stories does the collection tell? Working with embodied, haptic and affective modalities to enliven western art historical research, DisplayCult's (Jennifer Fisher and Jim Drobnick) Portraits as Portals is an art project that conjures the etymological roots of exhibition—"to hold forth"—in ways that work through Agnes's collections.
Portraits as Portals comprises an exhibitionary output of The Medium in the Museum, a research-creation project by Jennifer Fisher and Jim Drobnick, supported by the Social Science and Humanities Research Council of Canada. Watch now>
Installation view of Collection Count + Care with DisplayCult, Portraits as Portals. Photo: Tim Forbes
Community Partner: Modern Fuel Artist-Run Centre
Submit by 30 May 2023
Modern Fuel Artist-Run Centre is currently accepting submissions to its arts and culture publication, Syphon 8.0: Tenderness. They are accepting full, finalized submissions that include poetry, essays, creative writing (including flash fiction, short stories, etc.), exhibition reviews, curatorial interviews with artists, as well as visual works including but not limited to photography, digital illustrations/design, collages, and high-quality images of physical pieces. Learn about the call and how to submit >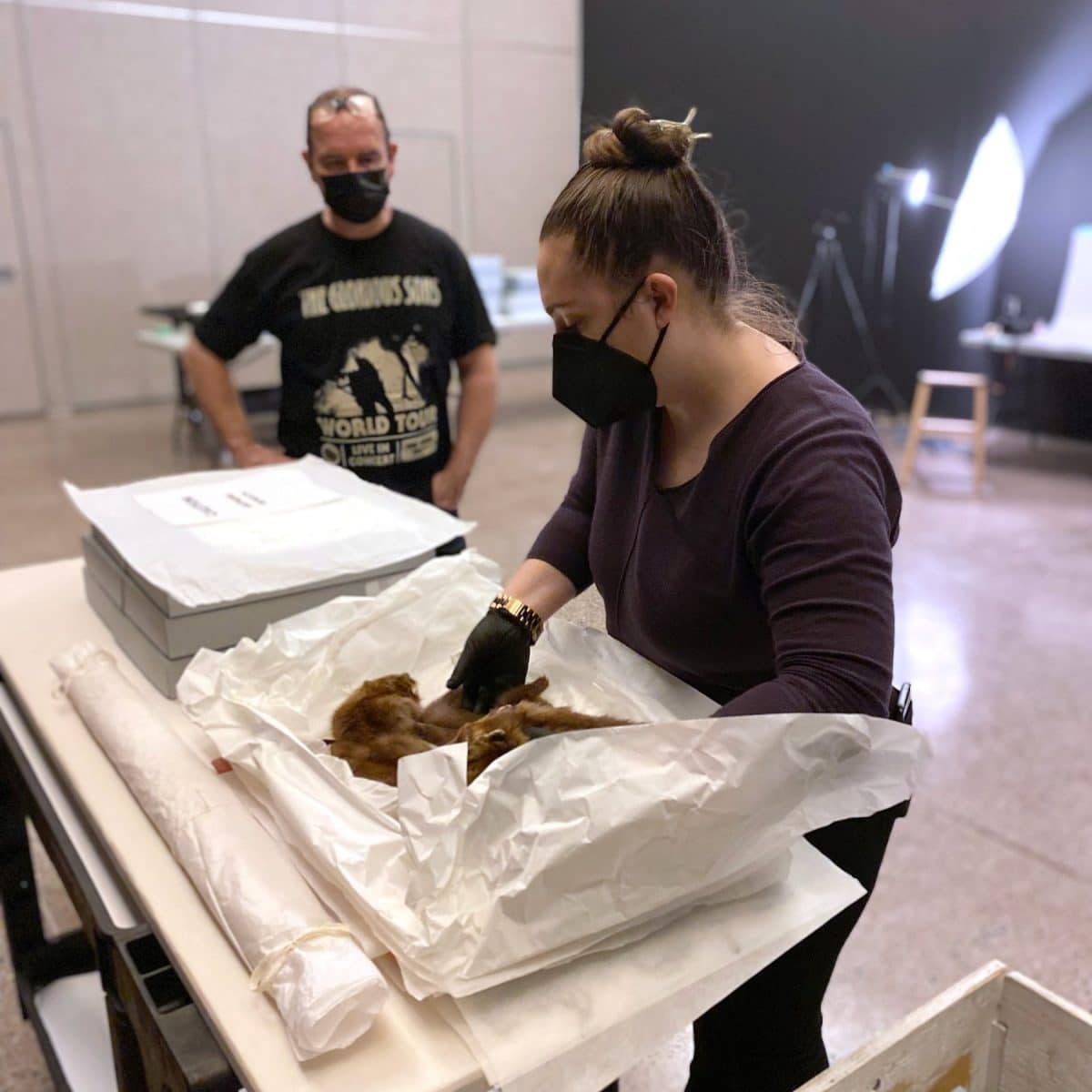 Marissa Monette and Bernard Clark document items from the Collection of Canadian Dress.
Queen's University
36 University Avenue
Kingston, Ontario
Canada K7L 3N6
Agnes Etherington Art Centre is situated on traditional Anishinaabe and Haudenosaunee Territory.