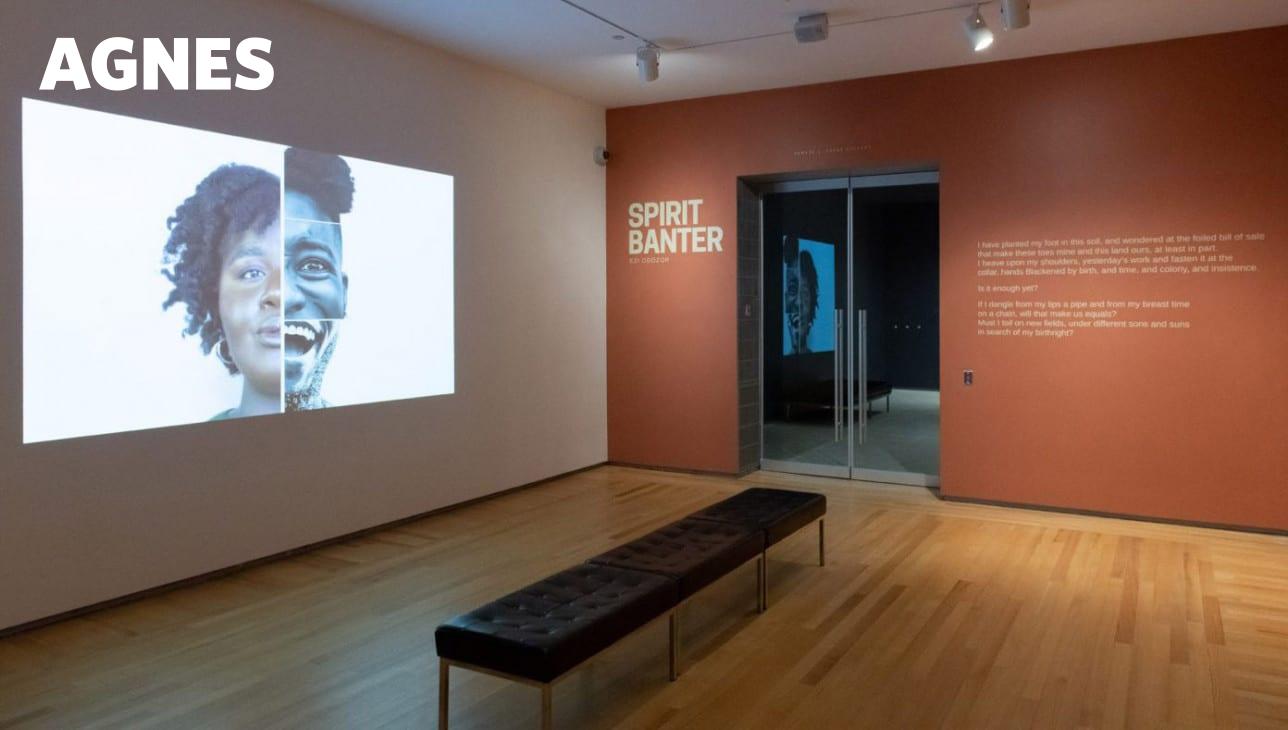 This Week at Agnes
Digital Agnes
Online extension
While we wait for the galleries to reopen, spend time with the new online extension of Ezi Odozor's commissioned long-form poem Spirit Banter. Her work creates a narrative arc between the exhibitions History Is Rarely Black or White and With Opened Mouths. The poem functions with roots and routes for interpretation and experience that are both at once unique and shared.
Ezi (Ezinwanne) Odozor is a Nigerian-born writer, student support specialist, and anti-racist practitioner based in Toronto. Her work, both fiction and non-fiction, focuses on themes of identity, culture, gender, race, health and intimacy. Her writing has also been showcased in multiple exhibits, most notably in Oluseye's "A Room Full of Black Boys," which was featured on CBC.
Curated by Emelie Chhangur
Supported by the Ontario Arts Council, an agency of the Government of Ontario.
Installation views of Spirit Banter: Ezi Odozor.
Making Art Work: Professional Development Series
Online, 18 January, 6–7:30 pm (ET)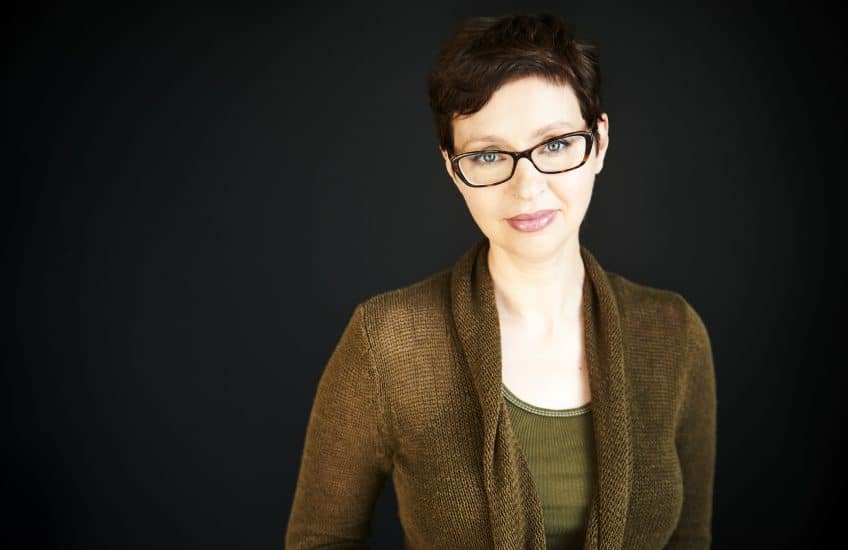 Tax season can be stressful, especially for freelancers working in the arts! Tax preparer Tova Epp from Artbooks has over 12 years of experience doing the taxes of many incredible artists. During this session, she talks about what artists and independent curators should collect and track throughout the year, how to prepare for tax season, saving for retirement and why some people choose to incorporate. Sign up.
Tova Epp is a tax preparer/actor/certified animals-in-disaster rescuer. She's been working at Artbooks for over 12. Tova graduated with a BFA-Distinction from Concordia University. Agnes Etherington Art Centre, Modern Fuel Artist-Run Centre and Union Gallery are pleased to co-present the 2021–2022 Professional Development Series.
Supported by the Canada Council for the Arts.
Art and Wellness
Online, every Thursday through 17 March, 4­–5:30 pm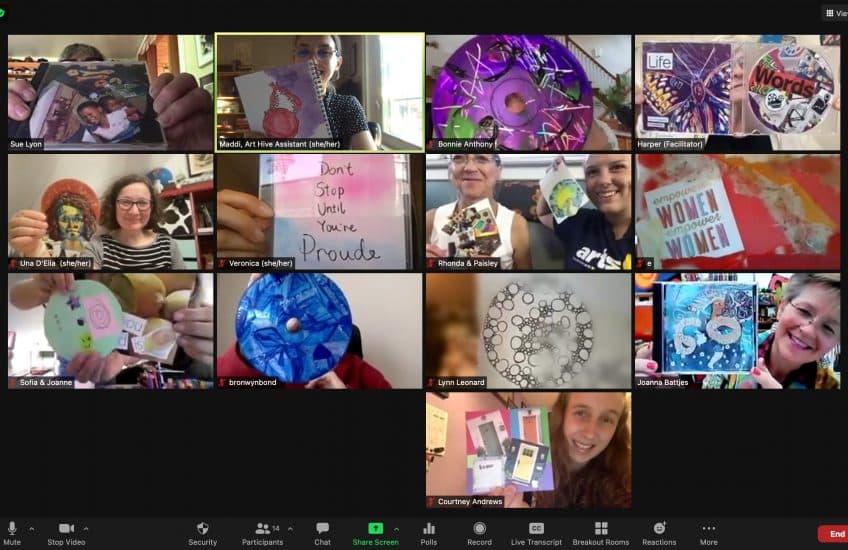 Since our first Virtual Art Hive @Agnes in April 2020, the program has grown to become an online community of care. We invite you to create while finding inspiration through weekly themes and conversations. Professional art therapist, Harper Johnston, leads the workshop and has over thirty years of experience working as an arts educator. All levels of artistic experience are welcome. Sign up.
Watch a short video about Agnes's Art Hive.
This program is made possible through the generous support of the Birks Family Foundation.
Virtual Art Hive @Agnes, 2021
2022 Stonecroft Artist-in-Residence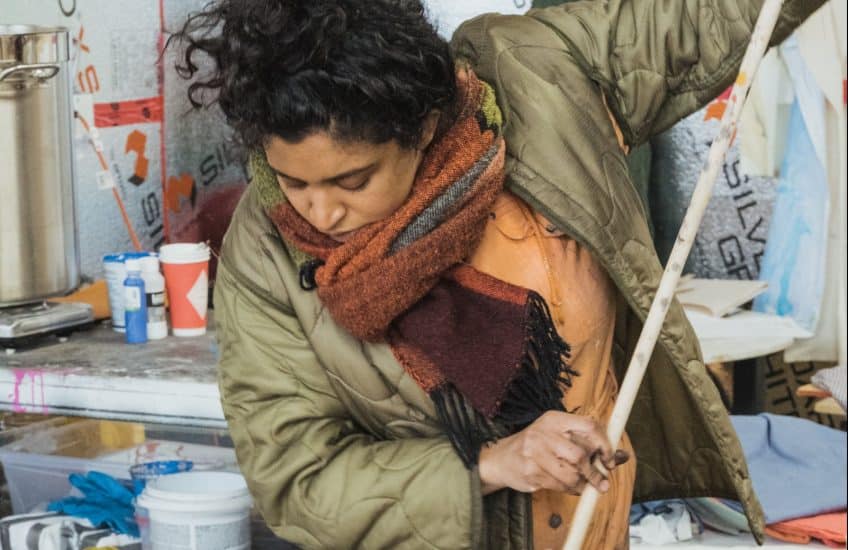 We are thrilled to announce and honoured to host one of Canada's most important artists, Rajni Perera, as Agnes's 2022 Stonecroft Artist-in-Residence. Drawing inspiration from across contexts and continents and space-time continuums—from black holes to Rajput miniatures, Manga to Mecha-Droids—Rajni's composite aesthetics constitute new mythologies birthed from multiplicity. Working in painting, sculpture, textile, and wearable creations, she mixes high and low, science and science-fiction, pop-loric and folkloric forms and references in artworks that point to paradigmatic shifts happening in Canada's visual culture today. Read more.
Curated by Emelie Chhangur with Michelle Bunton and Sunny Kerr
The Stonecroft Artist-in-Residence is generously funded by the Stonecroft Foundation.
Rajni Perera working in her studio, 2021. Courtesy of the artist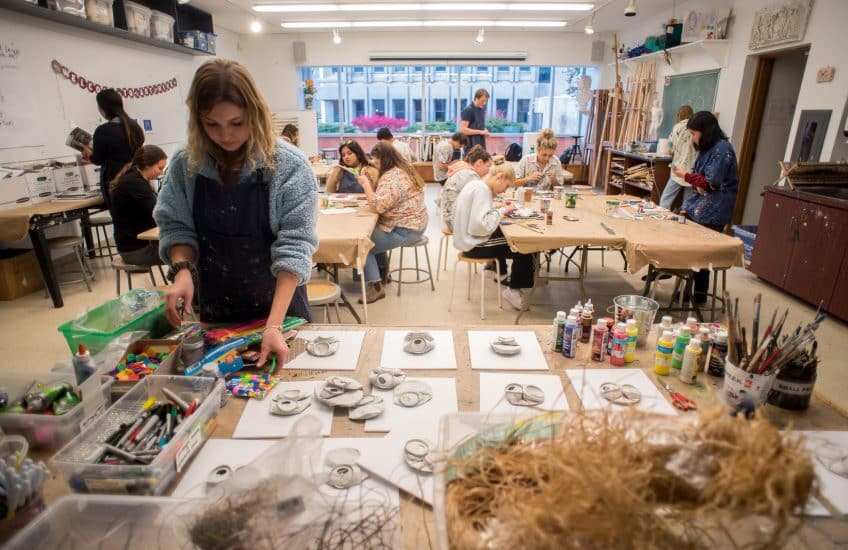 We are pleased to announce a new partnership with CIBC Private Wealth, Wood Gundy Kingston. Johnson, Johnston, and Macrae Investment Group is the sponsor for Agnes's Art and Wellness Speaker Series and other artist-driven programs that promote community-engagement over the next three years!
"CIBC Private Wealth in Kingston is thrilled to support Agnes, a vibrant and culturally dynamic organization. CIBC Private Wealth serves the community by enriching quality of life for families and businesses, much in the way art empowers us with a sense of purpose, improving our lives through creativity and nourishment" says Jamie Vickers, Branch Manager, Kingston, CIBC Private Wealth. "This partnership is a wonderful vehicle for our valued clients to learn about the art world through gala events and the Art and Wellness Speaker Series. Art persuades us to see the world from a thoughtful and diverse perspective, promoting entrepreneurial and productive energy. In the world of wealth management, what separates us from the rest is our ability to leverage this energy to do great work with our clients. Investing in the arts is investing in the community, and that is a shared value, and the crux of everything we do."
Building on the success of our 2020 Art and Wellness Speaker Series pilot project, Agnes Cares: Art and Wellness Speaker Series (Fall 2022) welcomes those working in art and wellness and those looking to learn more about its generative intersection. Community-centred panels, performances, talks and workshops mobilize the transformative power of art to create more equitable, inclusive and sustainable worlds. Stay tuned for more information.
Art Hive @Agnes. Photo: Garrett Elliott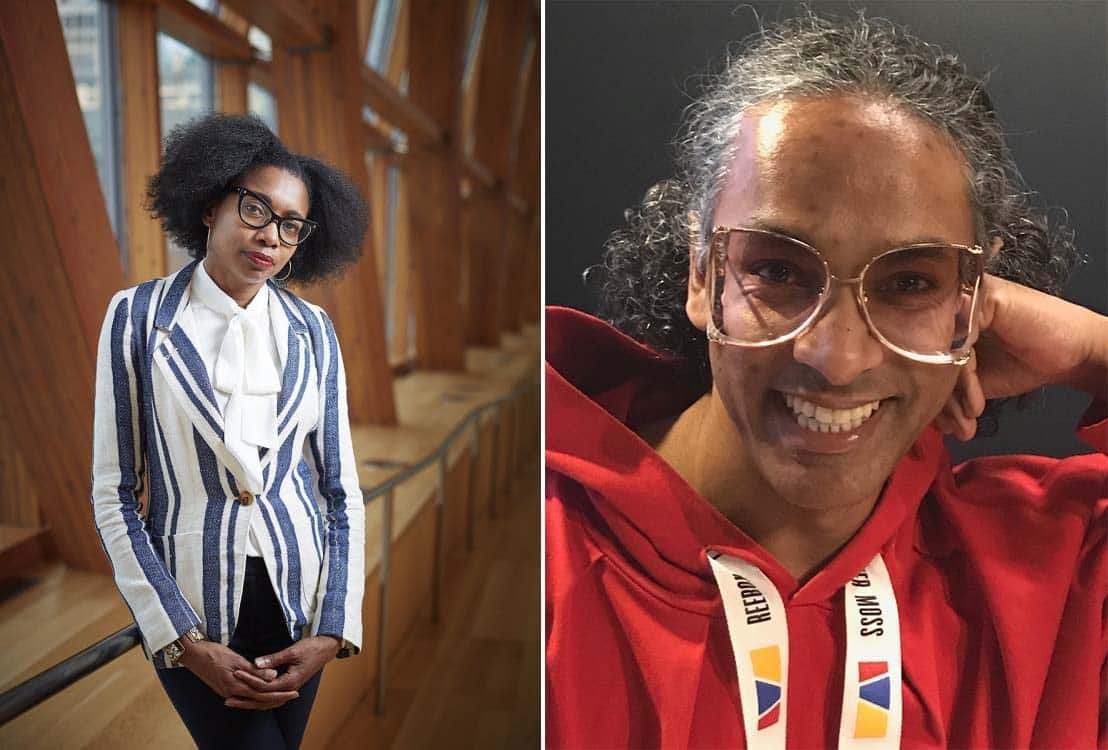 Portraits of Julie Crooks and Nigel Lezama
Queen's University
36 University Avenue
Kingston, Ontario
Canada K7L 3N6
Agnes Etherington Art Centre is situated on traditional Anishinaabe and Haudenosaunee Territory.