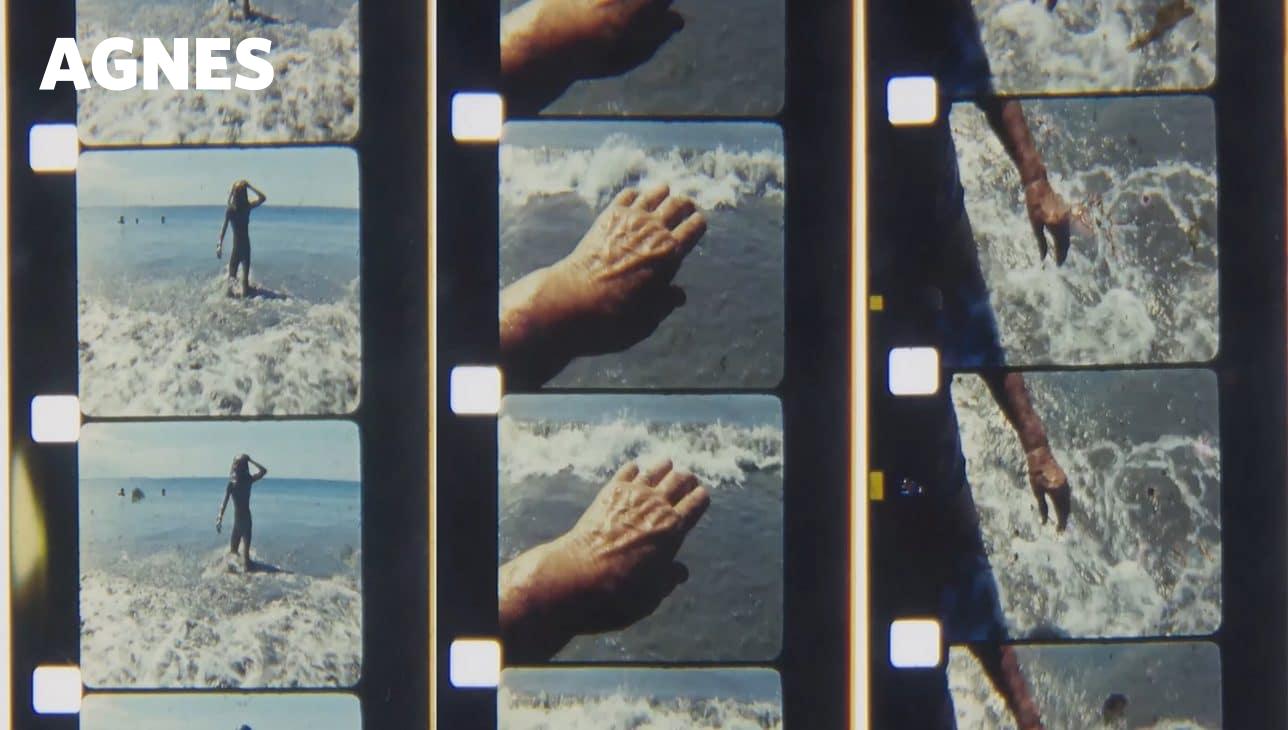 This Week at Agnes
SCREENING, CONVERSATION + WORKSHOP
5 + 6 April 2023
Screening + Conversation
5 April, 6–8 pm, The Screening Room, 120 Princess St, Kingston
Sign up >
Workshop with Sofía! (for students)
6 April, 3:30–6:30 pm, In-person at Agnes
Sign up >
Sofía Gallisá Muriente is an artist whose research-based practice resists colonial erasures and claims the freedom of historical agency, proposing mechanisms for remembering and reimagining. Sofía has been a fellow of the Smithsonian Institute, Annenberg Media Lab at USC and the Flaherty Seminar, and participated in residencies such as Alice Yard (Trinidad & Tobago), FAARA (Uruguay) and Fonderie Darling (Montreal). She has exhibited in Documenta Fifteen, the Whitney Museum, the Queens Museum, ifa Galerie and Savvy Contemporary in Berlin, Museo de Arte Contemporáneo de Puerto Rico, and galleries like Km 0.2 and Embajada.  See details >
Sofía Gallisá Muriente, manos playa, still. / Portrait of Sofía Gallisá Muriente. Photo: Alberto Santiago. Courtesy of the artist
Workshops
In-Person, 6 April, 6:30–8:30 pm and 23 April, 2–4 pm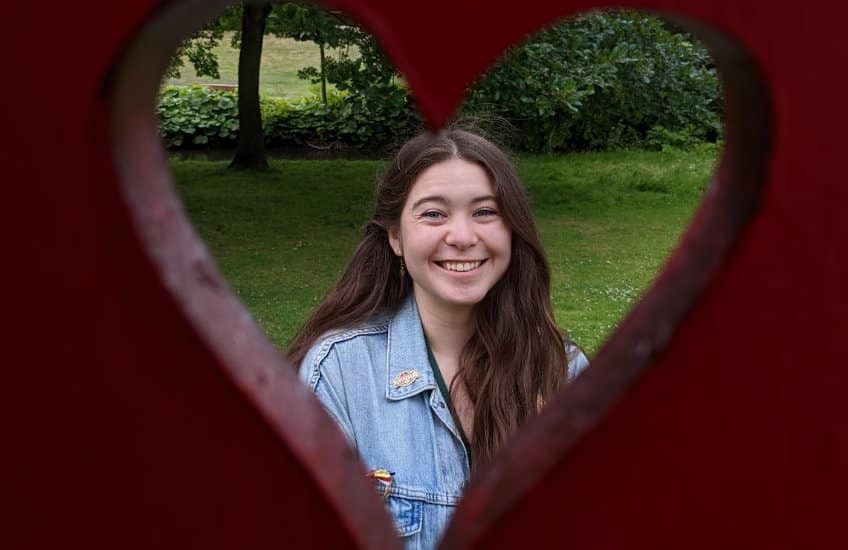 Led by Billie the Kid, From the Hearth, is an in-person poetry and spoken word workshop series that expands our circles of care to embrace the journeys, stories and connections we share as humans. All are welcome and no experience is required. Participants can register for individual workshops, or join the final two in this series. Learn more and sign up >
Portrait of Billie the Kid
Special Thanks
2022–2023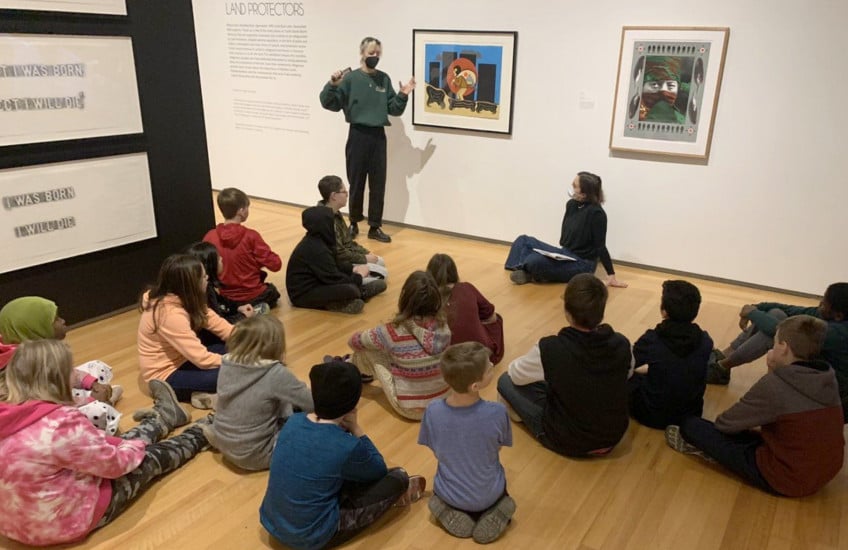 As the second semester comes to an end, we'd like to make a shout-out to our incredible team of student docents: Sophia Ceccucci and Claire Dobbie (Head Docents), Jarah Carlson, Paige Chiusolo, Genna Gatieri, Cicely Haggerty, Carolyn Kane, Emily Li, Fiona McMillan, Emma Moore, Sonia Riabtchik, Ilinca Stingaciu, Sarah Tomkins and Shu Wang! In the fall they led 1300 students (57 classes) in grades 1–12 through the exhibition Land Protectors and facilitated a studio-based project, volunteering over 550 hours. This winter while Agnes is on retreat, the docents turned their eye to our digital programs and have been researching, writing and recording a series of new Agnes Learns videos which will launch on Digital Agnes in fall 2023.
Thanks to the generous support of the Lloyd Carr-Harris Foundation, Agnes's student docents get to participate in unique professional development workshops such as the KAIROS Blanket Exercise. They attend training sessions to deepen their knowledge of arts education and strengthen their presentation skills.
Student Docents lead a school program through the exhibition Land Protectors.
Agnes is hiring!
Apply by 8 May 2023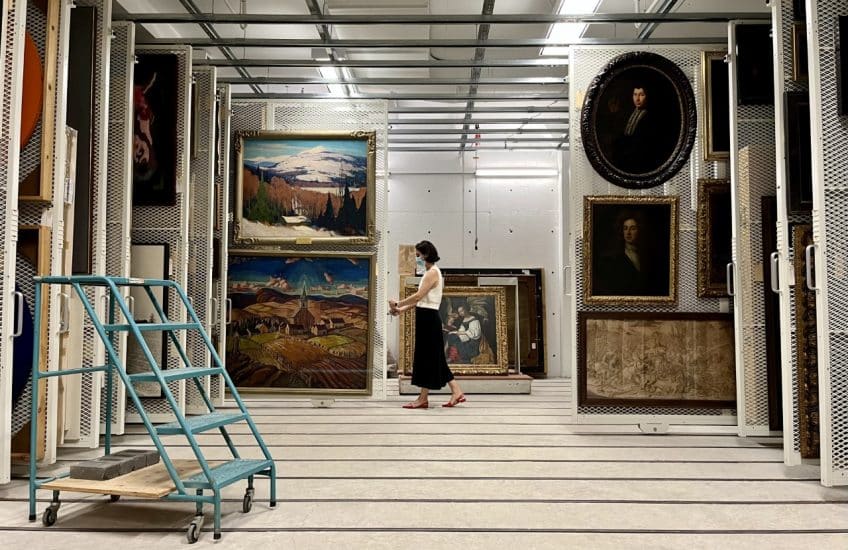 Agnes is seeking a dynamic and motivated culture leader to fill the role of Collections and Care Manager. This position plays a sector-defining and influential role that reimagines collection care within both a public and an academic setting. This is a full-time, continuing position, starting at $56,227/year + benefits. Join us at this pivotal and transformational moment in Agnes's future! See competition #J0223-0894 at Queen's University CareerQ site for full job details and to apply. Read more >
Agnes's collections include contemporary art, historical Indigenous, Canadian, European and African art, textile and material culture, and historicized Indigenous ancestors and cultural belongings.
AGNES COLLECTS
Available on Digital Agnes, Vimeo and YouTube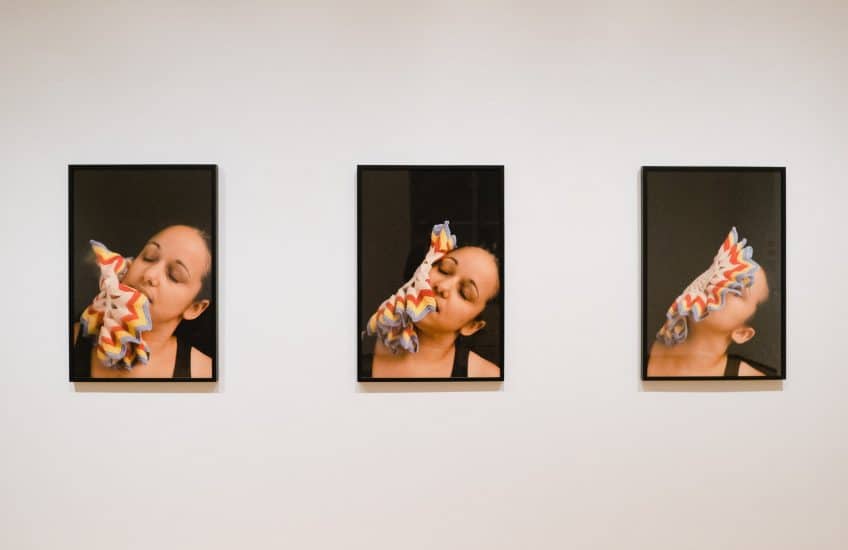 Collection Count + Care seeks relationships within and conversations across the collection. What stories does the collection tell? Suzanne van de Meerendonk, Bader Curator of European Art, presents Erika DeFreitas's, A Teleplasmic Study with Doilies (A Selection), 2010–2011 with Rembrandt van Rijn's Head of an Old Man in a Cap, around 1630. Brought together, their work brings into focus an array of tensions between study and portrait, the visible and invisible, surface and depth, self and other, and loss and creation.
Erika DeFreitas, A Teleplasmic Study with Doilies (A Selection), 2010–2011, digital photographs (3). Gift of Allyson Mitchell and Deirdre Logue, 2021
Agnes's façade
Queen's University
36 University Avenue
Kingston, Ontario
Canada K7L 3N6
Agnes Etherington Art Centre is situated on traditional Anishinaabe and Haudenosaunee Territory.