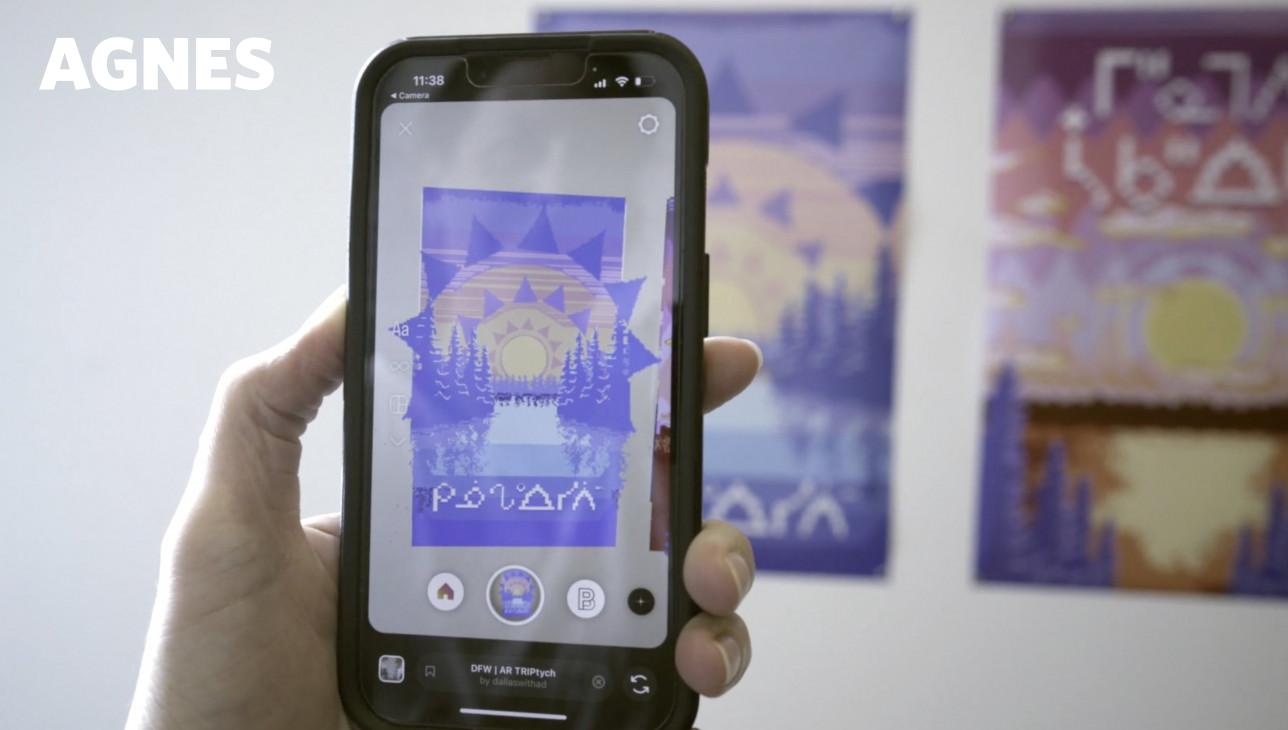 This Week at Agnes
Exhibitions on view
On view until 12 November!
You have two weeks left to visit or revisit two exhibitions currently on view. Emergence highlights important early and mid-career works of art by contemporary Indigenous artists from across Turtle Island, North and South. As a collection, these works provide a cohesive vision of the approaches and concerns of artists working in the 1970s. Mmaandaawaabi (see a wondrous sight) features the work of Preston Buffalo, Dallas Flett-Wapash, Quinn Hopkins and Casey Koyczan, four Indigenous artists whose digital practice reflects upon and engages with Indigenous worldviews and epistemologies through new media and AR technology. Our galleries are in turnover starting 13 November as we get ready for the new season of exhibitions!
Hero image: Dallas Flett-Wapash, AR Triptych, Panel 1 | Ahsiwahoochikan, Wapan (Norway House: Pulled by the Ferry, at Dawn), digital augmented reality print, 2020.
Save the date
In-Person, 1 December, 6–9 pm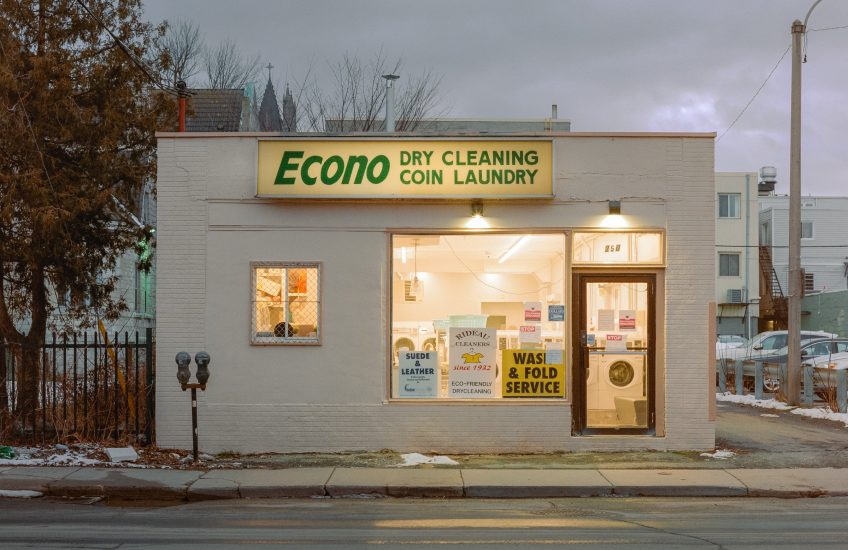 Celebrate the final exhibitions in Agnes's current facility! This season is Agnes's love letter to Kingston. It is written as a constellation of solo exhibitions, commissions and interventions that rightfully celebrate and elevate the culture and artists of our hometown. Sign up to save your spot >
Members' Preview, 5–6 pm
Join Agnes's growing community of supporters and make art accessible for all. Not yet an Agnes member or need to renew? Join/Renew now!
Jay Bridges, Wash and Fold (detail), 2021, Bronica SQ A, Kodak Portra 800. Courtesy of the artist.
Agnes Off-Site
In person, 3–4 November 2023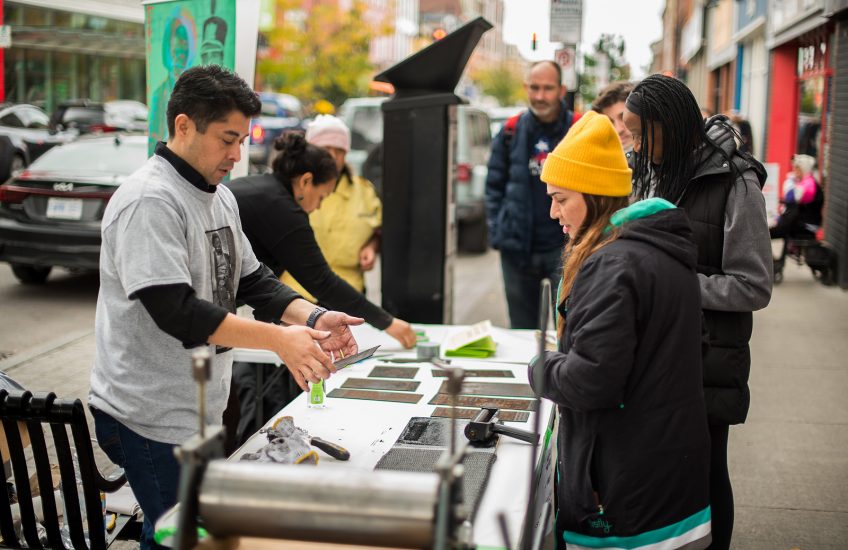 Tracing Kingston's Solidarities is a series of performance pop-ups that looks to activate Kingston's rich history of Black life. Each day focuses on a person or family and their history in the city. Gesturing toward abundant print histories and archives, a mobile printing press is activated at various locations in Kingston. The public is invited to print t-shirts and pick up a brochure that explains the life behind the images. In this way, the performance responds to a hidden history and scrutinizes both visible and invisible pasts.
3 November, 10 am–3:30 pm:
Queen's Athletics & Recreation Centre, 284 Earl Street
4 November, 1–5 pm: Agnes's Atrium
Tracing Kingston's Solidarities is a collaboration between interdisciplinary artist Alejandro Arauz and Agnes's Associate Curator, Arts of Africa Qanita Lilla.
Tracing Kingston's Solidarities: Alejandro's mobile press activated outside 120 Princess Street, in front of Hoopla Press and Gallery in downtown Kingston. Photo: Garrett Elliott
In-Person at Agnes, 9 November, 6:30–8 pm
Join us for a joint book launch and a dazzling evening of Black poetic performance! Introducing new work by Britta B, DM Bradford, and Otoniya J Okot Bitek with a Q&A hosted by Kingston's poet laureate, Sadiqa de Meijer. Free, sign up >
In partnership with Queen's Black Studies and Gender Studies.
Four Poets, Three Celebrations! poster cover.
The Studio
In-Person, 11 November, 1:30–4:30 pm
The Studio is a place to meet innovative practicing artists from Kingston and across Canada. This November, Clelia Scala leads a workshop that focuses on the exploration of character creation through the design, sculpting and shaping of a Worbla half mask. All materials are included in the workshop fee ($25). A limited number of bursaries are available. Learn more >
Art and well-being
In-Person at Agnes, 7 November, 10:30–11:30 am
We invite folks 16+ to join us for this free and accessible program. Located in Agnes's galleries, these mindful movement sessions respond to the artworks in the exhibition Emergence and inspire individuals to move creatively in ways that make them feel good.
This program is facilitated by Amy Booth, a registered Physiotherapist and dance educator. Sign up to save your spot >
Creative Movement in Emergence.
11 November, 1:15–2 pm
Slow down and deeply observe works in the exhibition Emergence. Guided by Agnes docents, this contemplation practice allows for relaxation and new insights. Sign up >
The docent program is supported by the Lloyd Carr-Harris Foundation.
Norval Morrisseau, Shaman and Apprentice (detail), 1979, serigraphs on paper. Gift of Guardian Capital Group Limited, 2020. Permissions from the estate of Norval Morrisseau. OfficialMorrisseau.com
Thursdays, to 16 November, 4­–6 pm
Artmaking is innately therapeutic and can improve general well-being. We invite adults 16+ to explore the creative process through experimentation and play. Art Hive @Agnes is free; materials are provided and no prior art experience is necessary. If you are looking for guidance, Harper Johnston, art therapist and facilitator, is onsite to offer encouragement. Sign up >
Art Hive at Agnes. Photo: Garrett Elliott
Studio time for Families
In-person, 12 November, 2–4 pm
This final session of 2023 is full. More planned for 2024! Creation Station is a free studio program designed to give families and children ages 2 and up an exploratory artmaking experience. Art educators ignite curiosity through painting, drawing, clay and mixed media activities.
Watercolour in the studio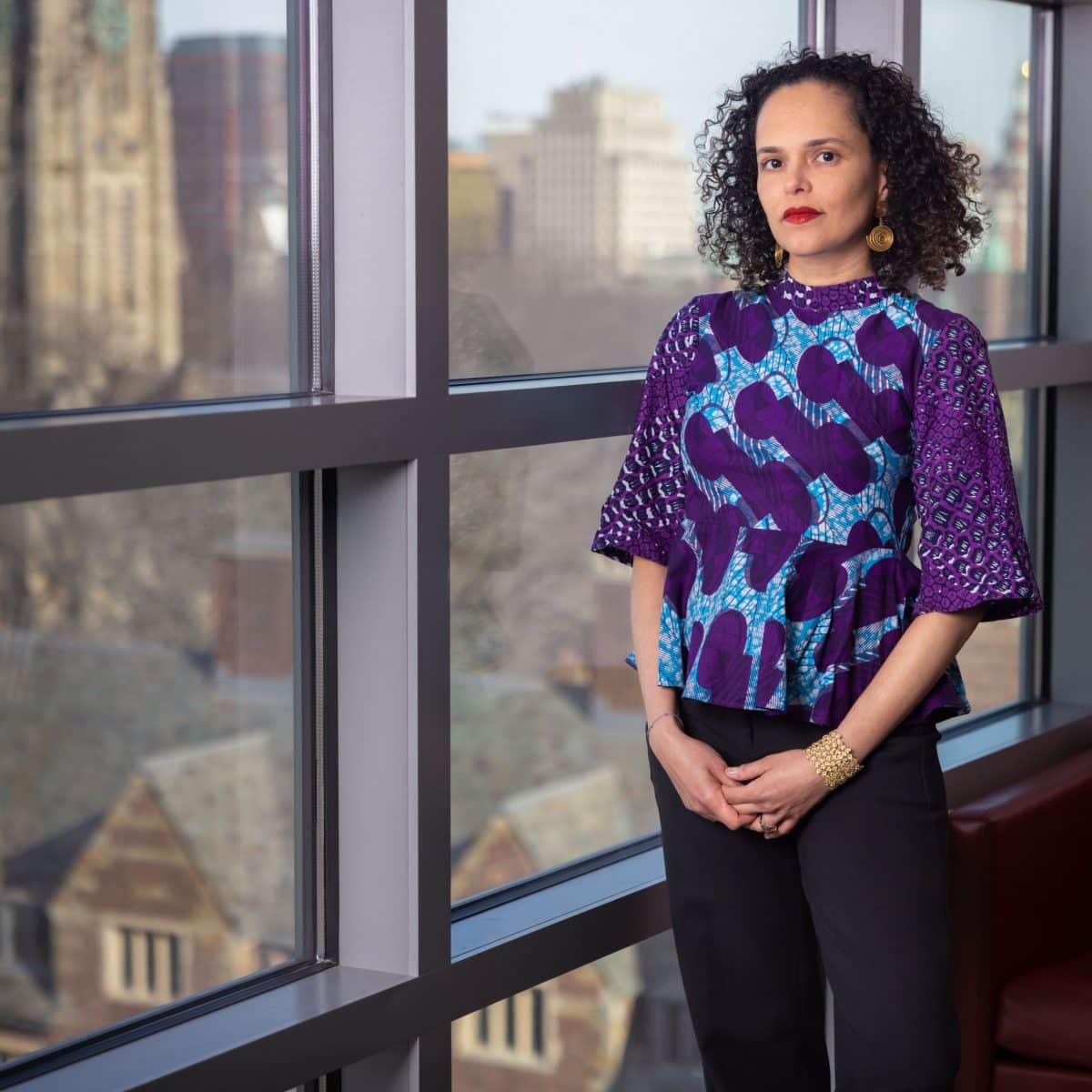 Portrait of Cécile Fromont. Photo: Yale/Dan Renzetti
Queen's University
36 University Avenue
Kingston, Ontario
Canada K7L 3N6
Agnes Etherington Art Centre is situated on traditional Anishinaabe and Haudenosaunee Territory.