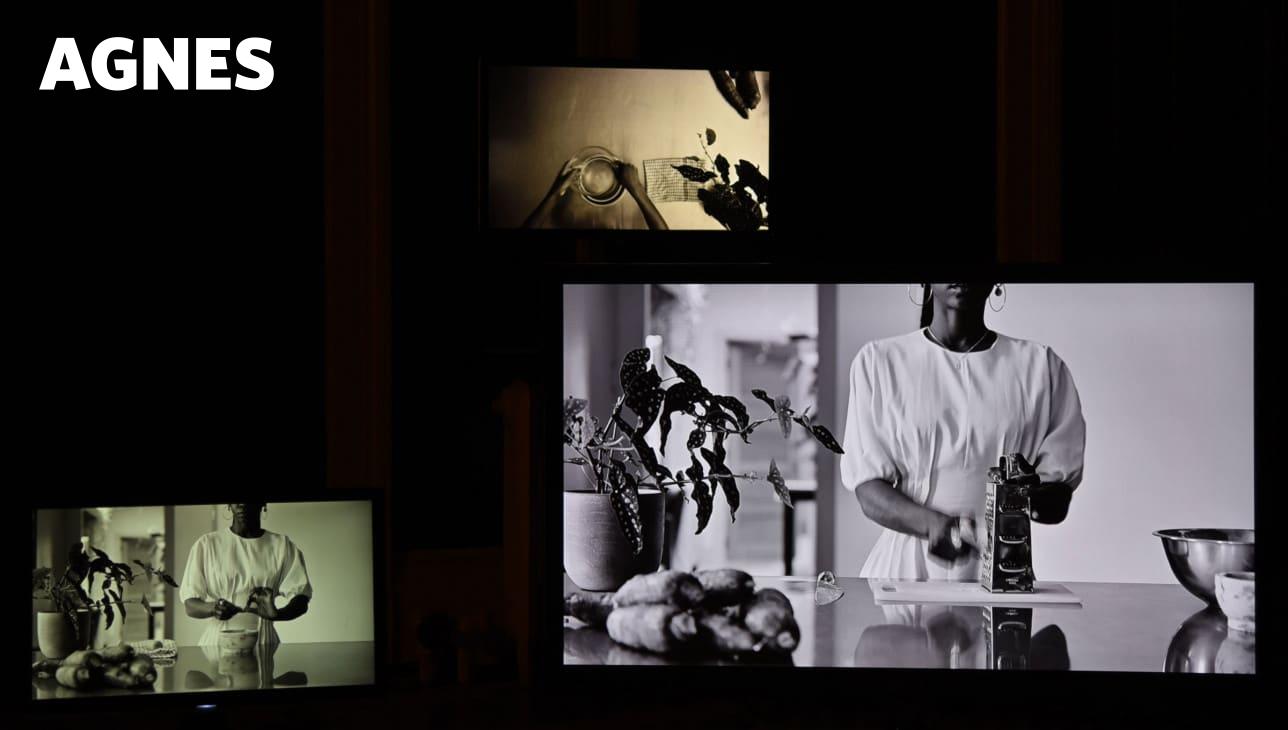 This Week at Agnes
With Opened Mouths Podcast (Episode 4)
Released 28 April!
Visual artist Kosisochukwu (Kosi) Nnebe talks with Qanita Lilla about the rich sources of her artistic practice. Inspired by social theory as well as her lived experience, Kosi creates art that resists the easy consumption of blackness and allows instead for quiet, sometimes disturbing realizations to emerge. Referencing her video installation in the Brown Butter exhibition at Agnes (2022) Kosi shows how the agential repositioning of Black bodies as performers and storytellers serves a liberatory function. Listen now >
New episodes of the second season are available online every month on Digital AGNES and distributed by our partners at CFRC 101.9 FM to popular podcasting platforms. The podcast is supported by The George Taylor Richardson Memorial Fund, Queen's University; the Justin and Elisabeth Lang Fund; and Young Canada Works Building Careers in Heritage, a program funded by the Government of Canada.
Hero image: Kosisochukwu Nnebe, an inheritance / a threat / a haunting, detail of video installation, 2022. On view in Brown Butter 3 June–10 July 2022. Portrait of Kosisochuwu Nnebe. Image courtesy of the artist.
Art and Wellbeing
Thursdays, 4 May–8 June, 4–6 pm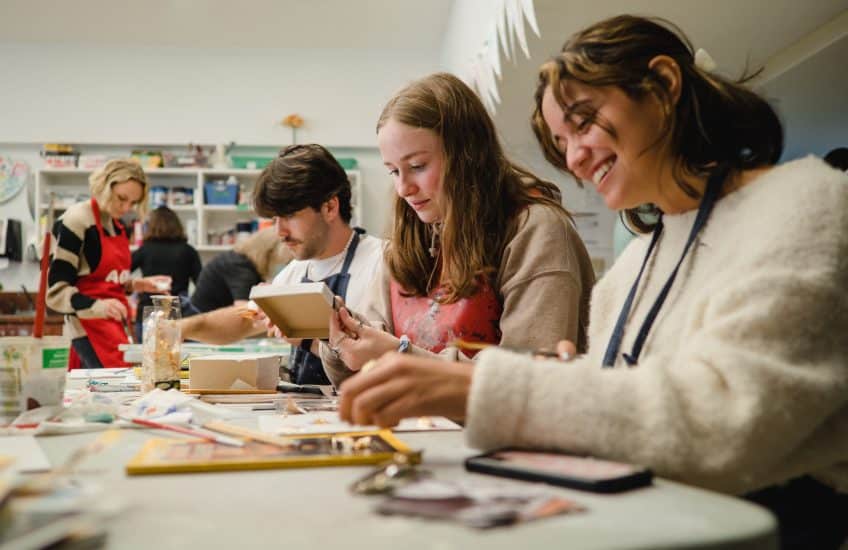 Artmaking is innately therapeutic and can improve general well-being. We invite adults 16+ to join us and explore the creative process through experimentation and play. Art Hive is free; materials are provided and no prior art experience is necessary. If you are looking for guidance, Harper Johnston, art therapist and facilitator, is onsite to offer support through suggestions and encouragement. Sign up >
Please note, this program explores the idea of "art as therapy" as a means to relax and increase well-being through creative expression. Art Hive @Agnes is not formal Art Therapy and is not a replacement for professional medical assistance or consultation.
Making Art Work: Professional Development Series
In-person, 3 May, 7–8:30 pm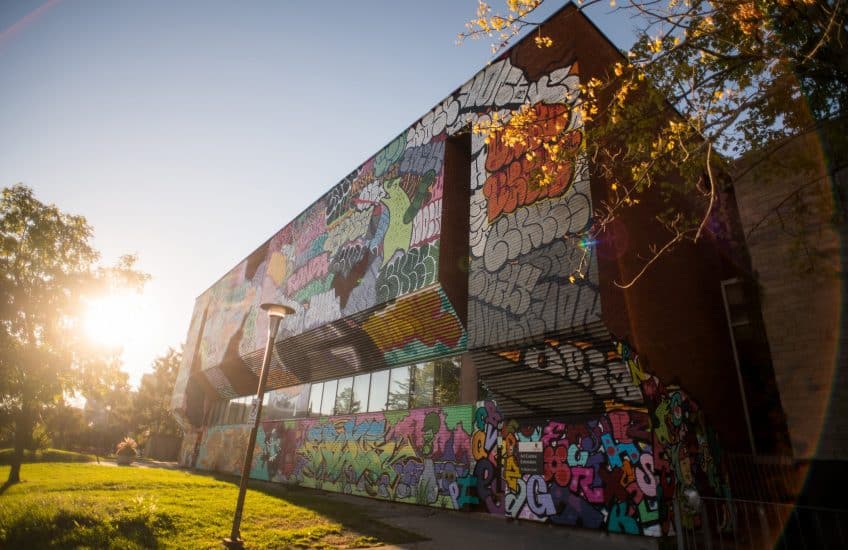 Have you ever considered a career in the arts?
Join us for this special edition of Making Art Work, hosted by Agnes and supported by the Juvenis Festival. We invite youth ages 13–30 to attend this session where you'll have the opportunity to hear from and chat with individuals working in a range of visual arts-related careers including artists, illustrators, professors, curators, conservators, preparators and more! Light refreshments are provided. Sign up >
This program is made possible through the generous support of the Iva Speers Fund for Art Education and is a partnership with The Juvenis Festival. The Making Art Work series is co-presented by Agnes, Modern Fuel Artist-Run Centre and Union Gallery.
View of Transformations, a site-specific commission by artists Oriah Scott, EronOne, HONE, HUNGR, AJ Little, Emily May Rose and guest graffiti artists from across the Montreal-Toronto corridor. Photo: Garrett Elliott
Opportunities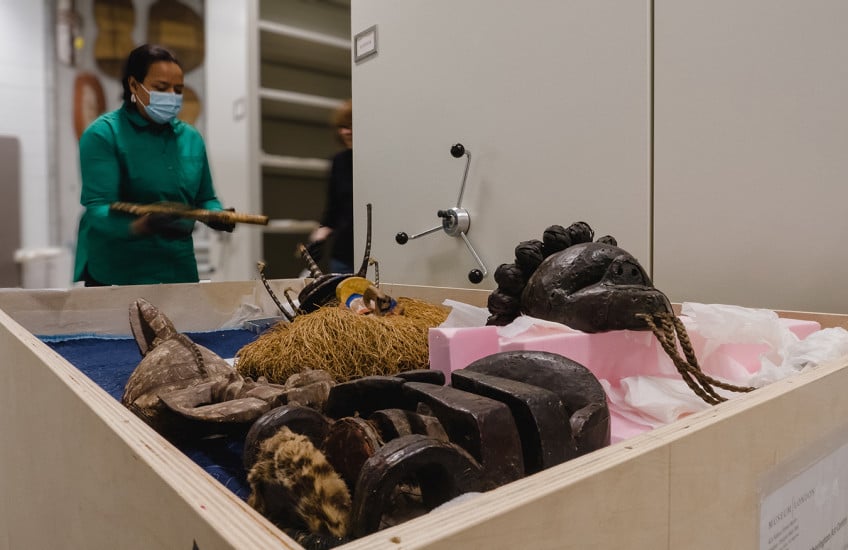 Collections and Care Manager
This position plays a sector-defining and influential role that reimagines collection care within both a public and an academic setting. This is a full-time, continuing position, starting at $56,227/year + benefits. Join us at this pivotal and transformational moment in Agnes's future! See full job details and apply by 8 May >
Visitor and Events Liaison
Are you an arts professional looking to gain hands-on experience in a variety of aspects of gallery work, paving the way for a future in the sector? Agnes is hiring! Join the team as Visitor and Events Liaison. (Full-time, 10-month-term, salary grade 5, $44,725–$46,274)
Apply by 6 May >
Curator Qanita Lilla works with the Agnes team on the care and movement of African art.
Academic Engagement and Community Engagement
June–October 2023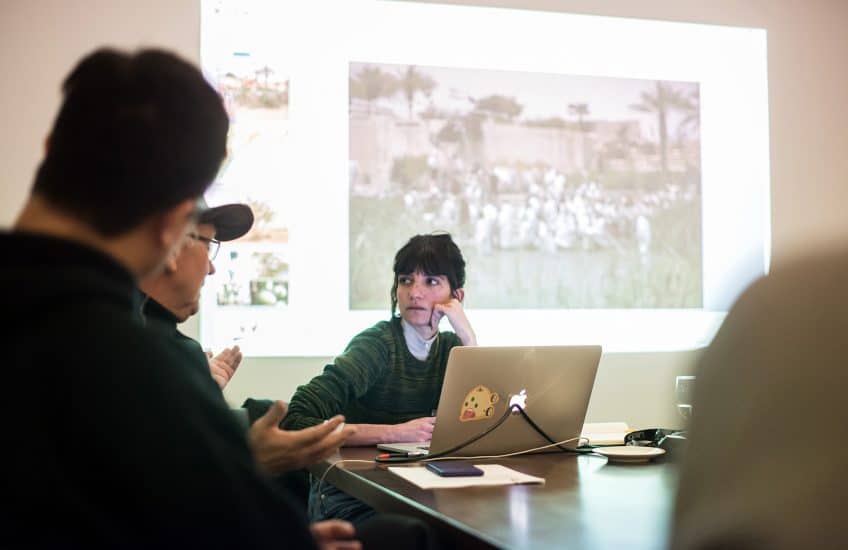 As we pack our collection and prepare for Agnes Reimagined, we're also thinking of new forms of engagement that activate our digital space and elevate your curriculum. Agnes will host multiple workshops for all faculty interested in integrating Agnes programs and activities into their syllabi this summer and fall. This initiative is a collaboration between Agnes and the Centre for Teaching and Learning. It is facilitated  by Associate Curator of Academic Outreach and Community Engagement, Nasrin Himada, and Associate Director of Centre for Teaching and Learning, Yasmine Djerbal. If you are interested in participating, we ask that you contact us right away at: nasrin.himada@queensu.ca.
OPEN SECRET: Screening, Conversation + Workshop with Parastoo Anoushahpour. Photo: Garrett Elliott
AGNES X Queen's Art Conservation Program
In-person, 13 May, 10 am–3 pm, Leon's Centre, Kingston
Check out the largest pop-up science Discovery Centre in Canada! Agnes and the Master of Art Conservation Program at Queen's have a booth and a fun experiment ready for you. Learn more about how light is an agent of deterioration and its impact on works of art. Save the date!
Science Rendezvous, 2023 graphic
Queen's University
36 University Avenue
Kingston, Ontario
Canada K7L 3N6
Agnes Etherington Art Centre is situated on traditional Anishinaabe and Haudenosaunee Territory.