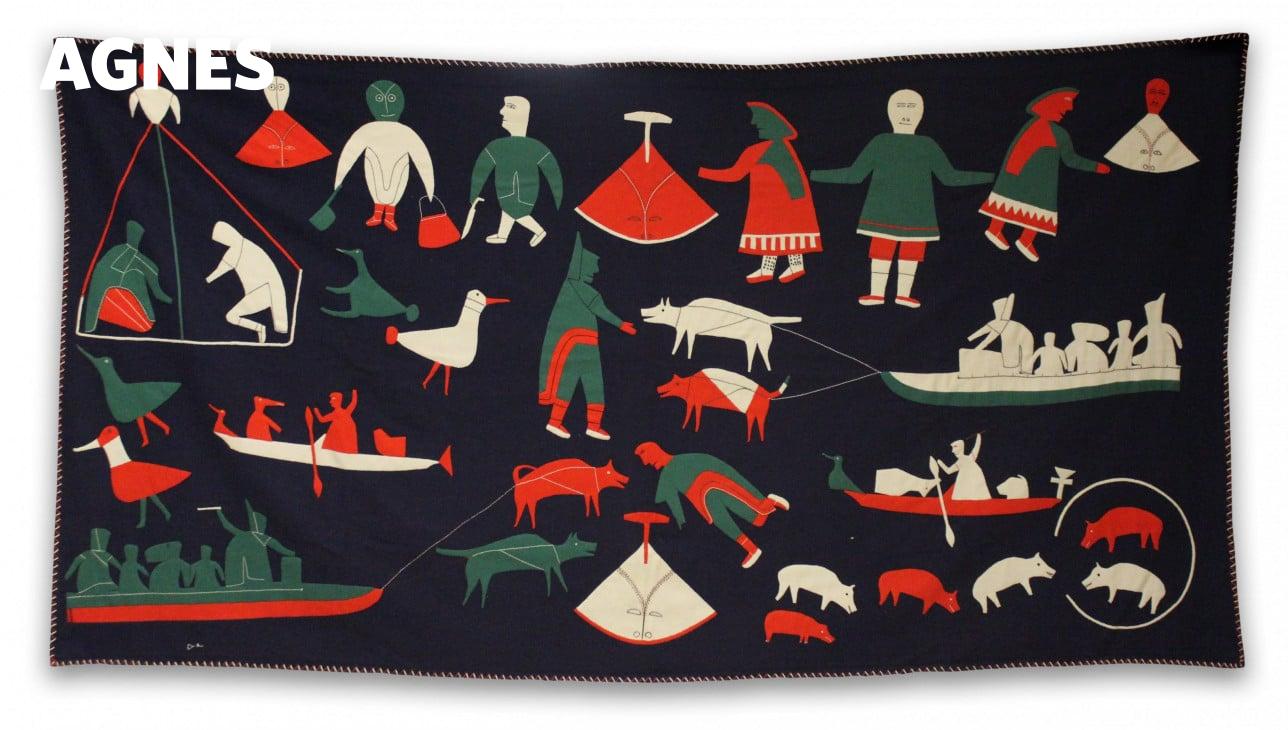 This Week at Agnes
In-Person, 14 July, 6–8 pm
After a six-month retreat (Jan-June) into our collections and away from our institutional formalities—a period of packing and prototyping—Agnes is reopening with an exhibition, a procession and a series of sharing and talking circles. These events are invitations, designed to bring you closer to our work. Participate in the wild, roller coaster ride of Agnes Reimagined!
On Friday, we celebrate  Emergence: A Recent Gift of Indigenous Art with a public reception. This exhibition highlights important early and mid-career works of art by Malaya Akulukjuk, Kenojuak Ashevak, Irene Avaalaaqiaq, Robert Houle, Alex Janvier, Norval Morrisseau, Jessie Oonark and Parr, among others.
Refreshments are available with remarks around 6:30 pm. All are welcome. RSVP >
Header image: Jessie Oonark, Untitled, around 1970, wool felt and cotton thread. Gift of Guardian Capital Group Limited, 2020. Photo: Bernard Clark. Public Trustee for Nunavut, Estate of Jessie Oonark
Agnes Reimagined
In-person and online, 15 July, 1–3 pm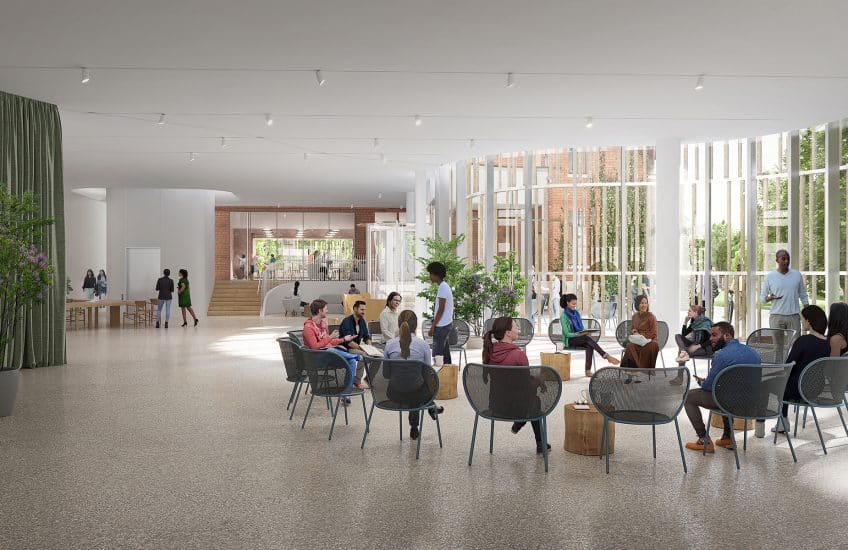 As we transition from schematic design into design development, we reconvene our sharing and talking circles for Agnes Reimagined, recapping what has already taken shape, clearing the path for the future. Led by our collaborator, Anishinaabe-kwe artist and consultant Georgina Riel, these sessions are aligned with various key moments for KPMB Architects who are listening to what people bring to the table, incorporating our ideas, suggestions and values into the various design iterations.
July's circle is both in-person and online, with ASL. Everyone is welcome! Sign up (in-person  at Agnes) > Sign up (online) >
"Agnes's Living Room." Ground floor concept for Agnes Reimagined. Rendering by Studio Sang. Courtesy of KPMB Architects
Celebration
In-Person, 15 July, 3:30–5 pm
This month the Lang Collection of African Art makes the journey, along with Indigenous ancestors and Queen's transfer collection, to a new temporary home on campus while we prepare for Agnes Reimagined. As a moment of celebration, all are welcome to enact a procession that honours the African collection through music, poetry and dance.
Participants in the procession will be gifted a curated poetry bundle. Eleven Metal Tongues is written by award-winning poet, Juliane Okot Bitek. The Lang Collection of African Art acted as a catalyst for the poems. Sign up >
Curated by Qanita Lilla, Associate Curator, Arts of Africa
Juliane Okot Bitek with the African collection. Photo: Qanita Lilla
Academic Outreach and Community Engagement
In-Person, 18 July and 28 August, 1–3 pm
Agnes hosts two workshops this summer for faculty interested in integrating Agnes's programs and activities into their syllabi. If you are interested in participating, we ask you to RSVP at: nasrin.himada@queensu.ca.
OPEN SECRET: Screening, Conversation + Workshop with Sharlene Bamboat. Photo: Garrett Elliott
Opportunity
Apply by 16 July 2023
Salary: $40,100–$43,402/Year
(9-month term)
The Museum Technician Assistant contributes to Agnes's social, civic and pedagogical role, as we move of the permanent collection of over 17,000 works of art, in anticipation of major construction for Agnes Reimagined. Assist with the handling, wrapping and crating of works, to museum best-practice standards.
Digitizing the collection in the galleries. Photo: Tim Forbes
In the News
Agnes's Emergence: A Recent Gift of Indigenous Art is included in TRAVELMAG's 12 Art Exhibitions to See this Summer!
Kenojuak Ashevak, Owl of the Sea, 1977, stonecut on paper. Gift of Guardian Capital Group Limited, 2020. Photo: Bernard Clark
Queen's University
36 University Avenue
Kingston, Ontario
Canada K7L 3N6
Agnes Etherington Art Centre is situated on traditional Anishinaabe and Haudenosaunee Territory.