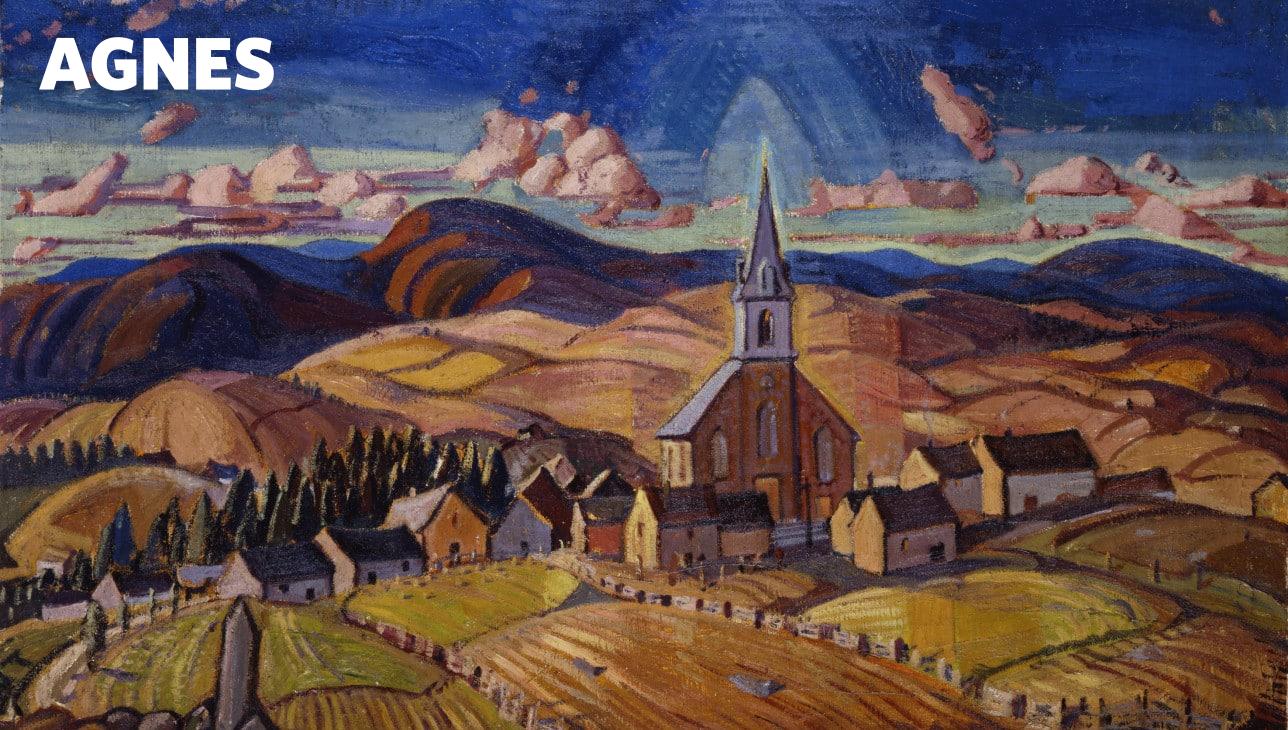 This Week at Agnes
Sharing the AGNES collection
On 7 May, Canada Post issued seven stamps to mark the 100th anniversary of the first exhibit by the Group of Seven. The seven Canadian landscape painters initiated the first major Canadian national art movement. Each stamp features a painting by one of the original members.
"The Agnes Etherington Art Centre's collection has been highlighted through the choice of Arthur Lismer's vibrant Quebec Village (Saint-Hilarion) of 1926," says Alicia Boutilier, Interim Director/Chief Curator/Curator of Canadian Historical Art. "This monumental canvas, almost two metres wide, was donated to Queen's University in 1949 by Ottawa newspaper publisher Harry Stevenson Southam for the benefit of students and to encourage art philanthropy. It became a cornerstone of the Agnes collection when the art museum was founded the following decade." Arthur Lismer himself became known as not only a member of the Group of Seven but also a visionary art teacher, who championed "Education through Art." Read more.
Arthur Lismer, Quebec Village (Saint-Hilarion) (detail), 1926, oil on canvas. Gift of H. S. Southam, 1949 (00-094)
Artist Residency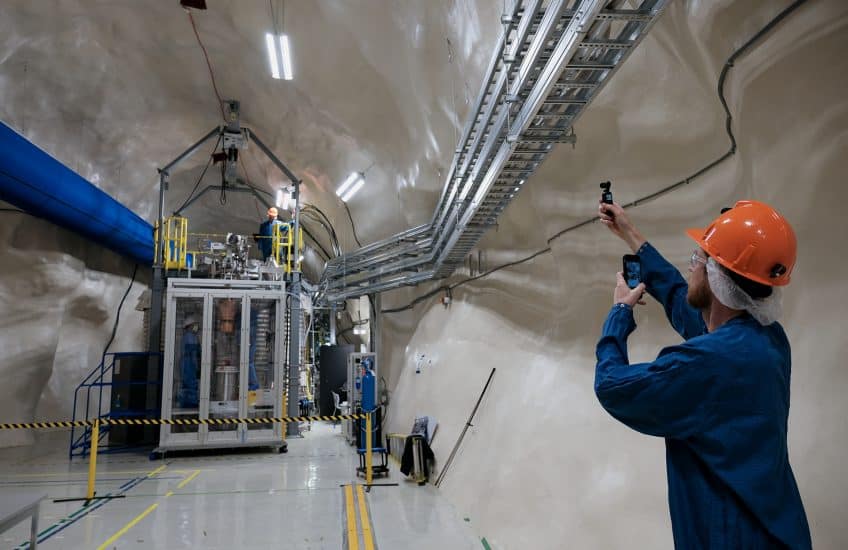 Drift: Art and Dark Matter is an artist residency and exhibition project developed with the Arthur B. McDonald Canadian Astroparticle Physics Research Institute  and SNOLAB. Artists Nadia Lichtig, Josèfa Ntjam, Anne Riley and Jol Thomson have been invited to make new work while engaging with scientists, theorists and engineers contributing to the search for dark matter at the McDonald Institute and at SNOLAB's underground facility in Sudbury, located two kilometers below the Earth's surface.
The goal of the residency is the opening of new avenues of exchange and hybridity that can offer new comprehensions of the thrilling advanced science being done across Canada today. The exhibition Drift: Art and Dark Matter will run at the Agnes from 9 January–11 April 2021 before going on a national tour. Read more.
Artist Jol Thomson documents researchers working on CUTE (a Cryogenic Underground Test Facility) at SNOLAB
Art and wellness
Thursdays to 28 May, 4–5:30 pm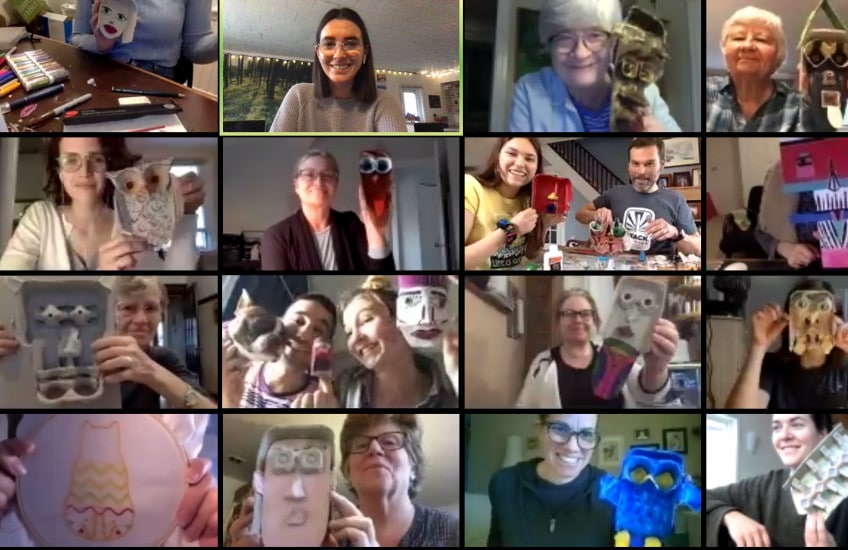 Join us for this popular program using our new virtual platform. Adults (18+) are invited to explore the artistic process through experimentation and play. This Thursday the project is altered books. If you are looking for more guidance, Harper Johnston, our art therapist and facilitator, will be present to support your creative journey by offering inspired thematic projects. Art Hive @Agnes will address themes of empowerment, wellness and self-care, while fostering a safe space and a sense of community. This accessible program is free; no prior experience is necessary. Register to save your spot.
This program is made possible through the generous support of the Birks Family Foundation.
Participants share their work in Virtual Art Hive @Agnes
AGNES Learns
AGNES Learns is a new digital resource for children and families. Artworks from the Agnes collection inspire fun ways to explore, understand and get creative. The second to launch in the series, looks at Rembrandt's Portrait of a Man with Arms Akimbo, 1658. The short video and accompanying lesson plan are filled with imaginative activities that explore light and shadow. Agnes will be adding to this collection through mid-June.
Rembrandt van Rijn, Portrait of a Man with Arms Akimbo, 1658, oil on canvas. Gift of Alfred and Isabel Bader, 2015 (58-008)
Digital Agnes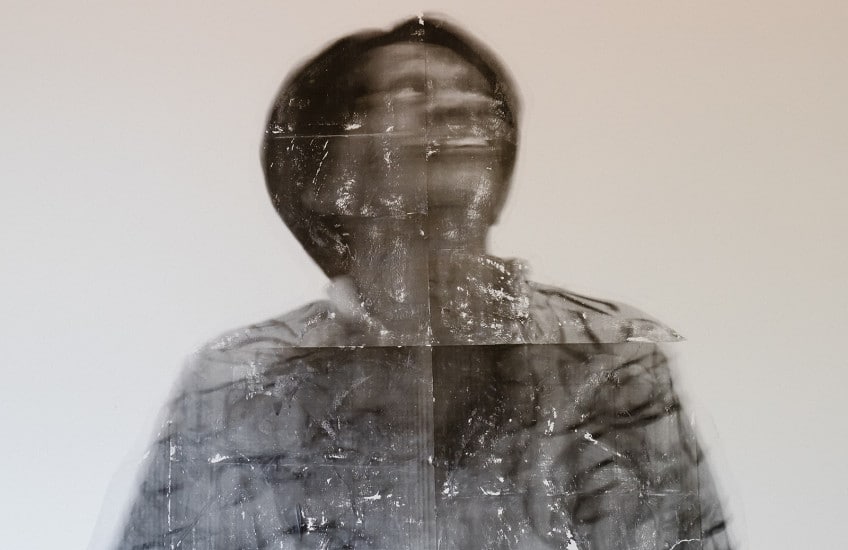 Sunny Kerr, Curator of Contemporary Art speaks about Sandra Brewster's installation Blur in a new audio tour. Her installation  features members of the Kingston community. The exuberant scale and format contribute to the work's strong assertion of Black people's enduring presence. Brewster uses an unpredictable gel transfer process to evoke the complexities of global movement, such as the migration of her parents and their peers who left Guyana for Toronto in the late 1960s.
Sandra Brewster is a Canadian visual artist based in Toronto. Her work has been exhibited nationally and abroad.  Brewster has been recognized for her community-based practice that centres a Black presence located in Canada.
Sandra Brewster, Blur, 2019, gel transfer medium on paper. Collection of the artist
Queen's University
36 University Avenue
Kingston, Ontario
Canada K7L 3N6
Agnes Etherington Art Centre is situated on traditional Anishinaabe and Haudenosaunee Territory.