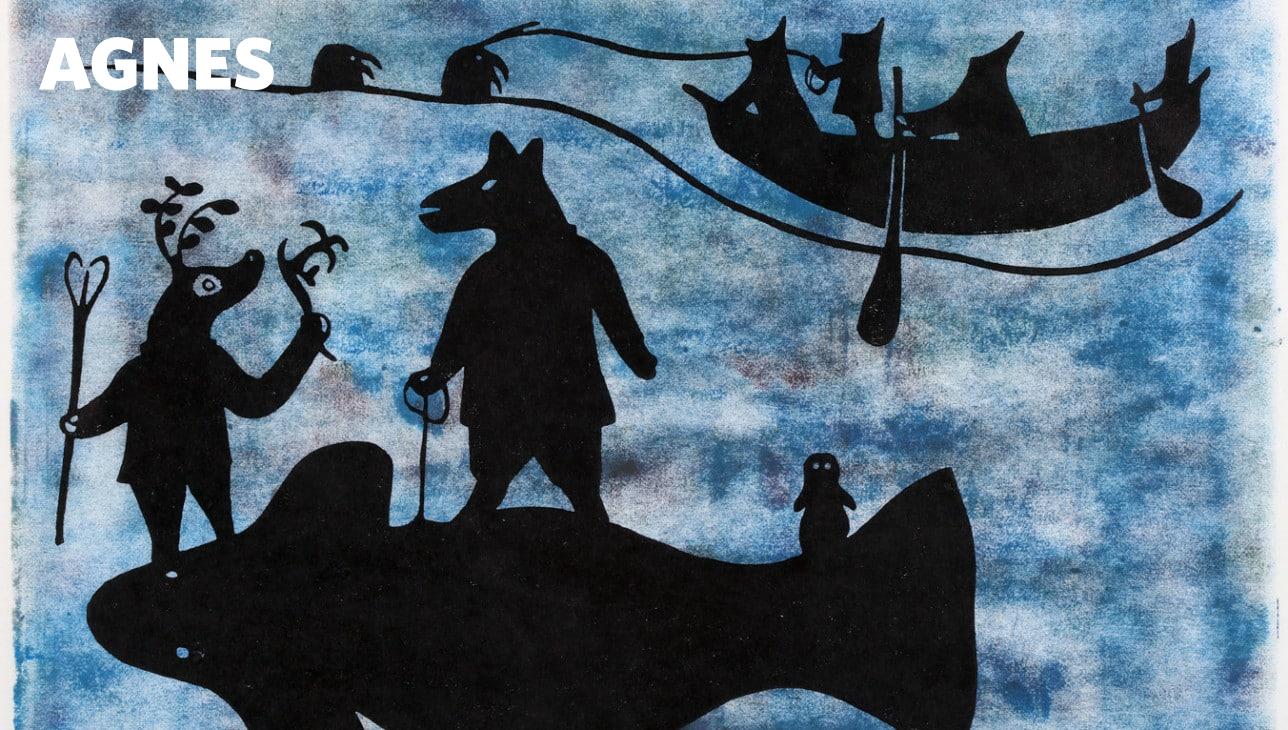 This Week at Agnes
Winter closure
See you in the new year!
Agnes is closed 24 December 2021–3 January 2022.
Have visitors on 23 December? Bring them into the galleries, we'll be open until 9 pm! Then Agnes closes until 2022.
We look forward to welcoming you back to the galleries and seeing you take part in the various public programs (both online and in-person) in the new year, the last year in our current space. Thank you for being a part of Agnes.
Napatchie Pootoogook, Eskimo Sea Dreams (detail), 1960, Stonecut on paper, 3/50. Gift of Mary Robertson, 1985
AGNES STORY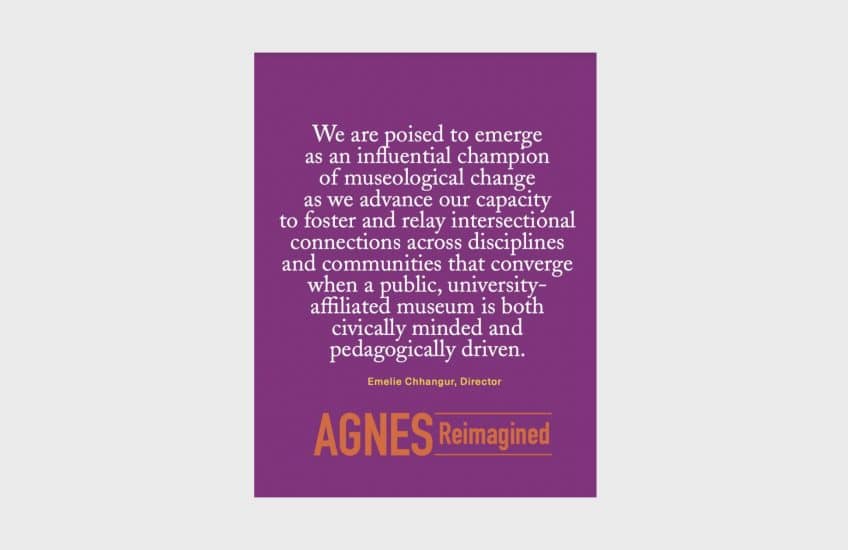 Check out Emelie's News from the Near Future, and the Vision for Agnes Reimagined and consider joining the many Agnes members, Queen's alumni, community members and friends who believe in the transformational power of art by making a gift today.
Your donation may be directed to support studio and gallery-based programs for children, youth and adults; to fund conservation treatment of works of art in our collections; to enable creative learning opportunities for Queen's students and community groups; or to help bring art to life through exhibitions and events. Donate now.
Agnes Reimagined brochure cover. "We are poised to emerge  as an influential champion of museological change as we advance our capacity to foster and relay intersectional connections across disciplines and communities that converge when a public, university-affiliated museum is both civically minded and pedagogically driven." –Emelie Chhangur, Director and Curator
In-Person at Agnes
9–16 December, during gallery hours
Are you looking for the perfect gift for that art enthusiast, history buff or bibliophile in your life? Or, do you want to treat yourself and expand your library? We have a solution: Agnes's beautiful publications
Available by donation. Don't miss out!
A selection of Agnes's publications
Digital Agnes
Immerse yourself in the online exhibition
The exhibitions, both in-gallery and online, interrogate cotton garments in Queen's Collection of Canadian Dress through archival research and scientific analysis that connects these materials to resource extraction, Indigenous displacement, enslaved labour, and the Underground Railroad.
History Is Rarely Black or White engages contemporary art and fashion to examine colonial history and envision a radically positive future. Artists Karin Jones, Gordon Shadrach, and Damian Jöel demonstrate the way burdens of colonial history entwines itself in research, making and cultural heritage. Access the online exhibition on Digital AGNES to look closely at works, experience a walk-through tour and watch artists speak about their work.
Gordon Shadrach, Written in Stone, 2017, acrylic on wood. Courtesy of the artist
AGNES Podcast
In this episode of the With Opened Mouths podcast, Curators and artists, Amy Malbeuf and Jessie Ray Short talk with Qanita Lilla about the many joys of collaborating. Their expansive practice embraces new visions of Métis identity and looks to broaden our view of reality to the outer limits of the known universe. Which unseen forces led them to art and to each other? What keeps them connected?
Listen now. Also available on Digital Agnes or subscribe to your favourite podcast platform: CFRC's website, Apple, Spotify, and Google.
Produced in partnership with CFRC 101.9 FM and supported by the Justin and Elisabeth Lang Fund and the Ontario Arts Council an agency of the Government of Ontario.
Left: Portrait of Jessie Ray Short. Photo credit: Audie Murray. Right: Portrait of Amy Malbeuf. Photo Credit: Nicole LaPierre.
Art Class for Adults
In-Person, Thursdays, 20 January–10 February 2022, 6:30–8:30 pm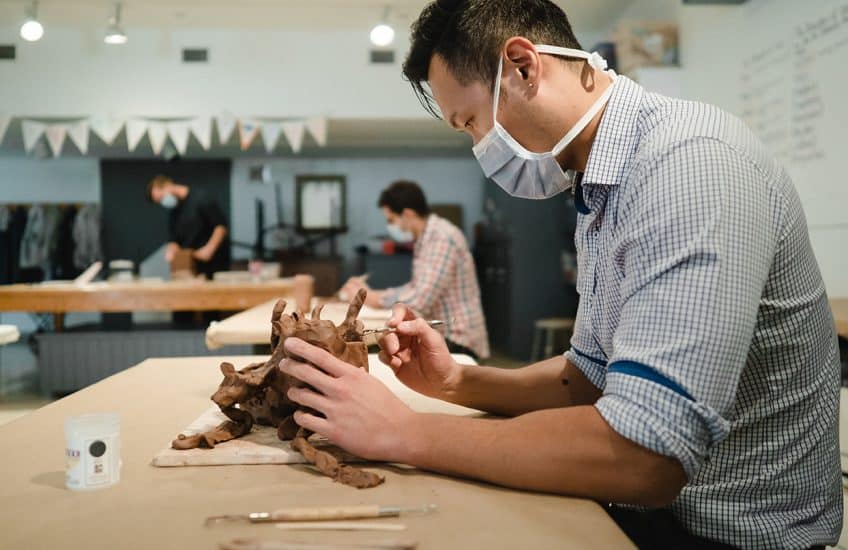 In this four-week course, artist Nicholas Crombach introduces the fundamental techniques of clay modelling through observing a live model. Participants will begin to develop the skills to sculpt the basic structures of the figure and will establish an understanding of gesture, proportion, mass and form.
Register for $150, $135 for members; Apply for a bursary
This art course is in-person and is made possible by the Iva Speers Fund for Art Education.
A sculpture workshop with Nicholas Crombach in Agnes's studio.
FOR KIDS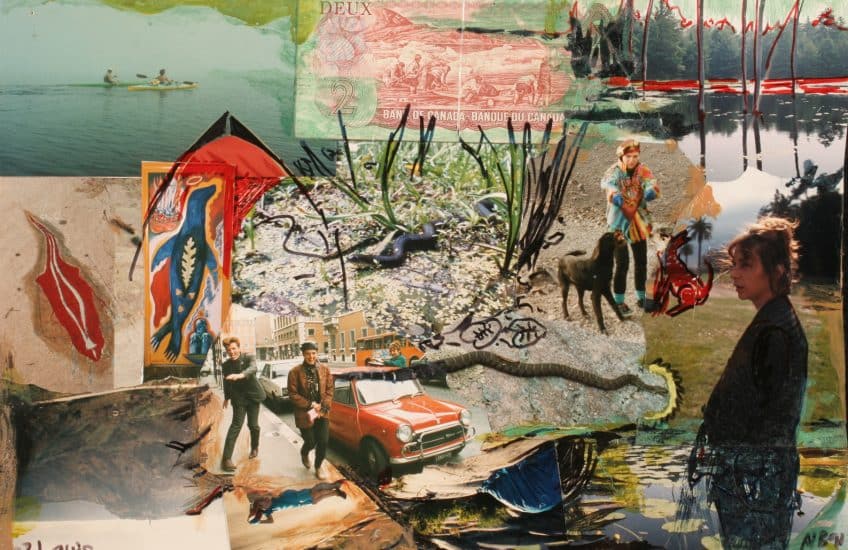 Are you looking for fun and creative activities for kids to do over winter break? Connect to AGNES Learns, a digital resource for children and families. Artworks from the Agnes collection, including Rembrandt and Jinny Yu, inspire fun ways to explore, understand and get creative.
Enjoy the videos and accompanying lesson plans using materials you already have at home.
Napoleon Brousseau, Untitled (131-245 NB91), 1991, mixed media and photo-collage on paper. Gift of Dr Margret Hovanec and Dr Peter Warrian, 2005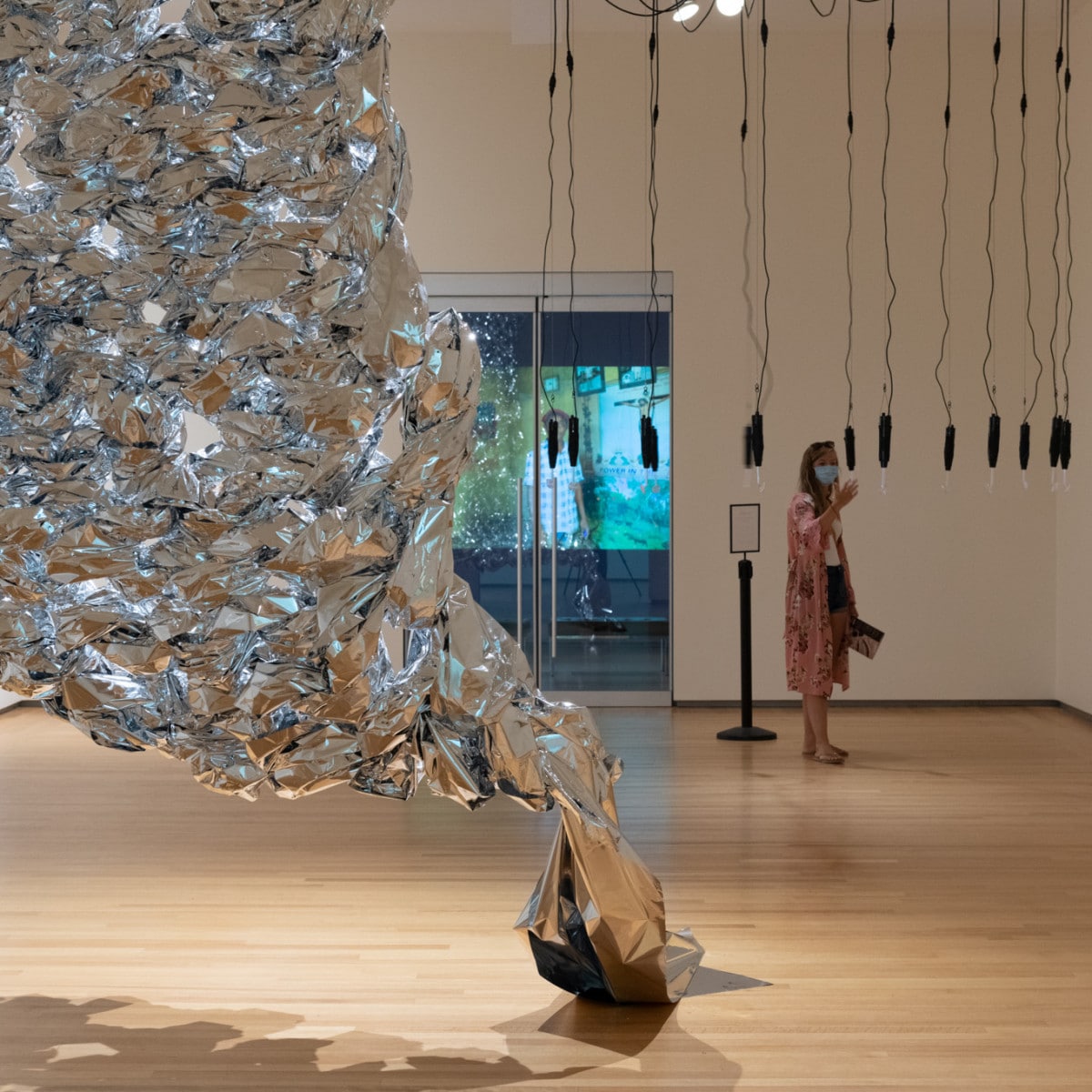 Installation view of Lii Zoot Tayr (Other Worlds).
Queen's University
36 University Avenue
Kingston, Ontario
Canada K7L 3N6
Agnes Etherington Art Centre is situated on traditional Anishinaabe and Haudenosaunee Territory.