This Week at Agnes
AGNES presents
In-Person and Online, Isabel Bader Centre for the Performing Arts15 November, 7:30–9 pm (ET)
Join us for"Encounter as Author in Early Modern Images from the Atlantic World" with Dr Cécile Fromont, Professor of the History of Art at Yale University. Her writing and teaching focus on the visual, material, and religious culture of Africa and Latin America with special emphasis on the early modern period (around 1500–1800), on the Portuguese-speaking Atlantic World, and on the slave trade.
ASL interpretation and automated live captioning are available. Isabel's doors and the bar open at 6:30 pm. Enjoy some bites with friends before the event!
Sign up for the  in-person event at Isabel  >
Sign up for the reminder email to the livestream event >
This program is supported by the Bader Legacy Fund and in partnership with The Isabel Bader Centre for the Performing Arts, in recognition of Bader Day on 15 November.
Hero image: Bernardino Ignazio da Vezza d'Asti, Missione in Prattica, water colour on paper, around 1750. Photo: Bibliotheca civica Centrale di Torino. / Portrait of Cécile Fromont. Photo: Yale/Dan Renzetti
In the galleries
13–30 November 2023
Agnes's galleries are closed while we install seven new exhibitions! Agnes's doors are open for Art Hive @Agnes and the Open Secret Workshop with Ephraim Asili.
Save the date:  Exhibition Celebration, 1 December, 6–9 pm! Don't miss the Members' Preview, 5–6 pm with an unveiling of a spectacular model of Agnes Reimagined. Not yet a member? Join now!
Deep Looking in Emergence.
Making Art Work: Professional Development Series
Online, 15 November 2023, 6–7:30 pm
In this workshop artist and writer Emily Pittman breaks down portfolio best practices, how to access and use online tools, and why portfolios are helpful ways to share your artwork. We discuss sustainable ways to keep your portfolio up-to-date with your practice, and the basic do's and don'ts, so that when you present your portfolio, people pay attention. Sign up >
Image courtesy of Emily Pittman
Art and Well-being
16 November, 4­–6 pm
Artmaking is innately therapeutic and can improve general well-being. We invite adults 16+ to join us for the final Art Hive of 2023! More workshops are planned for next year.
Art Hive is free; materials are provided and no prior art experience is necessary. If you are looking for guidance, Harper Johnston, art therapist and facilitator, is onsite to offer support through suggestions and encouragement. Sign up >
Art Hive @Agnes. Photo: Garrett Elliott
Open Secret
In-Person at Agnes, 16 November, 6–8 pm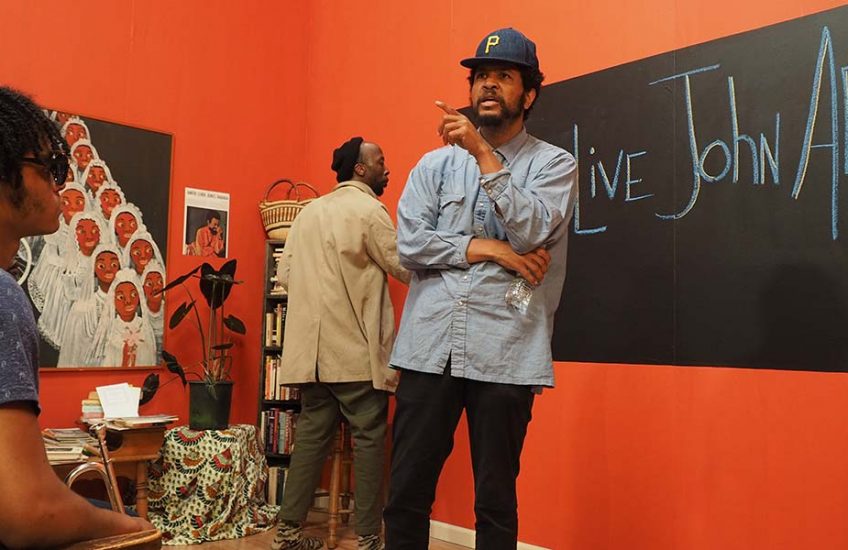 Open Secret continues with a workshop hosted by the artist and filmmaker Ephraim Asili, whose filmmaking practice engages with the different facets of the African diaspora – and his own place within it. His documentaries explore the interconnected nature of politics, aesthetics and activism. Drop in, registration isn't required. Free and open to all. Read more >
Co-curated by Brandon Hocura and Hilary Jay
Ephraim Asili's visit is in collaboration with the Department of Film & Media at Queen's University and made possible by the Chancellor Dunning Trust Visitorship.
Production still from Ephraim Asili's The Inheritance, 2020.
Poetry and Spoken Word Workshop
In-person at KILN, 19 November, 2–4 pm
We guide both new and experienced poets through the art of storytelling and finding an individual voice that celebrates collective memory and belonging. From the Hearth is facilitated by Billie the Kid who is a K'ai Taile Dené and Nehiyaw spoken word poet and storyteller in collaboration with Mandy Wilson, Community Connection Coordinator at the Kingston Indigenous Languages Nest (KILN). This month the workshop takes place at KILN, 610 Montreal Street, Kingston.  Sign up >
.All are welcome and no experience is required. Register for individual workshops, or join the full series.
From the Hearth graphic, Artwork by Chantal Rousseau
BIG NEWS!
The Galeries Ontario/Ontario Galleries (GOG) Awards celebrate the excellence and proud professional accomplishments of Ontario's public art galleries. Agnes has been shortlisted for seven awards! Read about each >
This year's award ceremony takes place on 2 December at 6:30 pm at Toronto Metropolitan University.
View of Transformations, a site-specific commission by artists Oriah Scott, EronOne, HONE, HUNGR, AJ Little, Emily May Rose and guest graffiti artists from across the Montreal-Toronto corridor. Photo: Garrett Elliott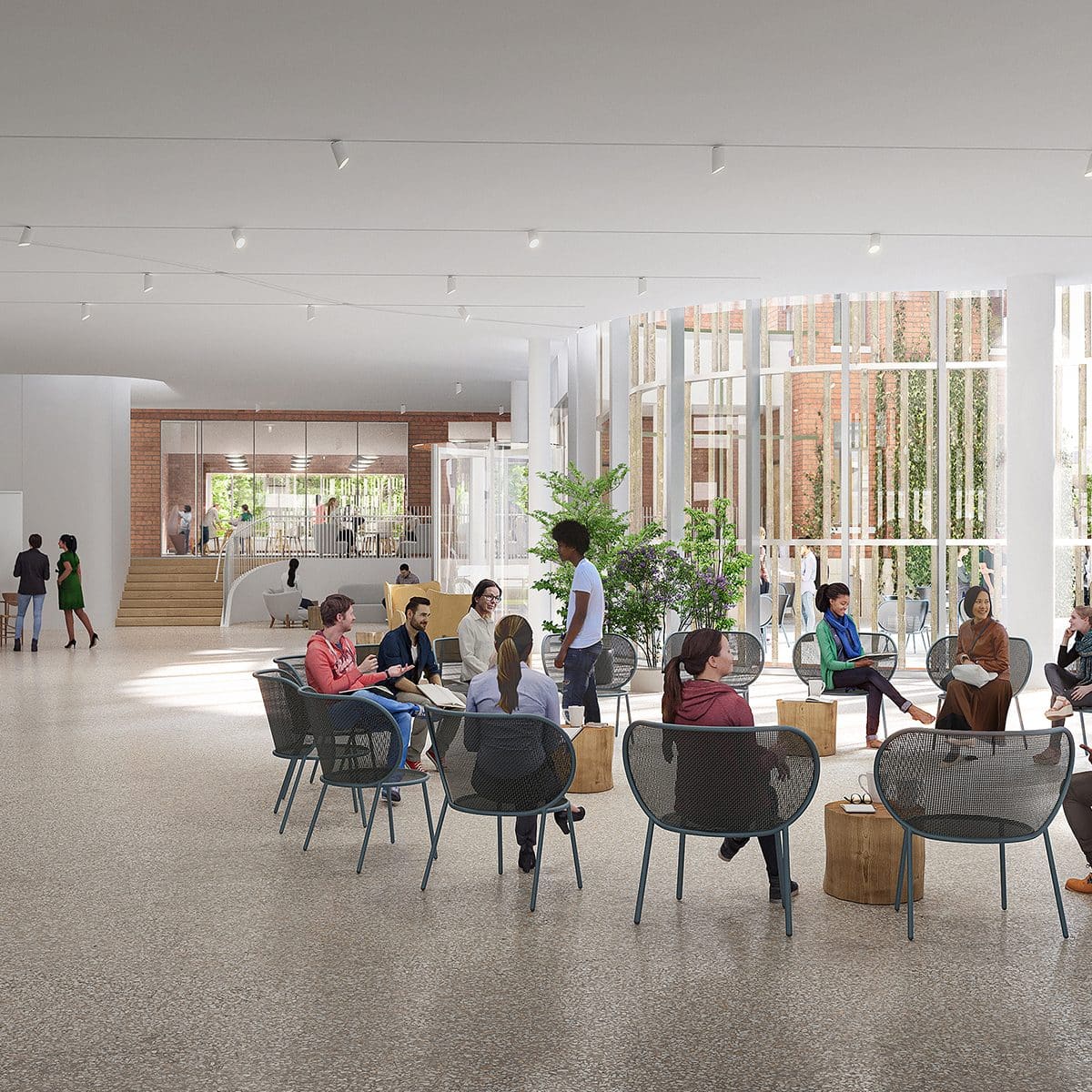 "Agnes's Living Room." Ground floor concept for Agnes Reimagined. Rendering by Studio Sang. Courtesy of KPMB Architects
Looking Ahead
Agnes Reimagined Sharing and Talking Circle

In-person and online at Google Meet, 2 December, 1–3 pm
Art Everywhere! Makers Spaces, Studios and Residencies, and Returning Etherington House back into a "Home." The Agnes Reimagined Project Team (KPMB Architects & RIEL Cultural Consulting) invite you to share your ideas and thoughts to contribute to the design development of the new creative and hospitality spaces. Everyone is welcome! Sign up >
Queen's University
36 University Avenue
Kingston, Ontario
Canada K7L 3N6
Agnes Etherington Art Centre is situated on traditional Anishinaabe and Haudenosaunee Territory.