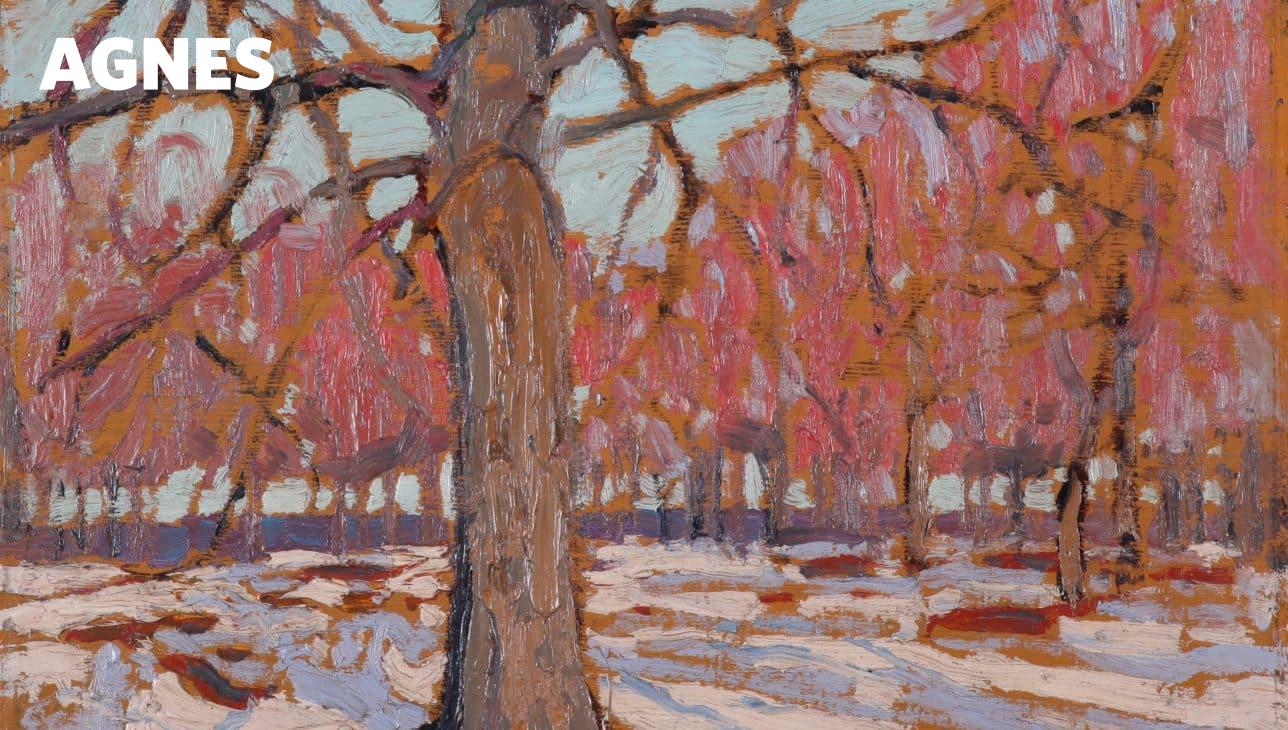 This Week at Agnes
In the Galleries
2022 begins with a weave. Twinned solo exhibitions by two Canadian artists, Chris Curreri and Tom Thomson, entangle stories of authenticity, art history and the artist's studio. Exposed through the lens of provenance and legacy—whether by historical fact or fictional queering—the artists show us how to work with forms of folded time; similar curatorial questions are being asked from two different time periods, subject positions and styles. Chris Curreri: A Surrogate, A Proxy, A Stand-In and Tom Thomson? The Art of Authentication are both on view through 29 May 2022. Visit soon.
Tom Thomson, First Snow, 1916, oil on cardboard. Gift of the Queen's University Art Foundation, 1941
Art and Wellness
Thursdays through 17 March, 4–5:30 pm (ET)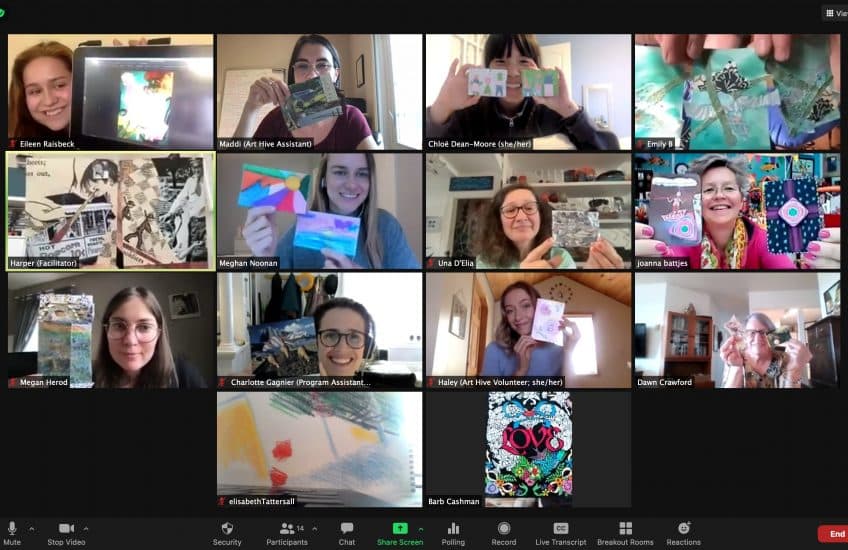 Make time in your week for a little art and wellness. Art Hive @Agnes invites you to independently create while finding inspiration through conversations and weekly themes (17 February, Care; 24 February Community). Harper Johnston, BA, B.Ed, MFA, DTATI has been facilitating Art Hives @Agnes since 2019 and has over thirty years of experience working as an arts educator with adults, adolescents and children. Sign up.
Art Hive is free, open to all and made possible through the generous support of the Birks Family Foundation.
For Families
In-Person (André Biéler Studio), Sunday 20 February, 2–3:30 pm
This program has filled!
Creation Station is a free studio program designed to give families and children ages 2 and up an exploratory artmaking experience. At this session, Art Educator Bree Rappaport ignites curiosity with a tactile paper marbling activity. Creation Station takes place in the bright and airy André Biéler Studio.
Bree Rappaport's philosophy is to teach art through process and play. "As an educator I strive to engage and inspire my students by exposing them to history and culture. Fostering curiosity and community is my main priority because we can all learn from each other, no matter what age or skill set."
This program is made possible by the Rita Friendly Kaufman fund.
Screen printing in the Studio.
Workshop
In-Person, 5–6 March, 10–1 pm and 2–5 pm daily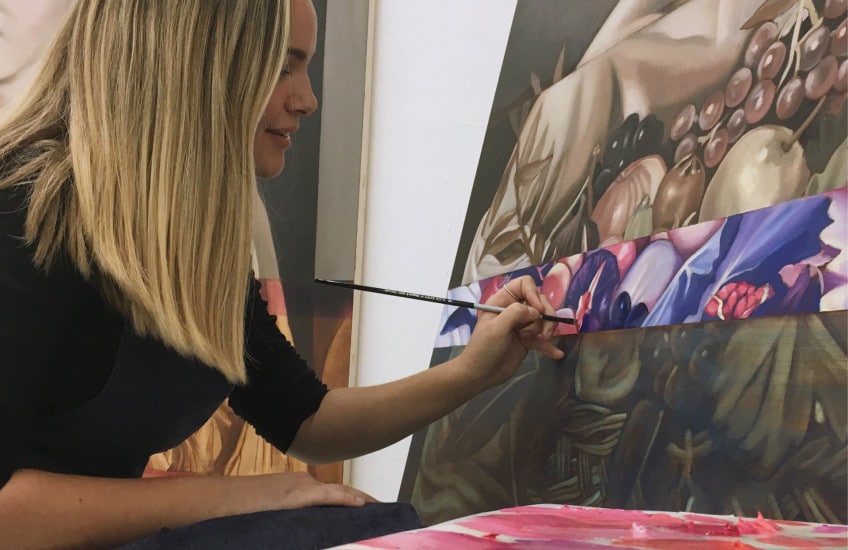 Register / Apply for a bursary ($175, $160 for members)
Materials are included; participants are welcome to bring their own brushes and additional paints.
This comprehensive two-day workshop with Emily Joyce provides participants with the knowledge they need to take full advantage of painting material properties, increase their artist material literacy and understand how to improve their studio practice to better care for their paintings.
Students are encouraged to experiment with the materials and processes discussed during the workshop and develop an oil painting on canvas using the knowledge gathered in the class. Read more about Emily Joyce and the workshop.
This program is made possible by the Iva Speers Fund for Art Education and the Ontario Arts Council, an agency of the Government of Ontario.
micro-residency
ck nosun is one of four artists-in-residence in Studios in Solitude, a micro-residency program probing solitude's dual potential as both a disruptive force and site of historic privilege.
ck nosun's work primarily consists of digital illustrations which depict and commemorate moments of local resistance to colonialism, resource extraction and the prison industrial complex. They are most interested in art that strengthens and supports anti-capitalist and anti-colonial grassroots movements and initiatives. Check out their shop.
Pick up one of ck nosun's stickers Defend the Land or Wet'suwet'en Strong at Agnes, while supplies last.
Studios in Solitude is supported by the City of Kingston Arts Fund, Kingston Arts Council and the Bader Legacy Fund.
ck nosun's Wet'suwet'en Strong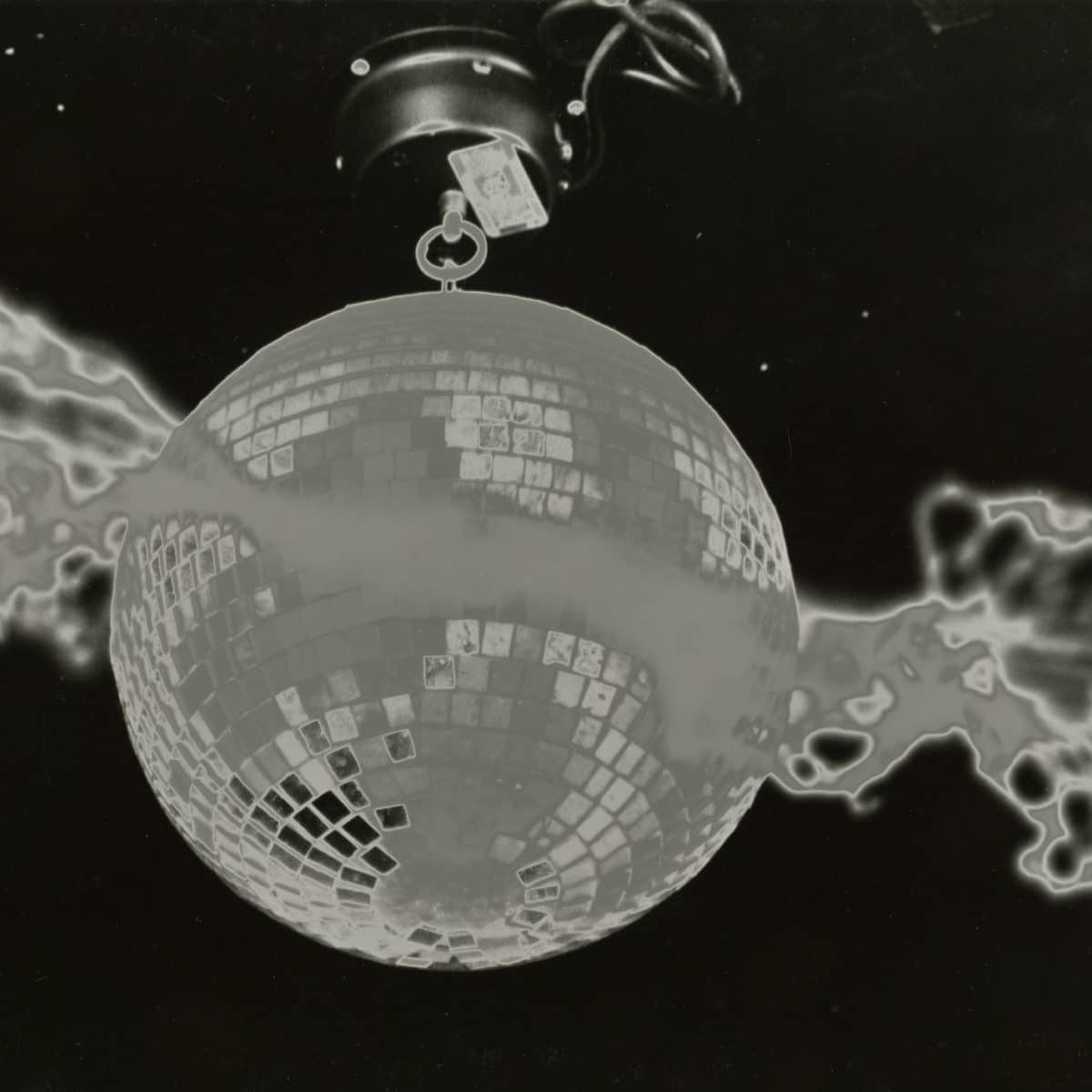 Chris Curreri, No Tears For The Creatures of The Night, 2021, gelatin silver print. Courtesy of Daniel Faria Gallery
Queen's University
36 University Avenue
Kingston, Ontario
Canada K7L 3N6
Agnes Etherington Art Centre is situated on traditional Anishinaabe and Haudenosaunee Territory.