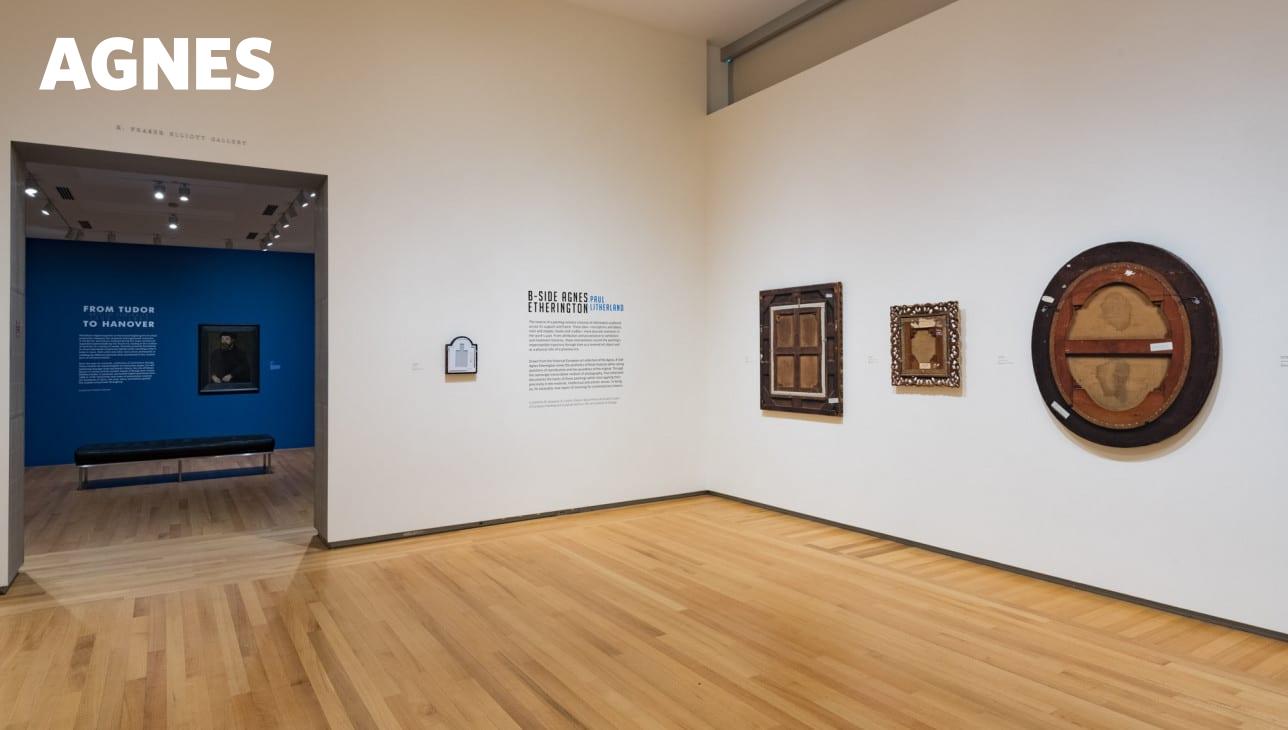 This Week at Agnes
Last chance
This is the final week to see B-Side Agnes Etherington: Paul Litherland; From Tudor to Hanover: British Portraits, 1590–1800 and Face of the Sky: From the Collections.
Montreal-based photographer Paul Litherland offers unprecedented access to the little-seen "back sides" of paintings from the Agnes's historical European collection in B-Side Agnes Etherington. From Tudor to Hanover: British Portraits, 1590–1800 investigates the evolution of the painted and printed portrait in Britain. Face of the Sky turns its gaze upwards, tracking a longstanding artistic fascination and combines Inuit printmaking, Italian Renaissance angels, Canadian mystical landscapes, modernist sculpture and contemporary mediations.
Installation view from B-Side Agnes Etherington: Paul Litherland and From Tudor to Hanover: British Portraits, 1590–1800.
Get Ready
The Fall 2020 At Agnes has been published and highlights five upcoming exhibitions along with the variety of programs offered this season from art and wellness to art classes and artist talks. Register early, our virtual and in-person programs fill quickly. This issue of At Agnes also updates you on ongoing projects, as we deepen academic outreach through Art of Observation and strive to move forward in a good way with the Indigenous art collection.
Pick up a copy next time you visit the gallery. Members will receive their copy by mail.
Announcement
Jan Allen, Queen's alumna, Past Director of the Agnes Etherington Art Centre, and nationally recognized curator and arts leader has received a  Distinguished Service Award from Queen's University.
"This year's Distinguished Service Awards recipients are an amazing group of individuals—individuals who have exceeded their obligations—demonstrating in their own unique ways, in their respective fields, the spirit of leadership, innovation, and initiative that has been a hallmark of this great university," says executive committee vice-chair Marcus Wong (ArtSci'03).
Selected by the University Council Executive Committee, the award recognizes exemplary service to Queen's University over an extended period of time. Read more.
Looking Ahead
Thursdays 10 September–12 November, 4–5:30 pm
Online, Saturday 19 September, 1–3 pm
Creation Station (for families)

Outdoors at Agnes
Sunday 20 September, 2–3:30 pm, with optional pre-tour 1–2 pm
Queen's University
36 University Avenue
Kingston, Ontario
Canada K7L 3N6
Agnes Etherington Art Centre is situated on traditional Anishinaabe and Haudenosaunee Territory.