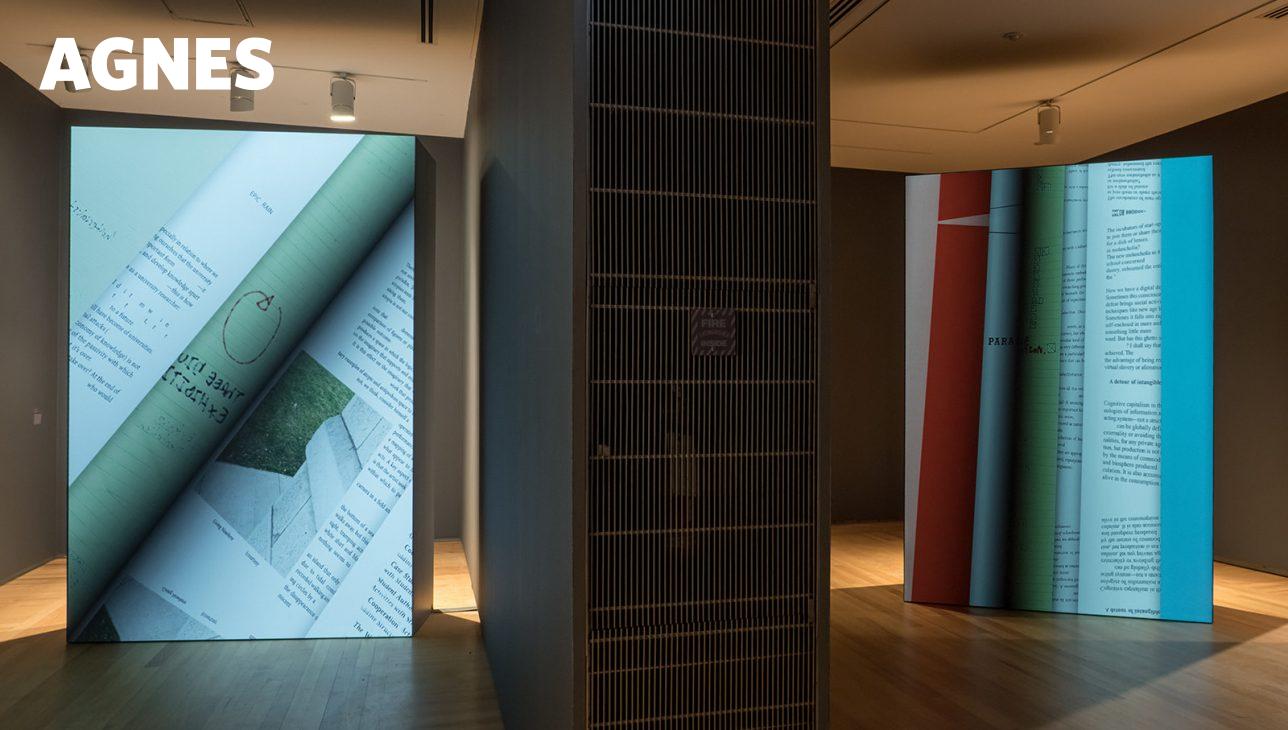 This Week at Agnes
Vibe Check
Artist Neven Lochhead creates a radio-fied version of his exhibition
CFRC 101.9fm, Wednesdays bi-weekly 21 April–2 June, 4:30–5 pm
Vibe Check is a radio art project made in relation to Neven Lochhead's solo exhibition From the vibe out at Agnes, as well as its attendant learning experiment involving a group of local artists. Over the span of four half-hour, bi-weekly episodes, Lochhead will transpose the compositional tactics and languages of his exhibition's two-channel video installation to CFRC's left-right stereo signal. Panning between a blend of synthetic voice, midi-instruments, field recordings and guest interviews, Vibe Check conjures a set of real and imagined polyvocal exchanges as sonic scaffolding for an institute to come. After airing on CFRC, it will be transcribed and archived on Digital Agnes.
Installation view of From the vibe out: Neven Lochhead.
Artist Talk
Wednesday 21 April, 5–6 pm (ET)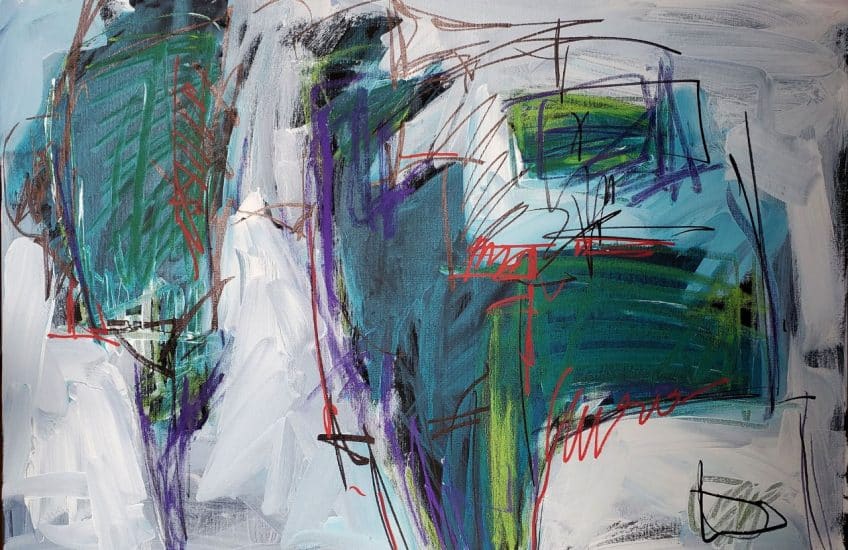 Queen's Scholars at Risk program presents Dr Canan Altinkas. Canan was awarded Queen's first year-long fellowship in September 2020, joining Agnes as our inaugural Fellow in residence.  Canan will showcase her artistic practice and process as well as share some reflections about the Artist Protection Fund. Canan will be in conversation with Heather Parker, Associate Curator, Academic Outreach at Agnes with a Q&A to follow. All are welcome. Register to save your spot.
Canan Altinkas, Line 1, 2020, acrylic on canvas. Image courtesy of the artist
Public Talk
Online, Saturday 24 April, 1–2:30 pm (ET)
In this second iteration of the "What is…" series, Suzanne Carte, Senior Curator at the Art Gallery of Burlington, will discuss contemporary art and whether we can even fit it into a simple definition.
Workshop for Youth 30 and under
Online, Saturday 1 May, 10–11:30 am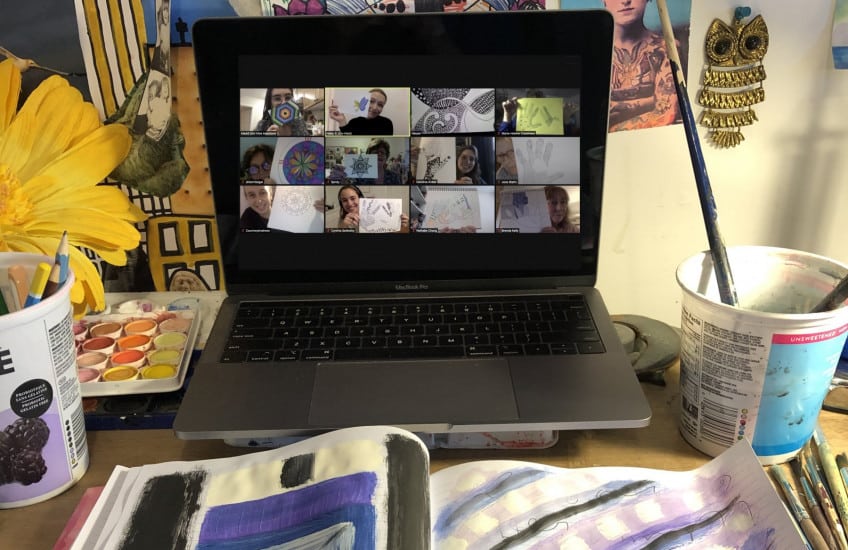 Running with Juvenis Festival, this Youth Art Hive invites you to roll the dice and take your chances in this fun and lively group activity. Artmaking is inherently therapeutic so relax and enjoy the creative flow. Facilitated by Harper Johnston and assisted by Maddison Andrews.
Kingston's youth-led, not-for-profit, Youth Arts Festival engages youth 30 and under throughout the Kingston community. Sign up for this free program.
Digital Agnes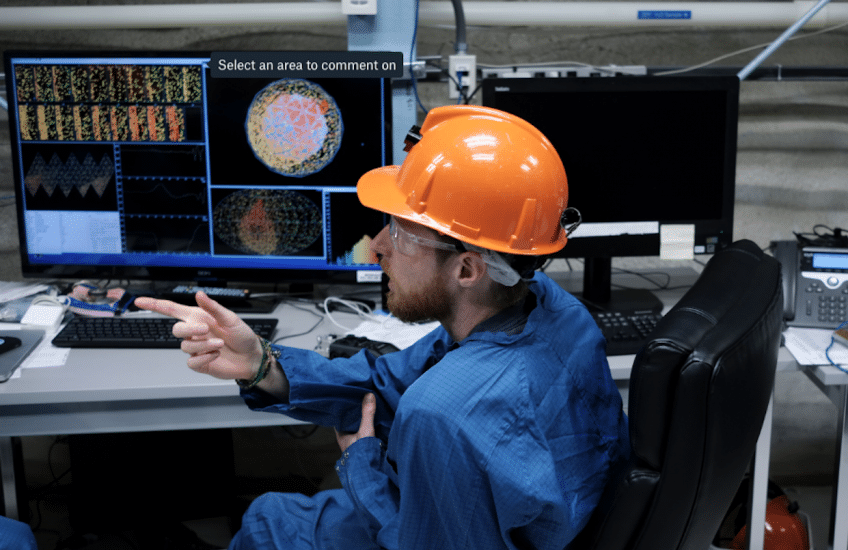 What is an art and dark matter residency? Go behind-the-scenes and see the process of making this multi-faceted interdisciplinary project a reality in the online extension.
Drift: Art and Dark Matter is a residency and exhibition project generated by the Agnes Etherington Art Centre, the Arthur B. McDonald Canadian Astroparticle Physics Research Institute, and SNOLAB.
Artist Jol Thomson tours SNOLAB as part of the artist residency for Drift: Art and Dark Matter. Photo: Gerry Kingsley
City of Kingston Arts Fund
Apply by 4 May 2021
The City of Kingston Arts Fund has received additional COVID-19 pandemic relief funding for artists. The Kingston Arts Council is accepting applications for the new Resiliency Grant and is open to individual professional artists of any discipline. The first deadline to apply is 4 May at 5 pm. There will be two more intake periods in June 2021 and October 2021. Apply now.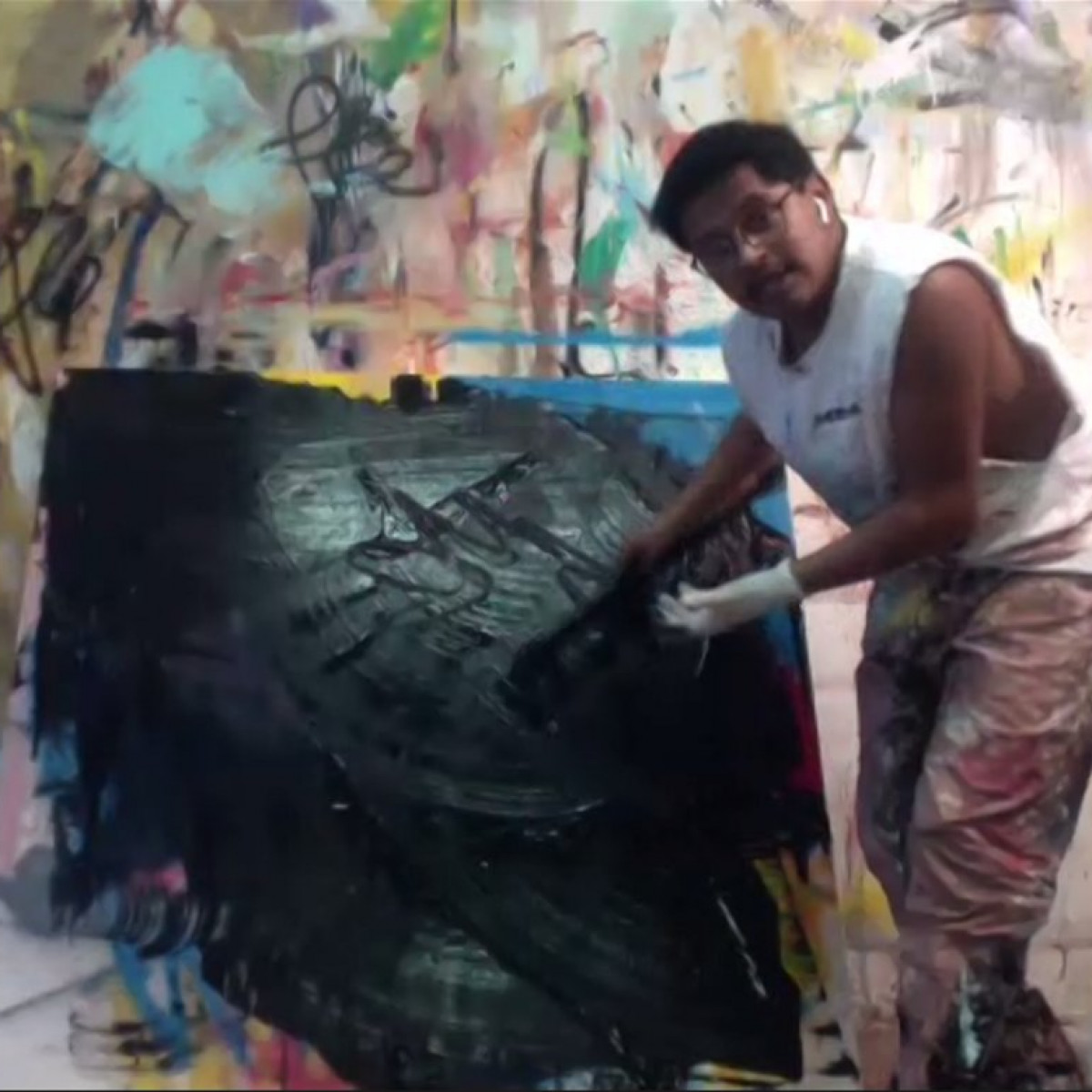 Francisco Corbett leads an online art workshop at Agnes.
Looking Ahead
Workshop for youth 30 and under

Do Art. Be Wonderful. With Francisco Corbett and Juvenis Festival.
Online, Thursday 6 May, 1–3 pm
Sign up
Virtual Art Hive @Agnes
Online, Thursdays 6 May–24 June, 4–5:30 pm (ET)
Sign up
Queen's University
36 University Avenue
Kingston, Ontario
Canada K7L 3N6
Agnes Etherington Art Centre is situated on traditional Anishinaabe and Haudenosaunee Territory.