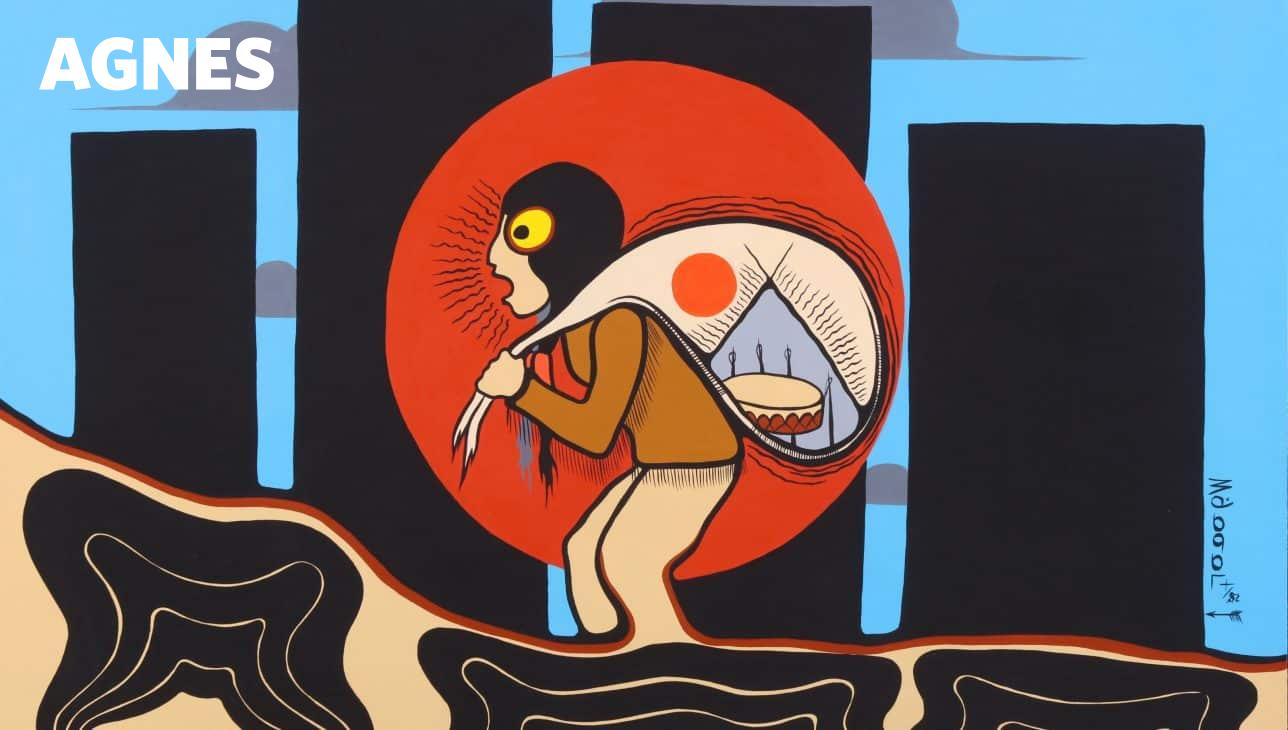 This Week at Agnes
Public Reception
15 August, 7–9 pm
Don't miss this occasion to come together and celebrate Agnes's suite of exhibitions including:
Land Protectors
Collections Count + Care
The Fabrics of Representation
Fugitive Rituals
Pamila Matharu: Where Were You in '92?
Winsom Winsom: The Masks We Wear
These are the final exhibitions in our current building. Agnes closes her doors to the public on 5 December in preparation for the building of Agnes Reimagined, our new future-oriented facility. With this celebration, we also officially kick-off An Institute for Curatorial Inquiry and Museum Without Walls (MWW).
Refreshments are available with remarks around 7:30 pm. This event is free, sign up to save your spot.
Roy Kakegamic, Survivor (detail), 1982, acrylic on paper. Gift of David Clare, 2019
NEW EXHIBITIONS
30 July–4 December 2022
Through experimentation with sound, image, found texts and acts of counter-archiving of personal and political experiences, Where Were You in '92? brings forth the embodied archives of the ground-breaking legacy of Fresh Arts, a Black artist-led program that was born out of the fury of impassioned youth. Pamila Matharu, one of the mentees of Fresh Arts, returns not only to this pivotal moment but also to her mentor, Winsom Winsom, who's more than decade-long activist history in Kingston ON is under-recognized. A series of public and education programming is presented as an integral component of this exhibition.
Curated by Emelie Chhangur, Nasrin Himada and Charlotte Gagnier
Mounted Metro police officers and others on foot confront a crowd downtown on May 4, 1992, to quell vandalism and looting. Photo: John Mahler, The Toronto Star, 4 May 1992
30 July–4 December 2022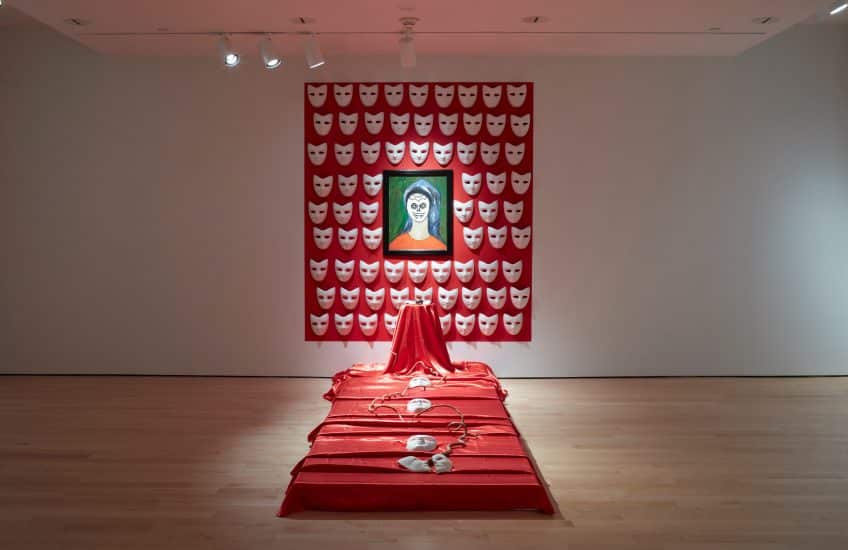 The Masks We Wear is an installation made by Ashanti Maroon artist Winsom Winsom. She has a remarkable career as a multi-media artist with a background working in varied media: textiles, painting, video, installation and puppetry.
Born in Kingston, Jamaica, she immigrated to Canada in the 1970s and lived in the Kingston, Ontario area from 1974 to 1989. As the co-founder of Kingston's Black Women's Collective she worked with the Mayor's office on issues of racism and attracted many Black activists to Kingston, including Angela Davis, Odetta, Dr Mavis Burke and Lincoln Alexander. Entwined with her career as an artist and activist, Winsom has a longstanding history as an art educator. She influenced the emergence of several Canadian artists, such as Pamila Matharu and d'bi.young anitafrika.
This recent acquisition is on view, alongside Winsom's mentee Pamila Matharu's exhibition Where Were You in '92?.
Installation view: Winsom: I Rise, December 22, 2018–July 7, 2019. Art Gallery of Ontario. Artwork © Winsom Winsom. Photo: Art Gallery of Ontario
In-Person, 14–19 August 2022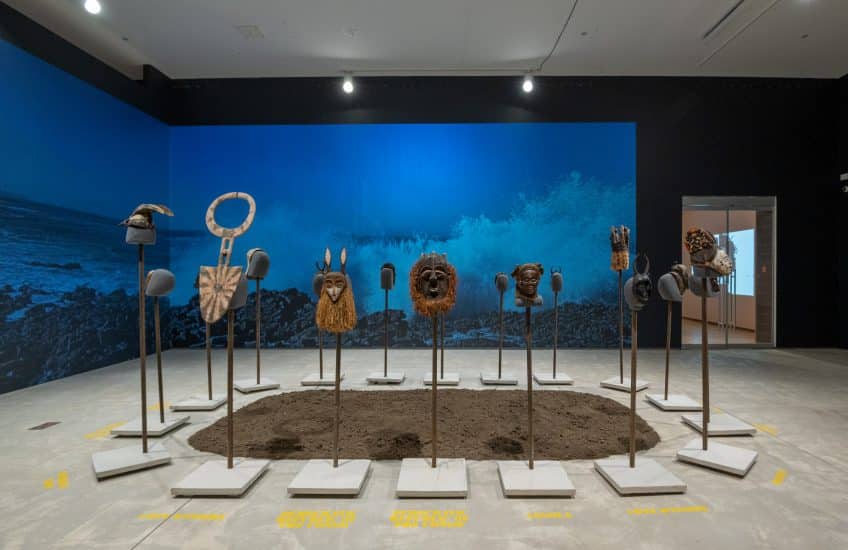 Calling artists, cultural workers, students and community members! Check out the schedule of events for the upcoming Institute for Curatorial Inquiry. Working with an expanded view of the curatorial—from making collections to simply making connections—we invite you to join in this week-long free event, through discussions, performances, exhibitions and workshops. The Summer Institute is anchored by conversational panels that tentacle out to workshops, artist performances, read-ins and a family program, all located at Agnes for the first four days. Register for one day or all of them!
Installation view of With Opened Mouths on view at Agnes through 30 January 2022. Photo: Paul Litherland
In the News
Zoha Khalid, Kingstonist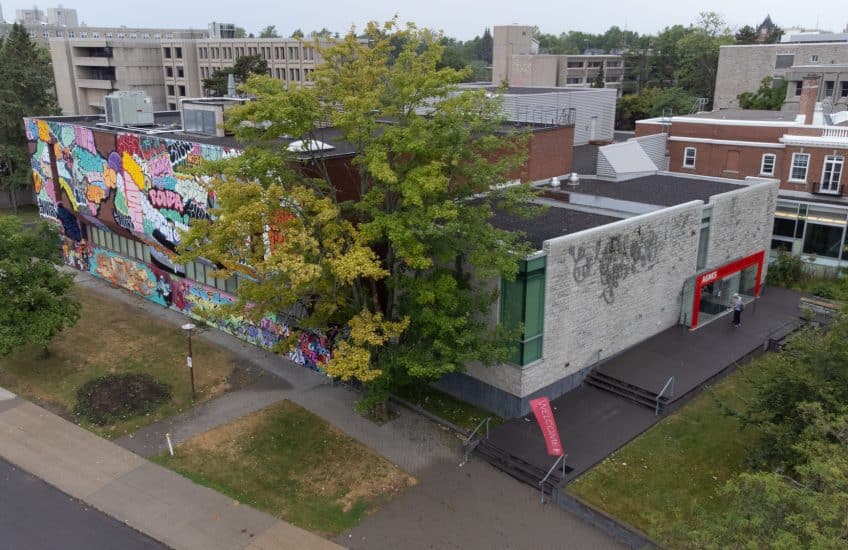 "Agnes Etherington Art Centre is 'transforming' into a more inclusive space by mobilizing arts, creativity, and museological practice in Canada, giving birth to a vision for a redesign called Agnes Reimagined.
One of the most notable — and noticeable — projects recently completed in advance of this full reimagining is Transformations, a commissioned graffiti illustration around the walls of the Agnes. Oriah Scott, an artist from Kingston who is currently based in Toronto, curated the project in collaboration with other local artists from Kingston like EronOne and AJ Little (who spent his teen years in Kingston), as well as a number of other artists from across the Toronto-to-Montreal region." Read more.
View of Transformations. Photo: Paul Litherland
Work-in-progress
April–July 2022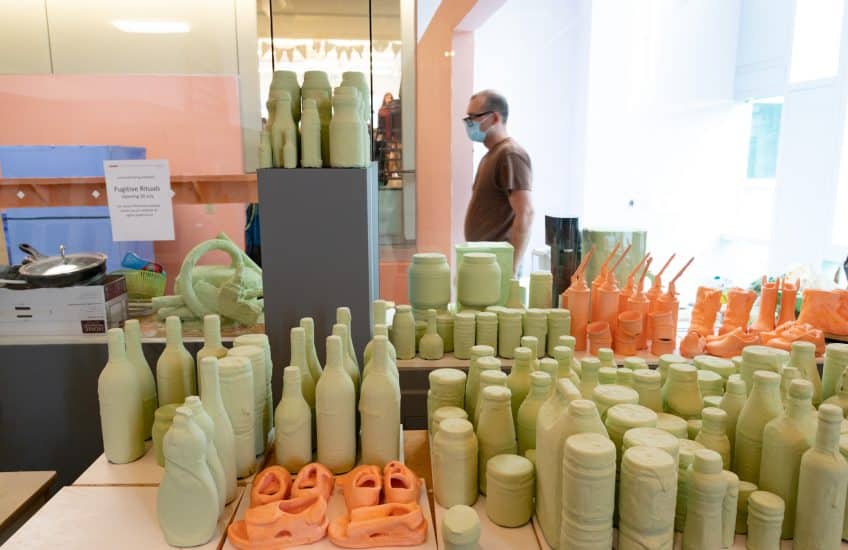 Nicolas Fleming has been fabricating A Mudroom, an apartment fully covered in pigmented plaster since early April 2022. This work is part of Fugitive Rituals: Nicolas Fleming, SF Ho, Cindy Mochizuki, Lisa Myers, Laura Pitkanen, Camille Turner and Alize Zorlutuna, 30 July–4 December, a group exhibition curated by Myung-Sun Kim
In-progress views of Nicolas Fleming's A Mudroom 2022. Photo: Paul Litherland
Looking Ahead
Ontario Arts Council Exhibition Assistance Grants

Agnes's deadlines: 16 September 2022 and 13 January 2023
We invite visual, media and craft artists living in eastern Ontario (Region 4) to apply for financial assistance for costs related to a confirmed upcoming exhibition. ($500–$2,000) Learn more
In-Person, 13 September, 11 October, 8 November 2022, 10:30–11:30 am
Free movement class for those living with Parkinson's, their caregivers and loved ones.
Sign up for one or all sessions
Queen's University
36 University Avenue
Kingston, Ontario
Canada K7L 3N6
Agnes Etherington Art Centre is situated on traditional Anishinaabe and Haudenosaunee Territory.