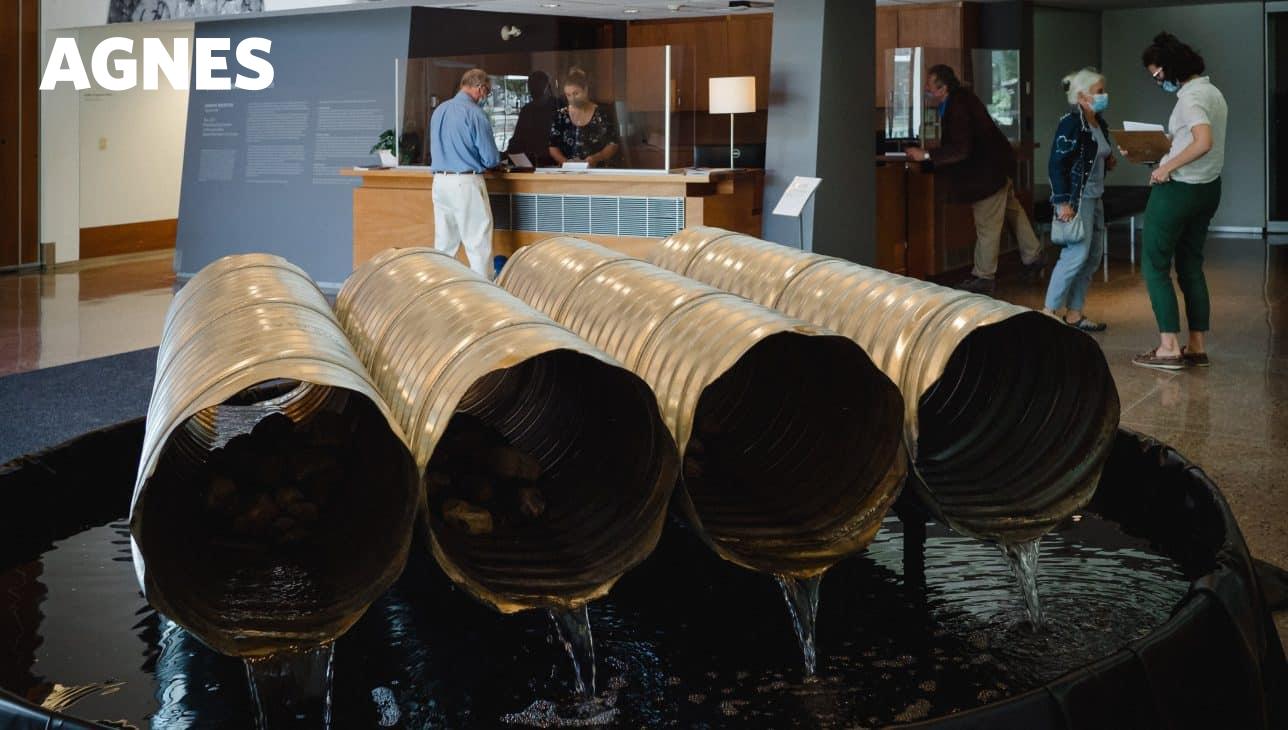 This Week at Agnes
With Opened Mouths: The Podcast
Sebastian de Line, Associate Curator Indigenous Care and Relations speaks with Qanita Lilla. They speak of life's journeys and of what led Sebastian on their current path. The tapestry of their life shows the importance of cultivating technical skill and competency, but more importantly, it is about recognising what you love and using it to find your place in the world.
Listen now on Digital Agnes or subscribe to your favourite podcast platform: CFRC's website, Apple, Spotify, and Google. With Opened Mouths is on view 7 August 2021–30 January 2022.
This Podcast series is produced in partnership with CFRC 101.9fm and supported by the Justin and Elisabeth Lang Fund and the Ontario Arts Council, an agency of the Government of Ontario.
Portrait of Sebastian De Line
Hero Image: Amy Malbeuf's A Once In A Hundred Years, 2021 on view in Lii Zoot Tayr (Other Worlds).
Making Art Work: Professional Development Series
Online, Tuesday 21 September, 6–7:30 pm (ET)
Digital access offers an incredible opportunity for artists to document and demonstrate one's creative process and product to the world. As an individual artist, your brand encompasses not only one's work, but one's vast online presence. Julie Fossitt will offer a snapshot of best practices and pitfalls for artists with the purpose to help share personal brand storytelling and identify the best tools to reach target audiences.
Agnes Etherington Art Centre, Modern Fuel Artist-Run Centre and Union Gallery are pleased to co-present the 2021–2022 Professional Development Series.  Sign up to save your spot.
Portrait of Julie Fossitt
Online, Thursday 30 September, 6–7:30 pm (ET)
What Is…? is a series of casual and introductory talks focusing on subjects connected to current Agnes exhibitions and topical subjects in the art world. Queen's University Alumnus and NFT Evangelist David Cash presents a crash course in Non-Fungible Tokens, Decentralized Finance, and how crypto will influence our futures. In this session, Cash will guide participants through a brief history of Crypto. Sign up.
For Families
In-Person at Agnes (outside), Sunday 3 October, 2–3:30 pm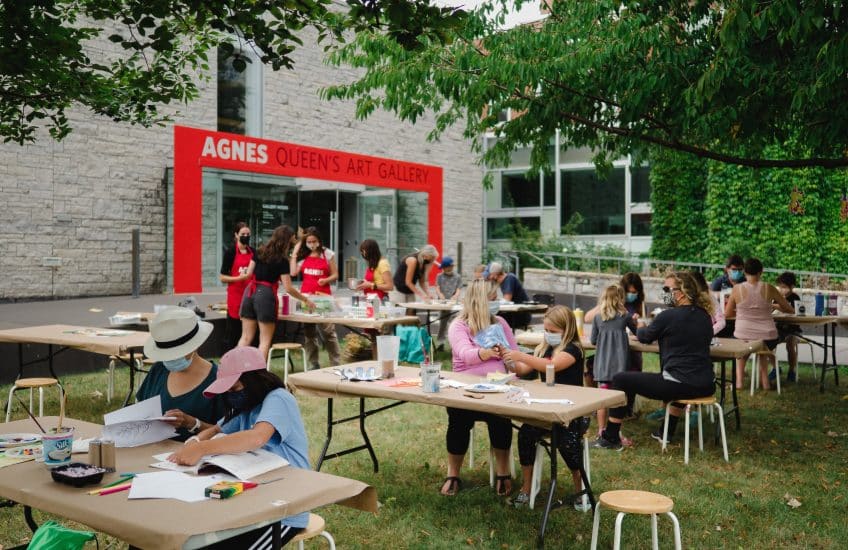 Creation Station is a free studio program designed to give families and children ages 2 and up an exploratory artmaking experience. Here, art educators ignite curiosity through painting, drawing, clay and mixed media activities. This fall, Creation Station will be held outside on Agnes grounds and is part of Ontario's Culture Days. Sign up.
This program is made possible by the Rita Friendly Kaufman fund.
Creation Station in action
New Publication
Pick up a copy at Agnes or download a PDF now and read what Qanita Lilla, Associate Curator, Arts of Africa has to say about With Opened Mouths, an exhibition of traditional West African masks, face coverings, hoods, helmets and crests from the Justin and Elisabeth Lang Collection. Remixed with contemporary work by Oluseye, With Opened Mouths interrogates the authority of the museum and its outmoded colonial practices by creating vital and embodied ways of working with/in collections.
The With Opened Mouths brochure is designed by Vincent Perez, Kingston and supported by the Justin and Elisabeth Lang Fund.
Cover of the With Opened Mouths brochure
Second edition of SwAGNES stickers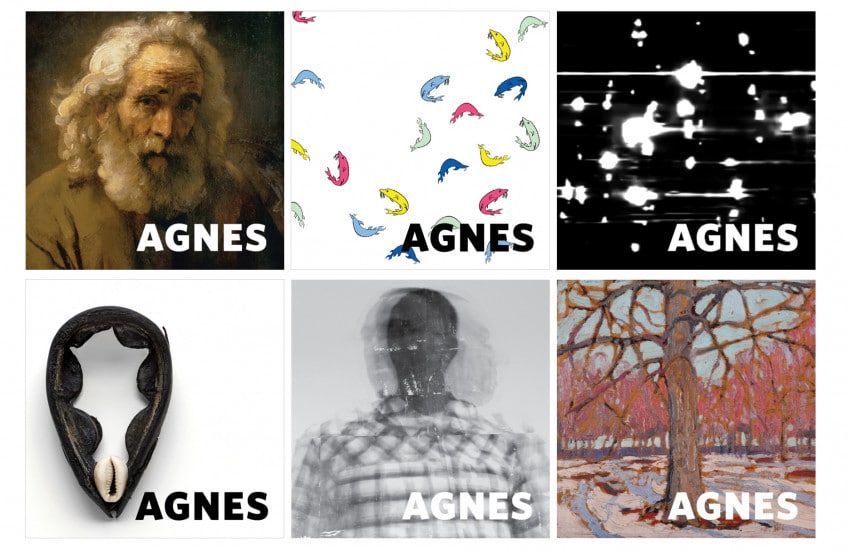 Second edition of SwAGNES stickers launched! We've seen them on laptops, scooters, bikes, skateboards and folders….where will you put yours? Pick out your very own, in-gallery, while supplies last. Learn more about each.
Featured artists include: Rembrandt van Rijn, Ogimaa Mikana (Susan Blight + Hayden King), Tannis Nielsen, Oluseye, Sandra Brewster and Tom Thomson
SwAGNES featuring six new stickers, 2021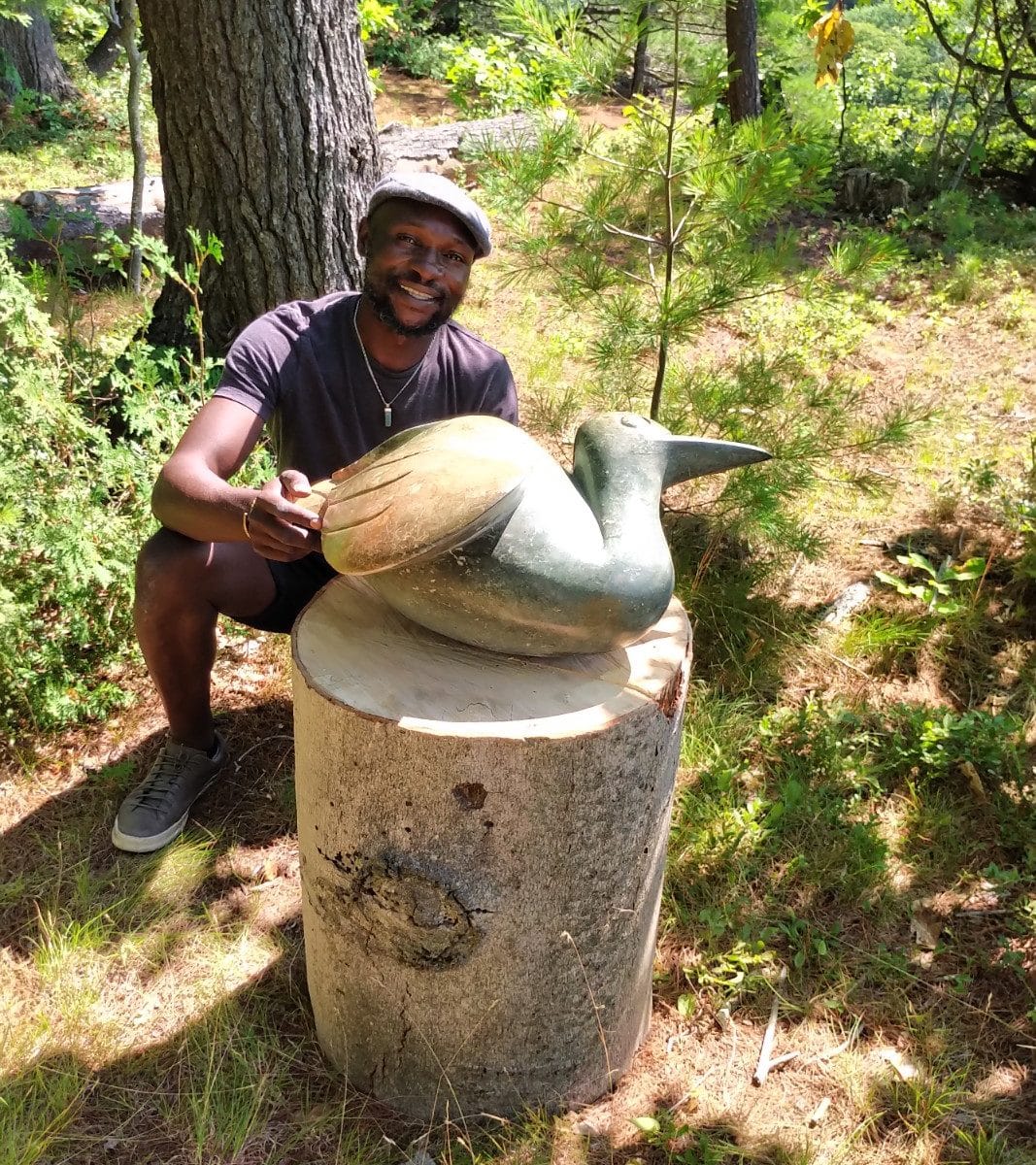 Portrait of Chaka Chikodzi
Queen's University
36 University Avenue
Kingston, Ontario
Canada K7L 3N6
Agnes Etherington Art Centre is situated on traditional Anishinaabe and Haudenosaunee Territory.