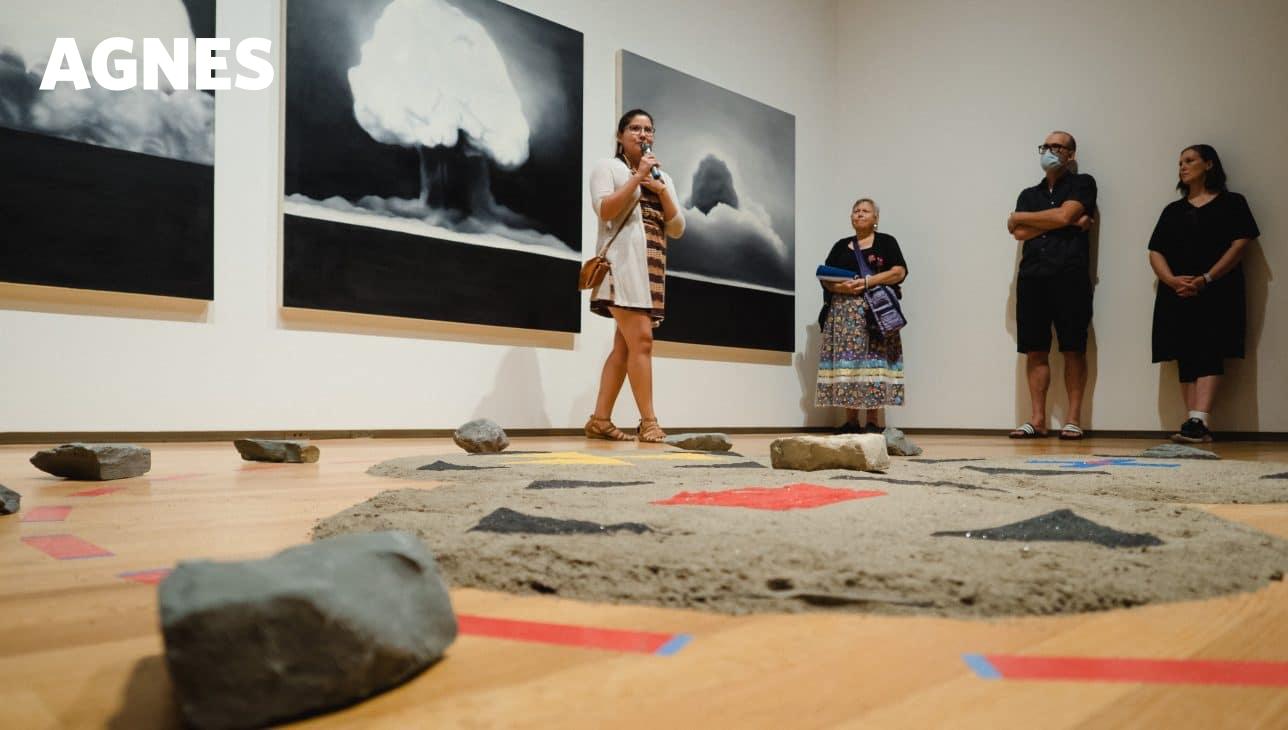 This Week at Agnes
For Queen's Faculty and Staff
27 September, 2:30–3:30 pm
Facilitated by Yasmine Djerbal, Centre for Teaching and Learning; Panelists:  Clarissa de Leon, Faculty of Education and Centre for Teaching and Learning; Rebecca Hall, Development Studies; Carolyn Prouse; Geography and Planning; Toni Thorton, Arts & Science Online
30 September is recognized as National Day for Truth and Reconciliation. As we reflect on our responsibilities to fulfill the TRC recommendations as educators and to fight for Indigenous sovereignty and self-determination, this panel of non-Indigenous educators share some reflections and strategies they have employed in their classrooms, curriculum, and research.
Following the panel, visit the exhibition Land Protectors curated by Paige Van Tassel or attend a 15-minute guided tour with Nasrin Himada, Associate Curator, Academic Outreach and Community Engagement at Agnes.
Co-sponsored by the Centre for Teaching and Learning and the Agnes Etherington Art Centre
Paige Van Tassel introduces Land Protectors during the Exhibition Preview.
New School Program
In-person, Tuesdays–Fridays 4 October–2 December, 10 am and 1 pm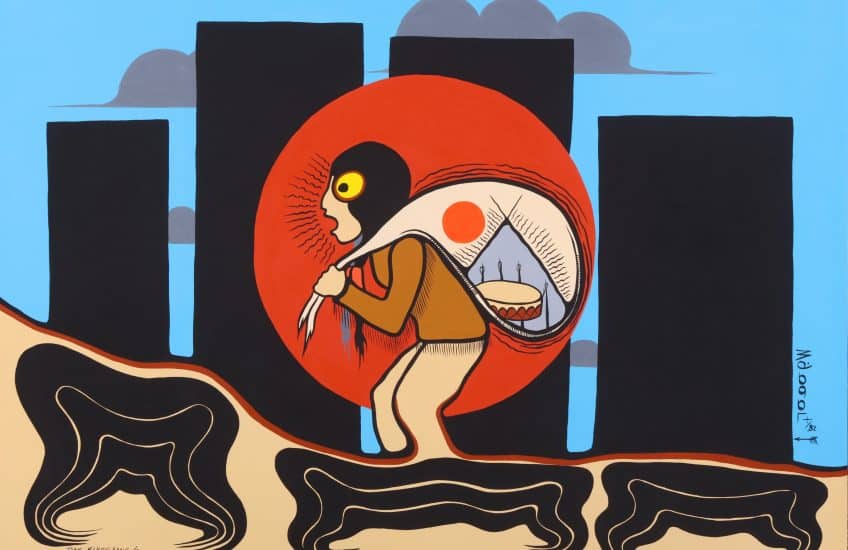 Students in grades 1–8 explore their other-than-human relations—land, animals, plant life—examining the role they play in protecting the land, followed by a workshop where they have the chance to reflect on and create a work of art portraying a place they most want to protect. The tour looks at relationships between us as a people and the environment while engaging with art by Robert Houle, Roy Kakegamic, Jane Ash Poitras, Joe David and more in the exhibition Land Protectors.
Fill out the booking request form and the Program Team will confirm your field trip time! We can't wait to have you visit in person again.
Fee: $60/class (*Limestone District School Board is supporting their classes by covering this fee.)
The Student Docent training program is generously supported by the Lloyd Carr-Harris Foundation.
Roy Kakegamic, Survivor, 1982, acrylic on paper. Gift of David Clare, 2019. On view in Land Protectors.
In the News
"Through Where Were You in '92? at the Agnes Etherington Centre, [Pamila] Matharu brings the past forward through history and geography, not only to present the "embodied archives" of Fresh Arts "with sound, image, found texts and acts of counter-archiving of personal and political experience", but to underscore the art and longstanding influence of her mentor Winsom Winsom."
Read the article and visit the exhibitions at Agnes on view until 4 December 2022.
Installation detail of Pamila Matharu's dear winsom from Where Were You in '92? at Agnes Etherington Art Centre, 30 July–4 December 2022. Photo: Paul Litherland
Digital Agnes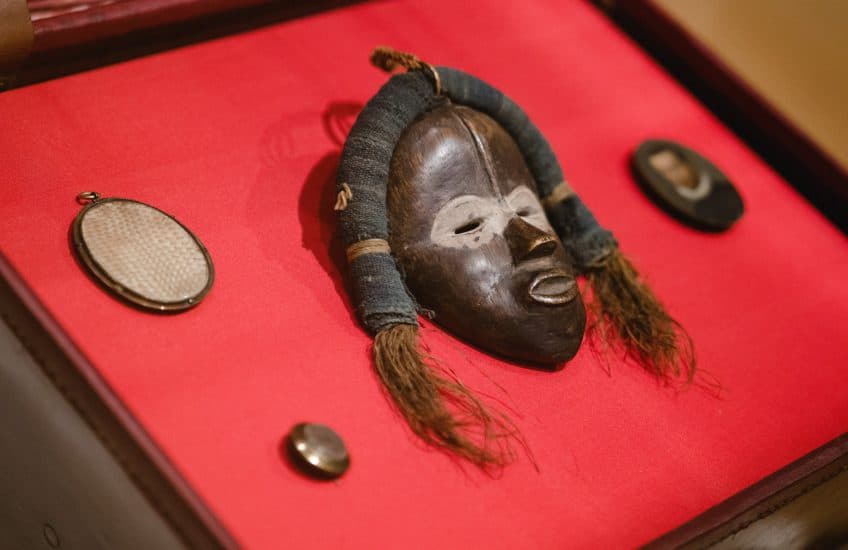 There are four new videos on Digital Agnes and Vimeo featuring conversations in Collection Count + Care. Listen to curators Alicia Boutilier, Sunny Kerr, Carleigh Candice Mignonne Milburn, Qanita Lilla and Suzanne van de Meerendonk talk about works in the collection and the ideas behind the pairings. The exhibition rotates every couple of weeks and is on view through 4 December 2022. Watch now.
Johnson, Johnston and Macrae Investment Group, part of CIBC Private Wealth Wood Gundy is the sponsor for Collection Count + Care and its related programs.
Installation view of Collection Count + Care.
Get your copy of the Collection Count + Care
Activity Book!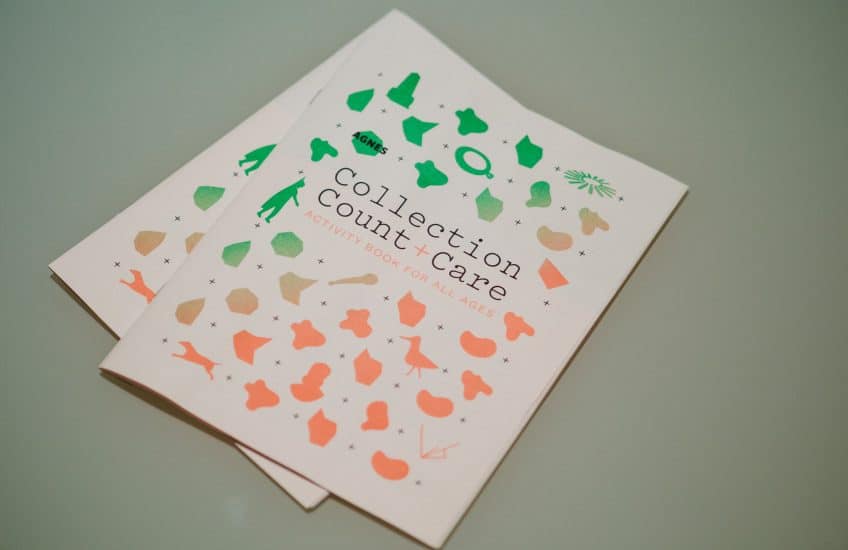 This booklet includes activities, information and prompts for all ages. We encourage you to look deeply, consider what you see and what you don't see, write down your thoughts and get creative! Available at Agnes while supplies last.
Authors: Charlotte Gagnier and Maddi Andrews / Design: Vincent Pérez and Joe Pelow
Collection Count + Care Activity Book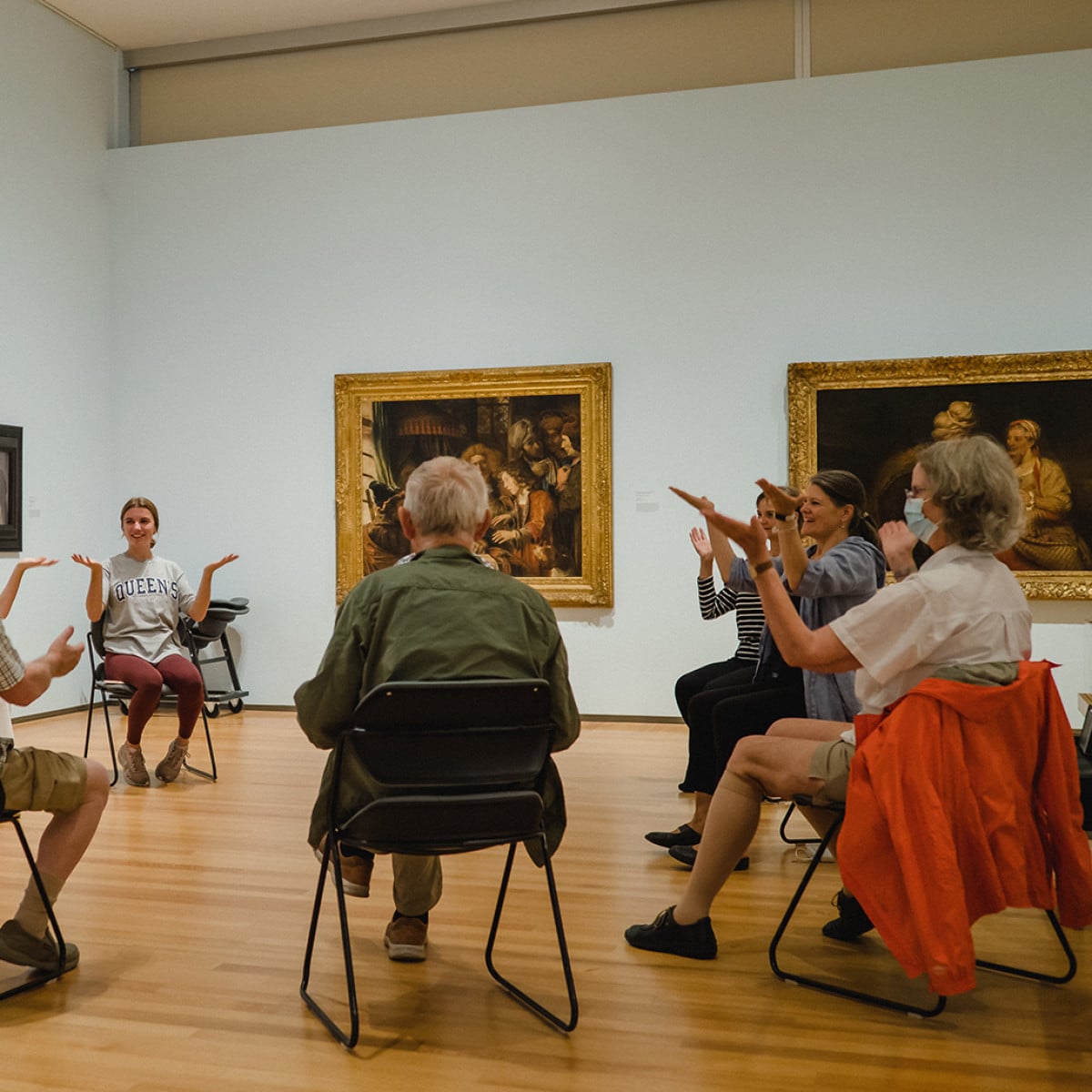 Creative Movement in the Bader Gallery with Amy Booth.
Looking Ahead
Free movement class for those living with Parkinson's, their caregivers and loved ones.
In-Person, 11 October and 8 November, 10:30–11:30 am
Sign up
Film Screening: Worrying the Mask

The Screening Room (120 Princess St, Kingston, ON)
Queen's University
36 University Avenue
Kingston, Ontario
Canada K7L 3N6
Agnes Etherington Art Centre is situated on traditional Anishinaabe and Haudenosaunee Territory.