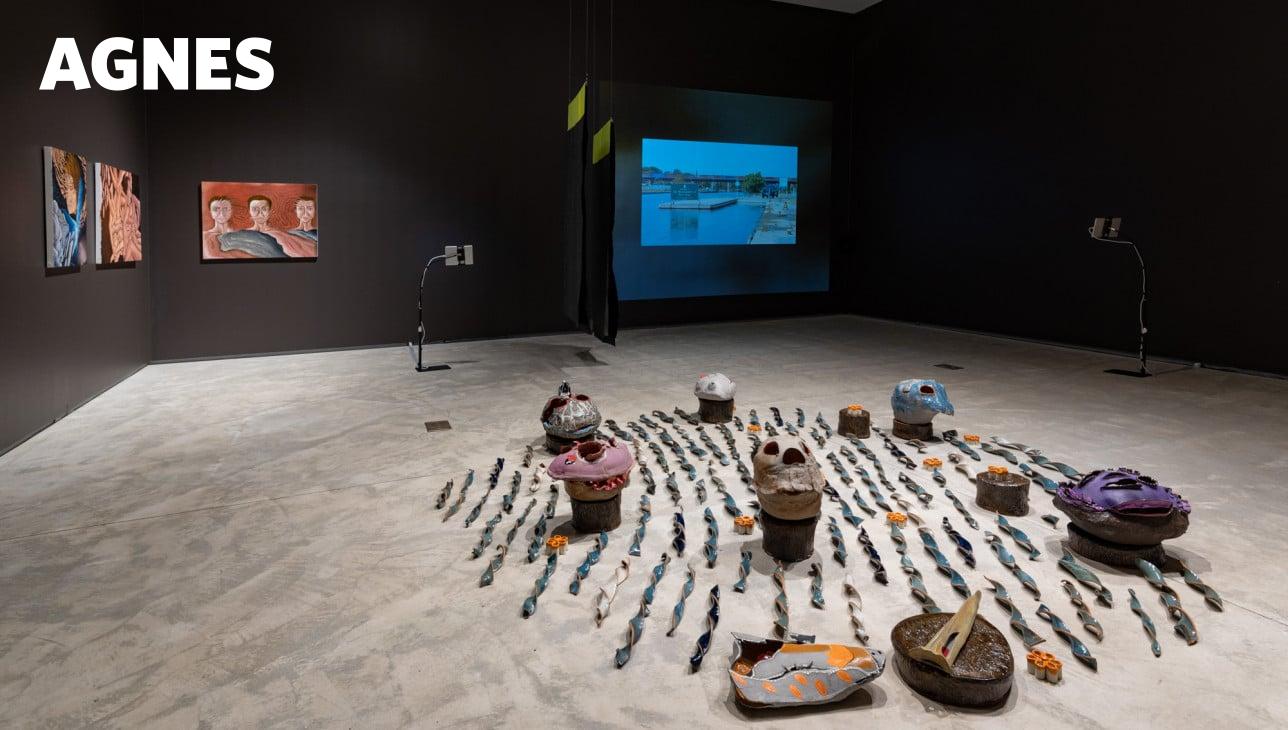 This Week at Agnes
Thursday Tour
In-Person at Agnes, Thursday 7 October, 12:15–1 pm
An outgrowth of the Dark Matter Playgroup micro-residency, Superradiance is a group exhibition featuring new work by Andy Berg, GHY Cheung, Bicky Marquez, Chrissy Poitras, Noah Scheinman and Kyle Topping.
Gain a new perspective and understanding of  Superradiance at this free, in-person, lunch-hour tour led by our friendly Community Docents. Sign up to save your spot.
The Community Docent training program is supported by the Iva Speers Fund for Art Education.
Hero Image: Installation view of Superradiance. Photo: Paul Litherland
Registration is open
Online, 14–16 October 2021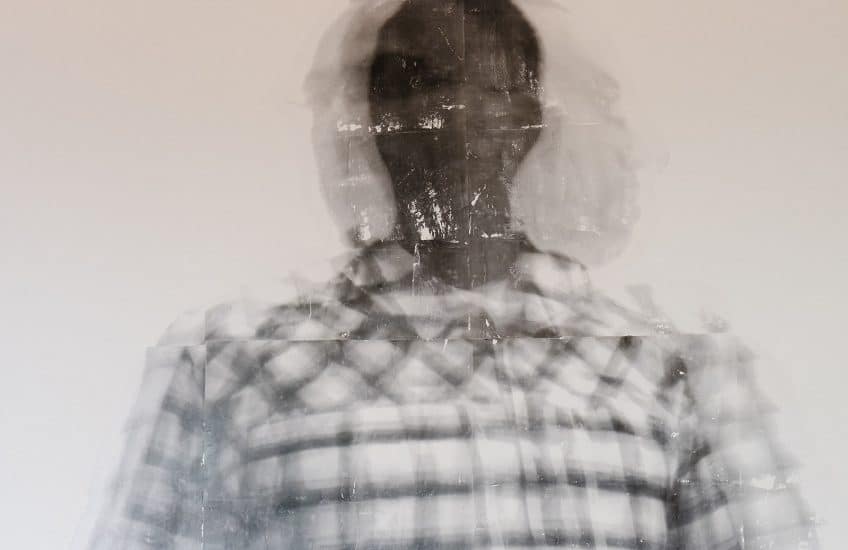 Agnes is thrilled to host the Canadian debut of the BLACK PORTRAITURE[S] conference Absent/ed Presence. Led by Wedge Curatorial Projects, Toronto, the conference invites artists, researchers, and scholars to explore Blackness as absent/ed presence in art, art history, performance, archives, museums, cultural production and technology. Learn more.
The Keynote Lecture features M. NourbeSe Philip and is hosted by the Art Gallery of Ontario on Wednesday, 13 October at 1 pm. Check out the breakout sessions, curated by Nasrin Himada, Agnes's Associate Curator of Academic Outreach and Community Engagement with partners  Mercer Union, Union Gallery and SBC Contemporary Art Gallery.
Support from NYU IAAA/CBVC, NYU Tisch Photography & Imaging, Toronto Arts Council and The Ford Foundation.
Sandra Brewster, Blur 4, 2019, photo-based gel transfer. Agnes Etherington Art Centre. Purchase, Chancellor Richardson Memorial Fund, 2020
Art and Wellness
Online, Thursdays through 11 November, 4–5:30 pm (ET)
Art Hive is a creative community that draws upon the innately therapeutic nature of artmaking. Make time for yourself to recharge and get inspired! Art Hive invites you to experiment and play as you explore the artistic process. Part of Agnes's Wellness Program and Ontario Culture Days, this weekly program is free and projects are designed to use materials you already have on hand. For all levels of artistic experience. Sign up for one week or the rest of the season!
This program is made possible through the generous support of the Birks Family Foundation.
The Studio
In-Person, Sunday 17 October, 1–3 pm (ET)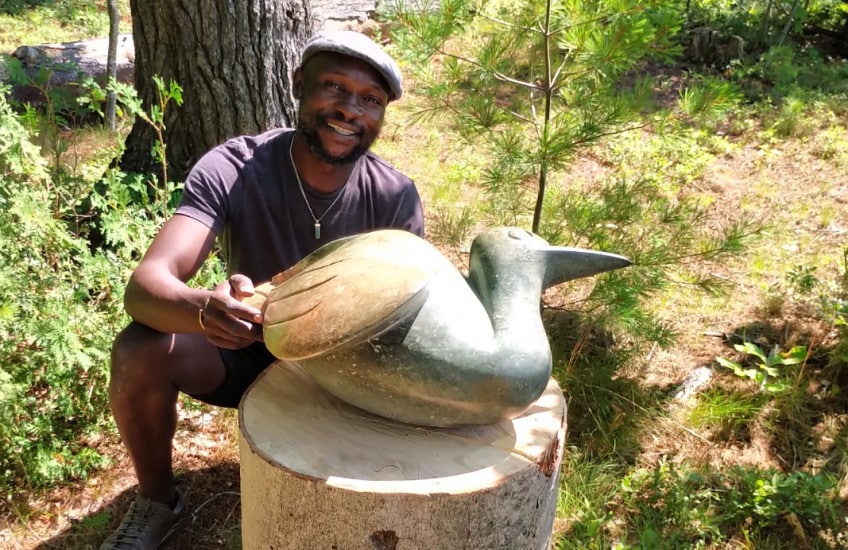 Join us and connect with your creativity at these accessible artist-led workshops featuring a talk with the artist on their practice, inspiration and career in the arts.
Sculpting with wire is like drawing in three dimensions. In this workshop, explore line and form with a variety of types of wire. Learn some basic techniques for bending and shaping the wire to create a small sculpture or functional object. Chaka Chikodzi is a Zimbabwean-Canadian stone sculptor living, working, and raising a family in Katarokwi/Kingston. This is an in-person workshop. Register ($25).
This program is made possible by the Iva Speers Fund for Art Education.
Portrait of Chaka Chikodzi
Open through 8 October
This survey is designed to better understand how audiences engage with Agnes through digital technology, and how audiences might like to deepen connections with the art centre in the future, both in-person and online. Your feedback is important. The survey should take less than 10 minutes to complete. Take the survey.
A visitor uses the QR codes in the gallery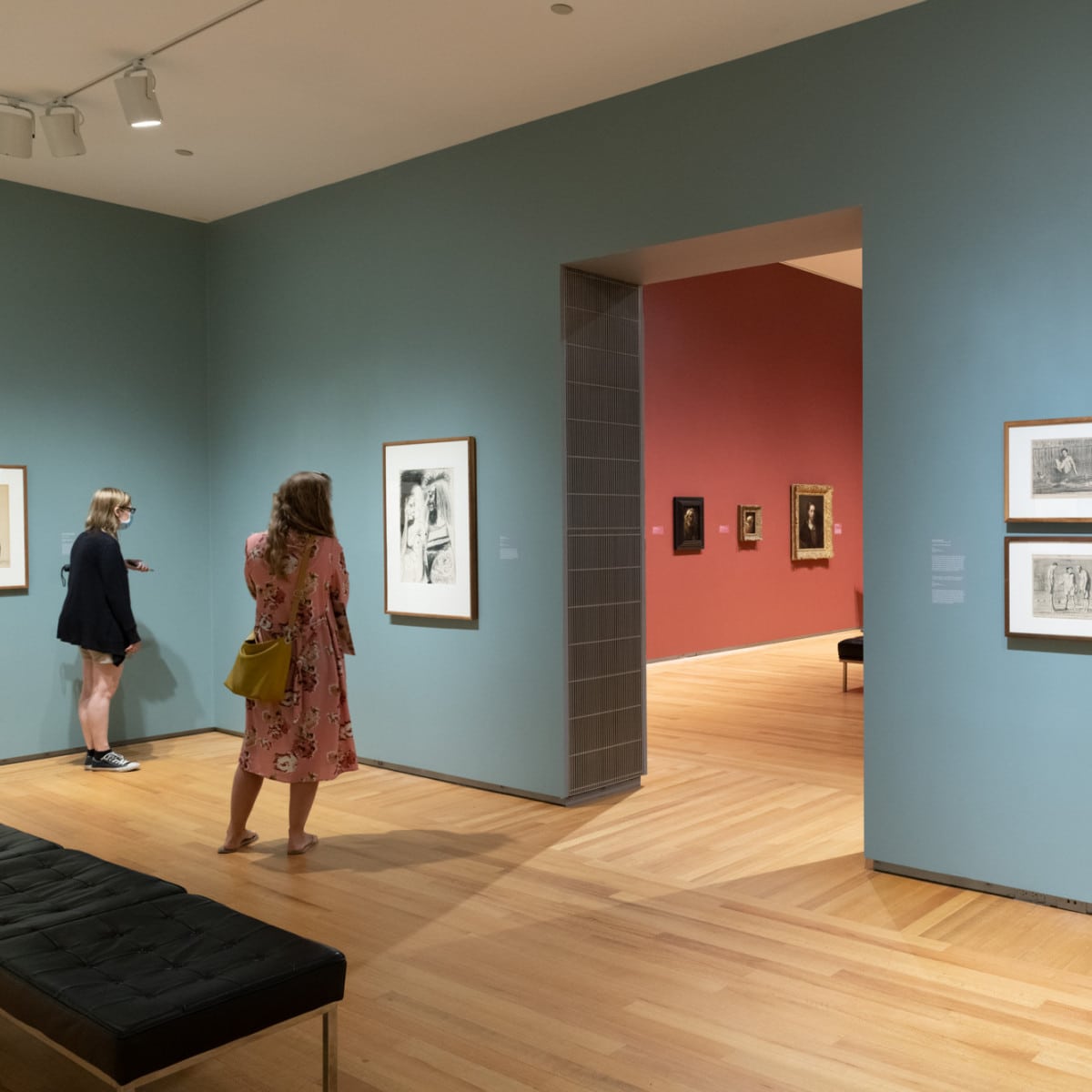 Installation view of Humour Me. Photo: Paul Litherland
Queen's University
36 University Avenue
Kingston, Ontario
Canada K7L 3N6
Agnes Etherington Art Centre is situated on traditional Anishinaabe and Haudenosaunee Territory.