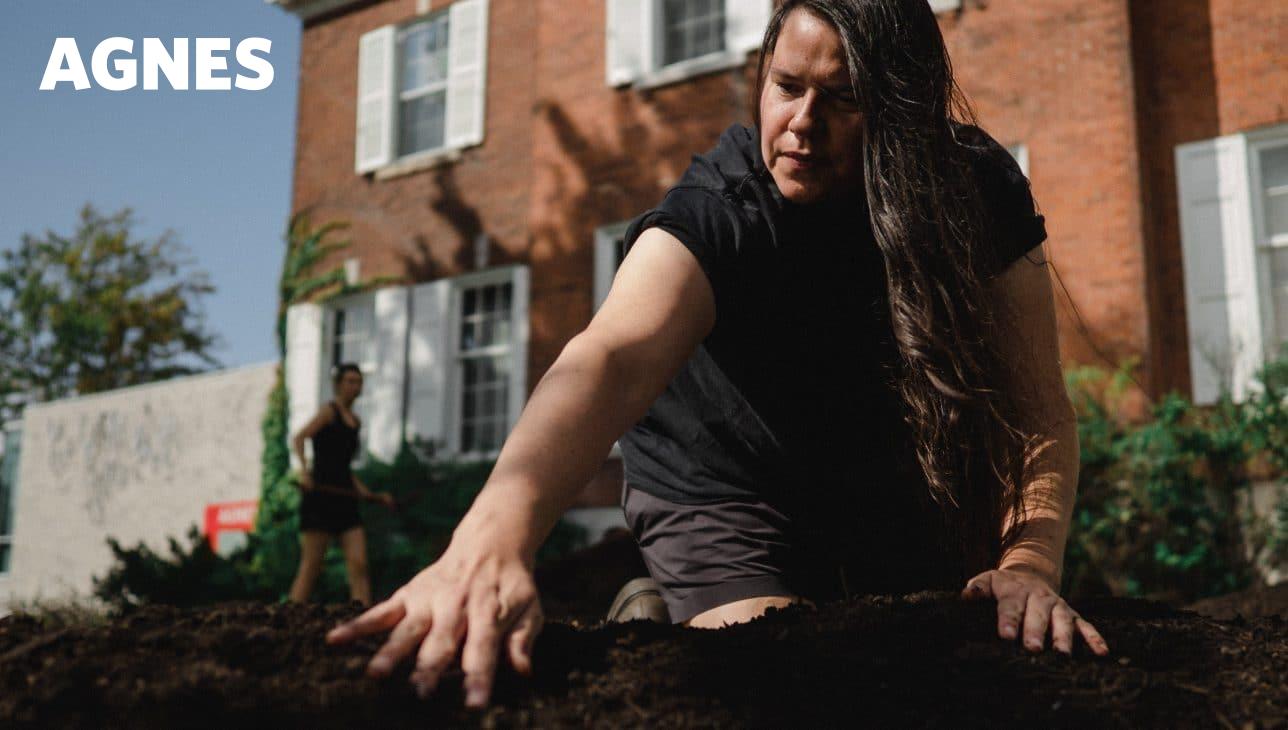 This Week at Agnes
Outdoor installation
The darkness and softness of soil are vital for plants to take root. Rather than planting, Anne Riley has provided a rich environment for the life that is already here to be nourished. dark matter garden is located on Agnes's lawn in front of the Etherington House, which is situated on the territory of the Haudenosaunee and Anishinaabek.
Riley developed this piece during a residency and exhibition project generated by Agnes Etherington Art Centre, the Arthur B. McDonald Canadian Astroparticle Physics Research Institute and SNOLAB. Riley and other artists were invited to make new work while engaging with physicists, chemists and engineers contributing to the search for dark matter at SNOLAB's facility in Sudbury, two kilometres below the surface of the Earth. Read more.
Anne Riley, dark matter garden, 2021–ongoing, organic mushroom compost and dirt
Thursday Tour
In-Person, Thursday 9 September, 12:15–1 pm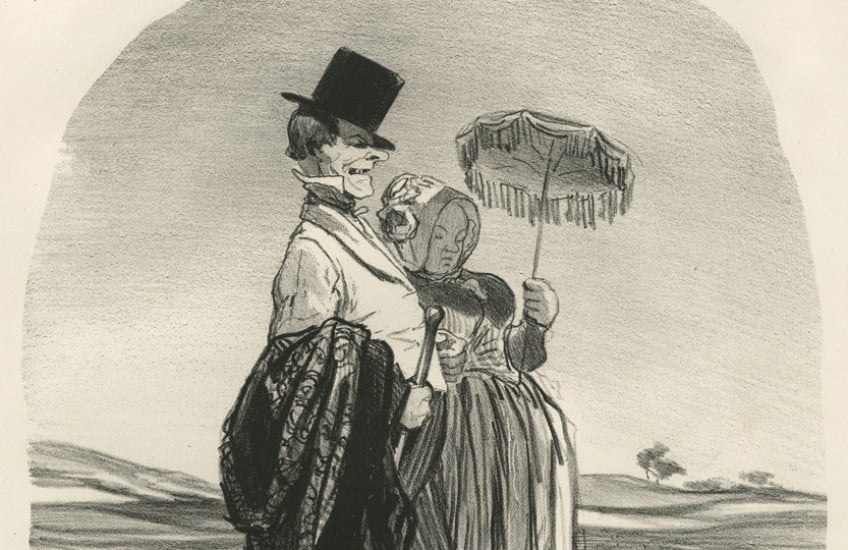 Gain a new perspective and understanding of Humour Me during this free lunch-hour tour led by our friendly Community Docents. The show highlights works by a number of the greatest practitioners of this art form, including William Hogarth, Honoré Daumier and Elmer Boyd Smith. It also features self-reflective caricatures by Emily Carr, Pablo Picasso and John Young Johnstone. Sign up for the tour.
Read a review of the exhibition in the Kingston Whig.
Honoré Daumier, Il admire les beautés de la nature. – Plaine St. Denis (detail), 1846, lithograph. Gift of the Carnegie Corporation
Tour
In-Person, Friday 17 September, 1–2 pm
Join Bader Curator of European Art Suzanne van de Meerendonk for this conversational tour of the exhibition Studies in Solitude. She will discuss the historic understandings of solitude that informed the artworks on display and considers how those topics may find resonance in the present.
Michael Sweerts, Self-portrait with Skull, around 1661, oil on canvas. Gift of Alfred and Isabel Bader, 2004
Art and Wellness
Online, Thursdays 9 September–11 November, 4–5:30 pm (ET)
Art Hive is a creative community that draws upon the innately therapeutic nature of artmaking. Make time for yourself to recharge and get inspired! This weekly program is free and projects are designed to use materials you already have on hand. All levels of artistic experience are welcome. Sign up
This program is made possible through the generous support of the Birks Family Foundation.
Virtual Art Hive: Manifestation of a Visual Conversation with Hamid Ayoub
Free Art Class for teens
In-Person, Saturdays 11–25 September and 2 October, 2–3:30 pm
With the black line, we can refocus, change, and become aware of what we see. Francisco Corbett will show you how to use black lines, dark colours and strong shapes to accentuate artwork.  This free program is for youth ages 14–18. Sign up
Francisco Corbett at Electric Circuits 2020. Photo courtesy of Sandbox Photovideo
For Families
In-Person (outside), Sunday 12 September, 2–3:30 pm
Creation Station is a free studio program designed to give families and children ages 2 + an exploratory artmaking experience. Art educators ignite curiosity through painting, drawing, clay and mixed media activities. Sign up
This program is made possible by the Rita Friendly Kaufman fund.
Creation Station in action. Photo: Tim Forbes
A free 3-week therapeutic inquiry workshop
In-Person, Sundays 12–26 September, 1–3 pm
A Solitary Journey Together is a communal space to process your inner experience during the pandemic. Tap into intermodal artmaking (body movement, poetry, visual arts and sound) in response to the exhibition Studies in Solitude through Expressive Arts Therapy (EXA). Facilitated by Gracelynn Lau, Queen's PhD student and Expressive Arts therapist.
Portrait of Gracelynn Lau
AGNES REIMAGINED
A remarkable gift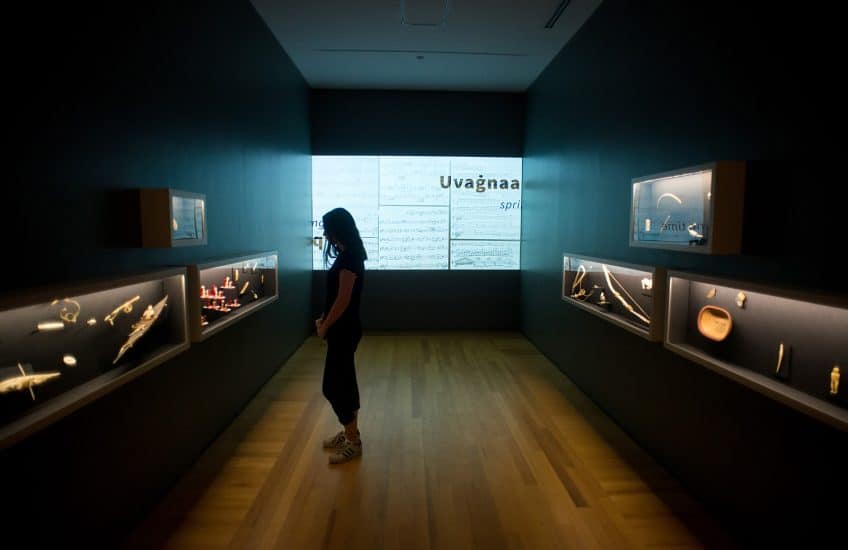 The Joseph S. Stauffer Foundation has donated a remarkable gift of $1,000,000 to Queen's University for Agnes Reimagined. In Agnes Reimagined, the museum is a catalyst that brings artists, students, scholars, community groups, and different disciplinary thinking together into new social, cultural, and pedagogical effect with real and simultaneous consequence: on artists' practices, on transdisciplinary innovation, on students' professional and academic development and on community well-being.
Heidi Senungetuk's Qutaaŋuaqtuit: Dripping Music with thirty-three cultural belongings displayed at Agnes as part of Soundings: An Exhibition in Five Parts.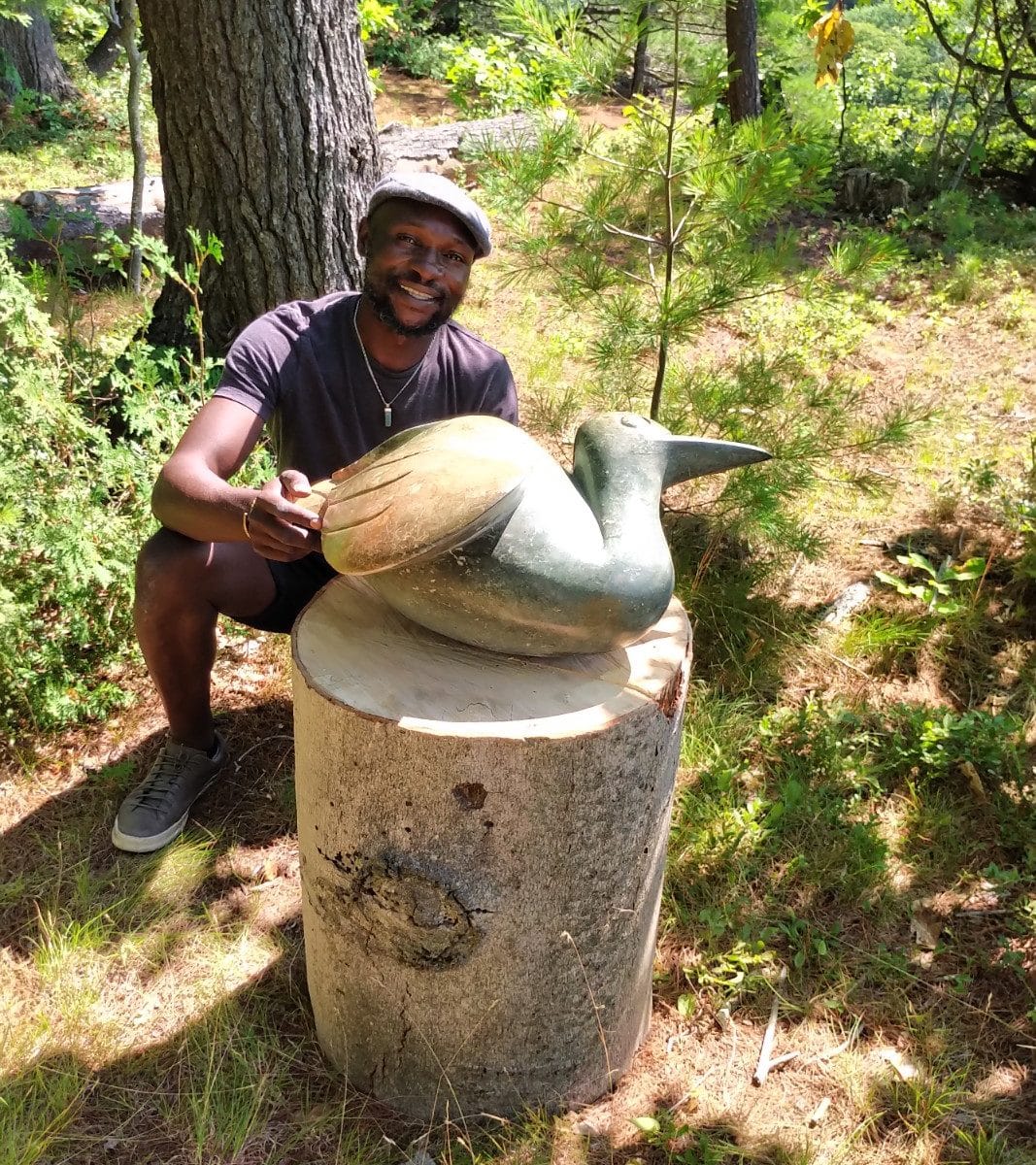 Portrait of Chaka Chikodzi
Queen's University
36 University Avenue
Kingston, Ontario
Canada K7L 3N6
Agnes Etherington Art Centre is situated on traditional Anishinaabe and Haudenosaunee Territory.