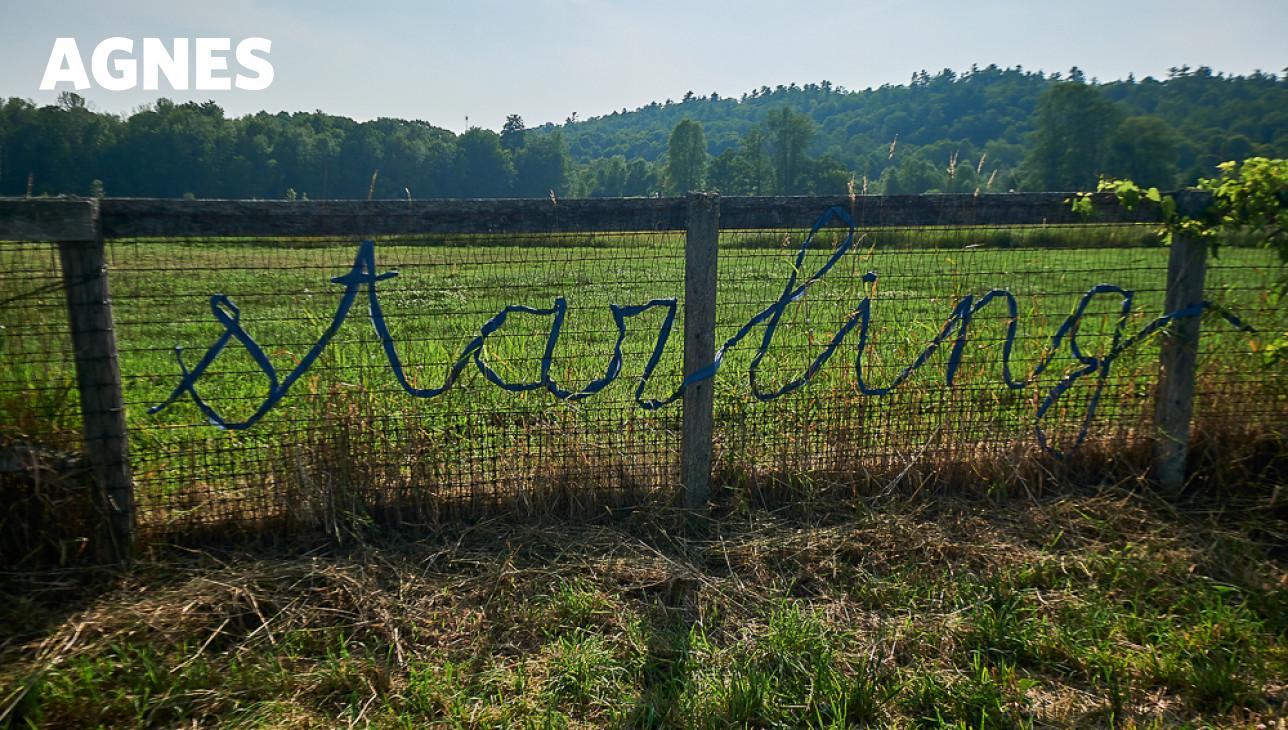 This Week at Agnes
OFF-SITE at No.9 Gardens
29 July–1 October 2023
Agnes and No.9 Gardens co-present With the Land, an exhibition set in the secluded golden fields at No.9 Gardens. The exhibition is open and free to the public for self-guided tours on  Saturdays and Sundays, 10 am–5 pm, 29 July–1 October 2023.
Works emerge in the lush outdoor trails, meandering riverbanks and wildflower fields, including those by Andy Berg, Elaine Chan-Dow, Chaka Chikodzi, Francisco Corbett, Sadiqa de Meijer, Elvira Hufschmid, Alvin Luong, Jill Price and the Along the Way Playgroup, Michelle Bunton, Sebastian De Line, Sadiqa de Meijer, Shelby Lisk, JP Longboat (lead artist), Marney McDiarmid, Andrei Pora, Clelia Scala and Sheldon Traviss. Curated by Sunny Kerr, Curator of Contemporary Art.
Supported by a Regional Tourism Ontario Partnership grant, Canada Council for the Arts and City of Kingston Arts Fund.
Sadiqa de Meijer, The Ones That Made Landfall, 2023, repurposed cotton and polyester fabric. Photo: Ariel Estulin
Call for applications
Apply by 21 August 2023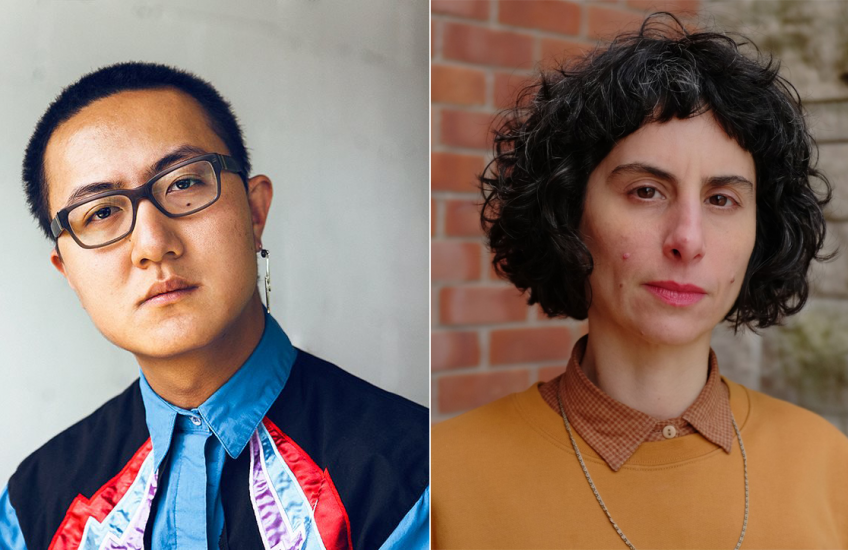 Continuing his curatorial research into conditioning spaces of joy as an art form and practice, PhD student, poet, and translator, Fan Wu – along with Nasrin Himada, Associate Curator, Academic Outreach and Community Engagement – co-facilitate a student residency in Etherington House 28 September–1 October 2023.
Living Intuition: A Residency of Practice & Process is split into unstructured experiential time and loosely structured workshops. Each participant will have three hours to share their practices and processes with the group. We set up an atmosphere of exploration and free sharing where we can all practice together in embodied and collective contexts. The hope is to cultivate new relationships, to create unlikely bonds across disciplines, and to expose resident students to a variety of forms of making and doing. Read more and apply >
Left: Portrait of Fan Wu. Photo: Alice Xue. Right: Portrait of Nasrin Himada. Photo: Kriss Li.
New Publication
$43.00, softcover
This unique publication thinks with dark matter, approaching it through diverse worlds, image and voice. Drift: Art and Dark Matter features residency artists Nadia Lichtig, Josèfa Ntjam, Anne Riley and Jol Thoms with essays by exhibition curator Sunny Kerr, Director and Curator Emelie Chhangur, Nobel prize-winning astroparticle physicist Art McDonald, and Denise Ferreira da Silva, a leading critic of post-Enlightenment thought. Given the contours of dark matter's "known unknowns," the artists and writers reflect on the how and why of physics and art as interrelating practices. Lush and Sensitive design is by K. Verlag with Wolfgang Hückel & Katharina Tauer. Get your copy >
Co-published by K. Verlag and Agnes Etherington Art Centre with Arthur B. McDonald Canadian Astroparticle Physics Research Institute, Art Museum at the University of Toronto, Carleton University Art Gallery, Morris and Helen Belkin Art Gallery and SNOLAB.
Drift: Art and Dark Matter publication cover
For Families
20 August, 2–4 pm
Creation Station is a free studio program designed to give families and children ages 2 + an exploratory artmaking experience. Art educators ignite curiosity through painting, drawing, clay and mixed media activities. Each monthly workshop offers a set of themed art activities. All materials are provided. All children under the age of 12 must be accompanied by an adult. Sign up >
Made possible by the Birks Family Foundation.
Creation Station for families
Digital Agnes: With Opened Mouths Podcast
Listen as artist Rajni Perera speaks to Qanita Lilla about the interstellar travelers and the multiversal futurisms that inform her practice. Rajni was born in Sri Lanka in 1985 and lives and works in Toronto. She explores issues of hybridity, futurity, ancestorship, immigration identity/cultures, monsters and dream worlds.
New episodes are released monthly on Digital Agnes and distributed by our partners at CFRC 101.9 FM. Supported by The George Taylor Richardson Memorial Fund, Queen's University; the Justin and Elisabeth Lang Fund; and Young Canada Works Building Careers in Heritage, a program funded by the Government of Canada.
With Opened Mouths Podcast cover with Rajni Perera
Staff Spotlight
As a Museum Technician Assistant, Grace LeSurf has worked closely with the collection to handle, inventory, pack, and move thousands of works of art and cultural belongings to off-site storage in anticipation of Agnes Reimagined.
Grace recently graduated from Queen's University with a degree in Art History and was previously a Collections Research Assistant at Agnes. Grace is resuming her studies this year to complete her Bachelor of Education. She hopes to one day combine her love of art and teaching in a museum or gallery. Read more >
Portrait of Grace LeSurf. Photo: Tim Forbes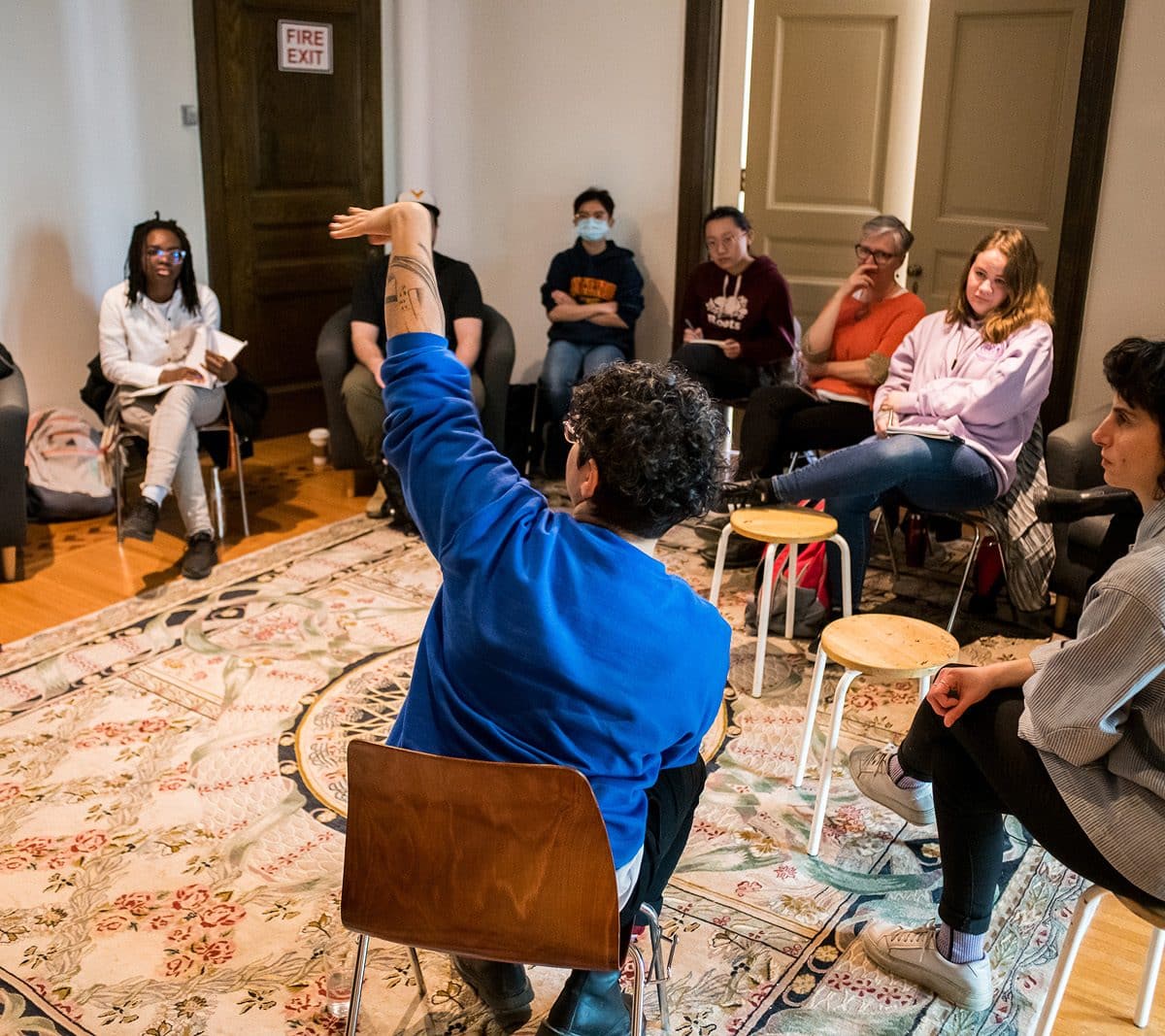 OPEN SECRET: Screening, Conversation + Workshop with Sharlene Bamboat. Photo: Garrett Elliott
Looking Ahead
Agnes welcomes back students by joining in Orientation Week at Queen's University.
8 September, 4–7 pm
Sign up >
Queen's University
36 University Avenue
Kingston, Ontario
Canada K7L 3N6
Agnes Etherington Art Centre is situated on traditional Anishinaabe and Haudenosaunee Territory.