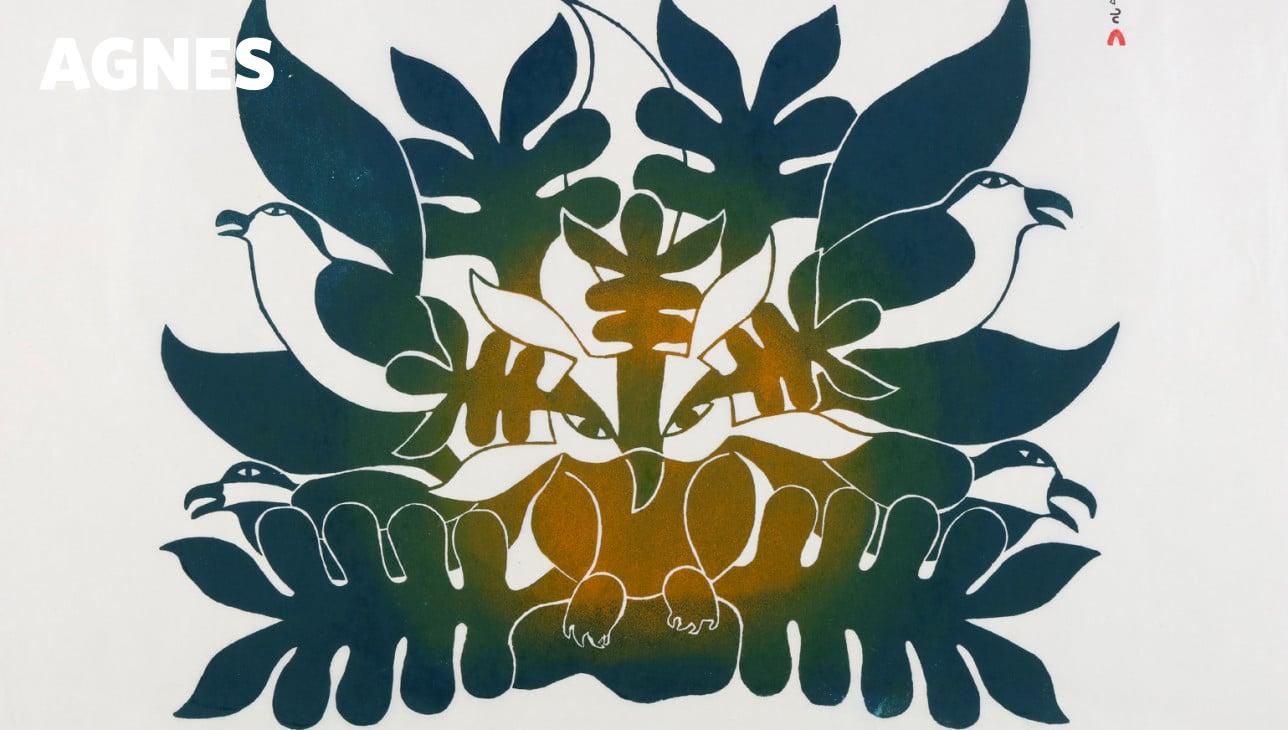 This Week at Agnes
Welcome back!
We've extended the exhibitions allowing for a full month to enjoy The Pathos of Mandy Walter Scott; Inuuqatikka: My Dear Relations; B-Side Agnes Etherington: Paul Litherland; From Tudor to Hanover: British Portraits, 1590–1800; Face of the Sky: From the Collections; Quest for Colour: Five Centuries of Innovation in Printmaking and The Art of African Ivory. Sandra Brewster: Blur will remain installed through September 2021.
"We are confident that AGNES can provide safe space for connecting with and enjoying art," says Alicia Boutilier, Interim Director and Chief Curator. "Staff have been working diligently to ensure that everything runs smoothly and we have a few changes in place for your comfort and safety."
Our hours will remain the same except that we will not be offering late nights on Thursdays. View our policies to help you prepare for your visit. We're excited to welcome you back!
Kenojuak Ashevak, Birds and Foliage, 1970, stonecut on paper, printed by Lukta Qiatsuk. Gift of Mary Robertson, 1985 (28-123). On view in Face of the Sky: From the Collections
MAJOR ANNOUNCEMENT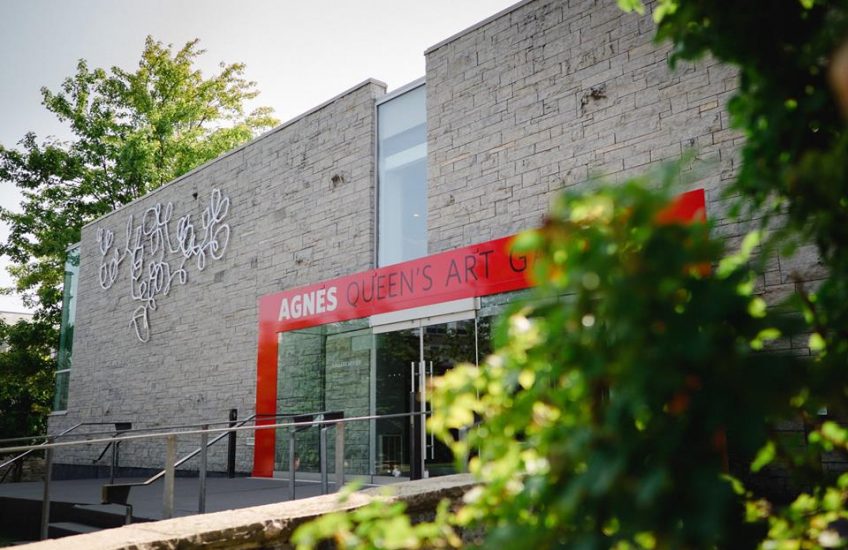 Queen's University announced a $54-million gift from Bader Philanthropies, Inc., to revitalize and expand the Agnes Etherington Art Centre. Agnes will feature innovative, state-of-the-art exhibition, program, collection and community spaces that will more fully embed the gallery into the fabric of university and community life. The new facility will prioritize accessibility, promote inclusivity, and explore collaborative models of research and exhibition to empower students, faculty and diverse communities. A formal visioning exercise has started with Lord Cultural Resources, which will inform schematic designs for the project. The revitalized Agnes is expected to be completed in 2024.
Read more in the Queen's Gazette.
MAKE. LOOK. LEARN. EXPLORE.
Register to save your spot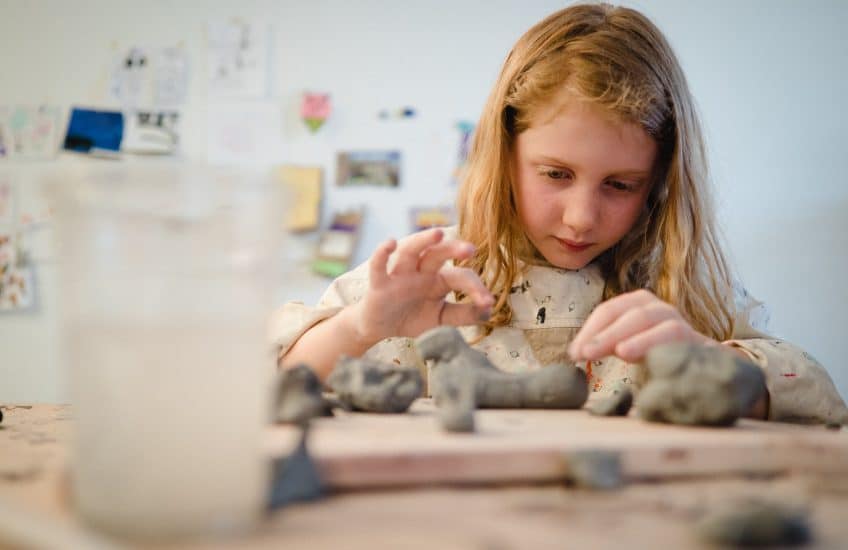 Join us for Agnes Art Camp at Home! We have a couple of spots left in Oh, the Places You'll Go! with Ella Gonzales, 13–17 July, and Wild Imagination with Julia Hegmann, 27–31 July. Exciting themed activities are planned for each week such as sculpture, drawing, painting and collage, all using safe and non-toxic supplies provided in the Agnes art kit. Online field trips to see the Agnes art collection will inspire creativity and learning.
Each day is led by three experienced facilitators and the camp size is kept small with a maximum of 14 campers ages 6–12. Fee: $100/week (art kit included), bursaries are still available. Register today.
Deep Looking (Online Edition)
Tuesday 14 July, 1–2 pm
Take time to slow down and deeply observe works of art in B-Side Agnes Etherington: Paul Litherland. Through a virtual contemplation practice this facilitated experience will allow for relaxation and new insights to arise. Led by Shannon Brown, Program Coordinator.
Register to save your spot. We will send you the link to connect via Zoom.
Paul Litherland, B-Side Ferdinand Bol (detail), 2019, cotton paper and pigment inks mounted on poplar stretcher. Courtesy of the artist
Open call for Applications
Apply by 24 August 2020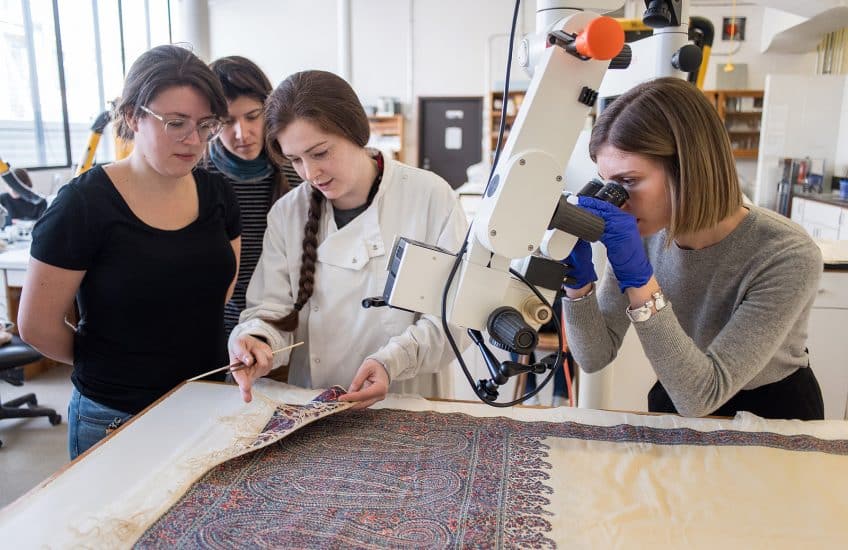 Postings are now open for both the 2021 Isabel Bader Fellowship and Graduate Internship in Textile Conservation and Research. This program supports the study, care and treatment of Canadian historical costume and textiles, through the generous support of Dr Isabel Bader. It links two unique resources at Queen's University: the Collection of Canadian Dress at the Agnes Etherington Art Centre, and the Master of Art Conservation Program, Canada's only graduate degree in conservation theory and treatment.
Learn more about this opportunity OR read about past fellowships.
Lorna Rowley speaks with Master of Conservation graduate students while Vanessa Nicholas examines a shawl from the collection through a microscope.
Queen's University
36 University Avenue
Kingston, Ontario
Canada K7L 3N6
Agnes Etherington Art Centre is situated on traditional Anishinaabe and Haudenosaunee Territory.