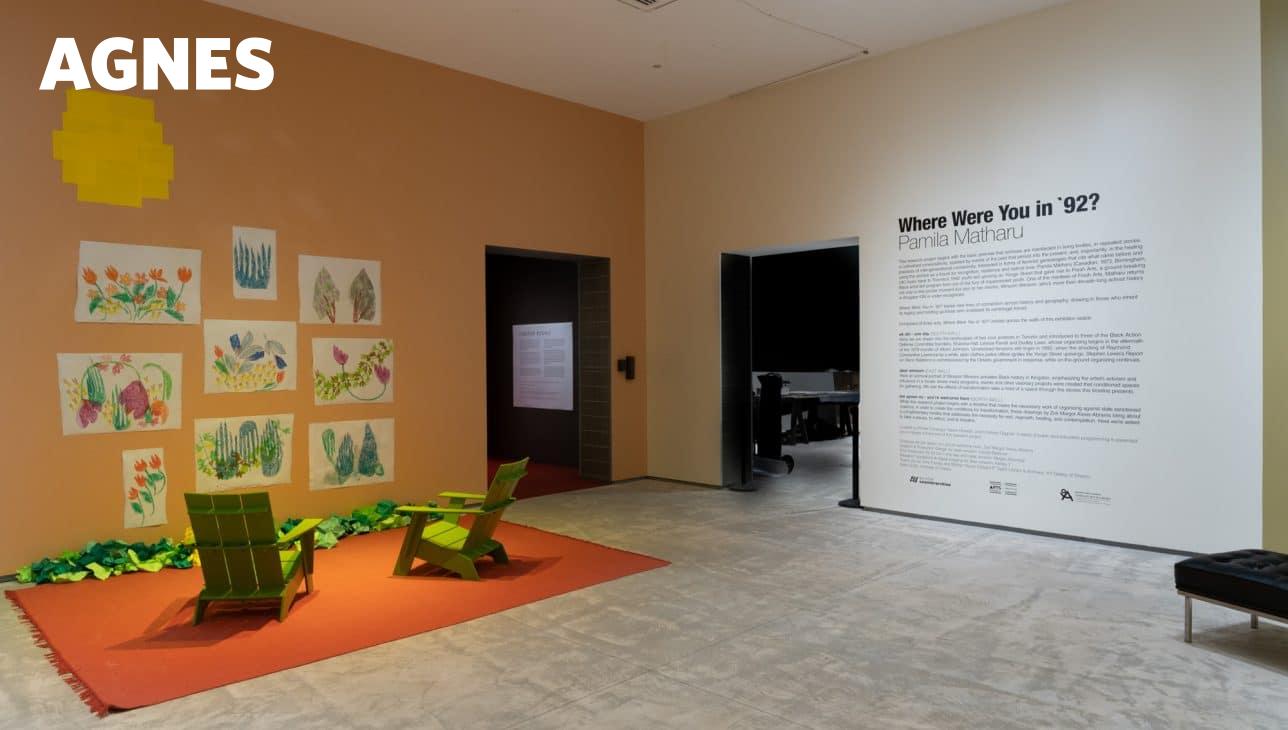 This Week at Agnes
IN THE GALLERIES
On view until 4 December
Visit this month and see Collection Count + Care, Land Protectors, The Fabrics of Representation, Fugitive Rituals, Pamila Matharu: Where Were You in '92?, and Winsom Winsom: The Masks We Wear. Transformations, the major graffiti commission stays on the exterior façades through June 2023.
Agnes is packing our 17,000-object collection in anticipation of our move. More details to come as we get ready to announce our temporary location and upcoming programming.
Installation view of Pamila Matharu: Where Were You in '92? Photo: Paul Litherland
Art and Wellness
8 November, 10:30–11:30 am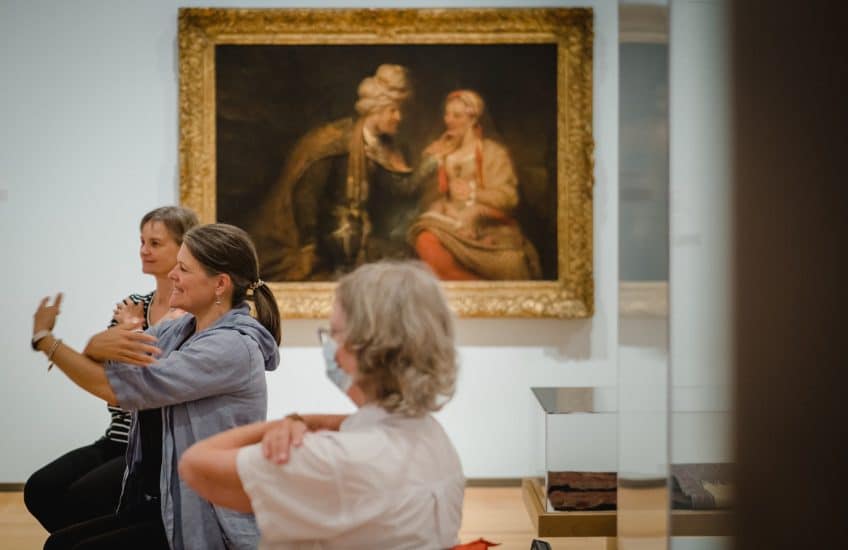 We invite those living with Parkinson's, their caregivers and loved ones to join us for this free movement class. Located in Agnes's galleries, these classes are creative, thoughtful and inspire individuals to move in a way that makes them feel good. There is an opportunity for improvisation and collaboration at each session. This program is facilitated by Amy Booth, a registered Physiotherapist and dance educator. Sign up
Creative Movement in the Bader Gallery with Amy Booth.
Guided Tours
Lunch-hour and Late Night Tours offered
Gain a new perspective and understanding of Etherington House, Agnes's own institutional history, our current Rehoming Agnes series and what the future holds in Agnes Reimagined. Sign up for these free, in-person tours led by Agnes Community Docents.
Thursday Tour
10 November, 12:15–1 pm
Late Night Thursday Tour
17 November, 7–7:45 pm
The Community Docent training program is supported by the Iva Speers Fund for Art Education.
Installation view of Alize Zorlutuna and SF Ho's Su Yollu Bulur (Water Finds Its Way), currently on view in Fugitive Rituals. Photo: Paul Litherland
Mercer Union presents
Online, 10 November, 6 pm
Listening to the Vault
Sebastian De Line and Qanita Lilla share their journey underground into the vaults of the Agnes Etherington Art Centre to record a soundscape of their visit with the racialized Ancestors. Along the way, they draw on Hungry Listening (2020), a text by xwélméxw (Stó:lō) writer and curator Dylan Robinson that understands listening as a sonic encounter occurring between particular logics and bodies.
fORUM is Mercer Union's ongoing series of talks, lectures, interviews, screenings, and performances. Admission to their public programming is free, and all are welcome. Sign up
Mercer Union's fORUM with Sebastian De Line and Qanita Lilla
Fall Workshops
November 2022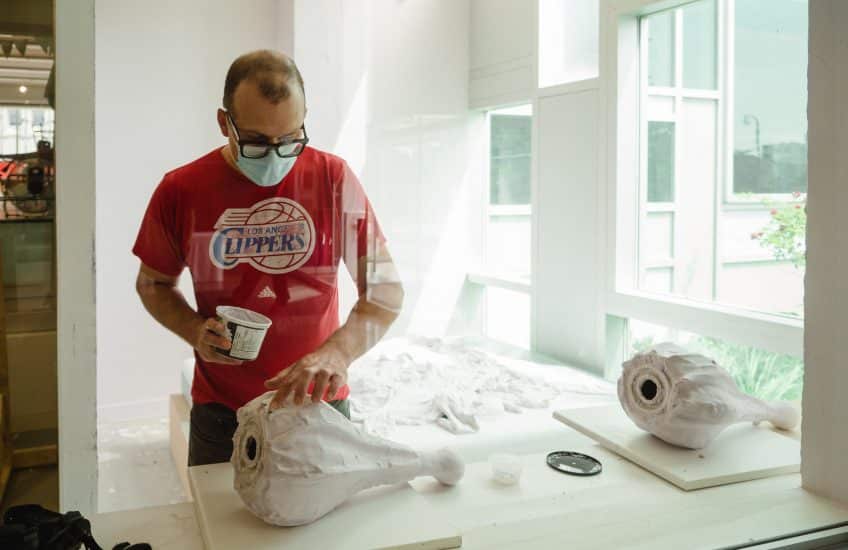 Art Hive @Agnes
Drop in for art and wellness with Harper Johnston. Materials are provided and no prior art experience is necessary.
In-person, 10 and 17 November, 4–6 pm
Sign up (free)
The Studio: Creative Ideation
Theo Anthony invites storytellers working with all mediums to join this exciting workshop about creativity and ideation.
10 November, 6:30–8:30 pm
Register / Apply for a bursary
The Mudpainters (for teens)
Teens have the opportunity to work with artist Nicolas Fleming on plaster, pigment and a variety of tools as they explore installation art, adding to and altering the very walls of A Mudroom.
19 November, 1:30–4:30 pm
Sign up (free)
Nicolas Fleming fabricating A Mudroom, an apartment fully covered in pigmented plaster, 2022.
Opportunities for Students
Apply by 14 November
This program supports a current graduate or upper-year undergraduate student at Queen's University. The Studentship offers an exciting experiential learning opportunity to further studies in Indigenous material culture within a professional museum environment. We encourage Indigenous students to apply.
One $2,500 Studentship is awarded for the Winter semester (plus up to $1,000 for research expenses, such as travel). Apply by 14 November. Read all of the details.
Roy Kakegamic, Survivor, 1982, acrylic on paper. Gift of David Clare, 2019
Apply by 19 November
Are you a Queen's undergraduate student interested in the complexities of museum collections and digital space? Join Agnes's Youth Advisory Council, build your network, and receive hands-on real-world experience. The course runs in person, January–March 2023. You can receive 3.0 course credits (or a micro-credential). Thanks to the Experience Ventures program, eligible students receive a stipend ($825) upon completion of the program. Apply by 19 November. Read more about the course and eligibility.
Museums Without Walls. Photo: Bojana Babic museusemparedes.com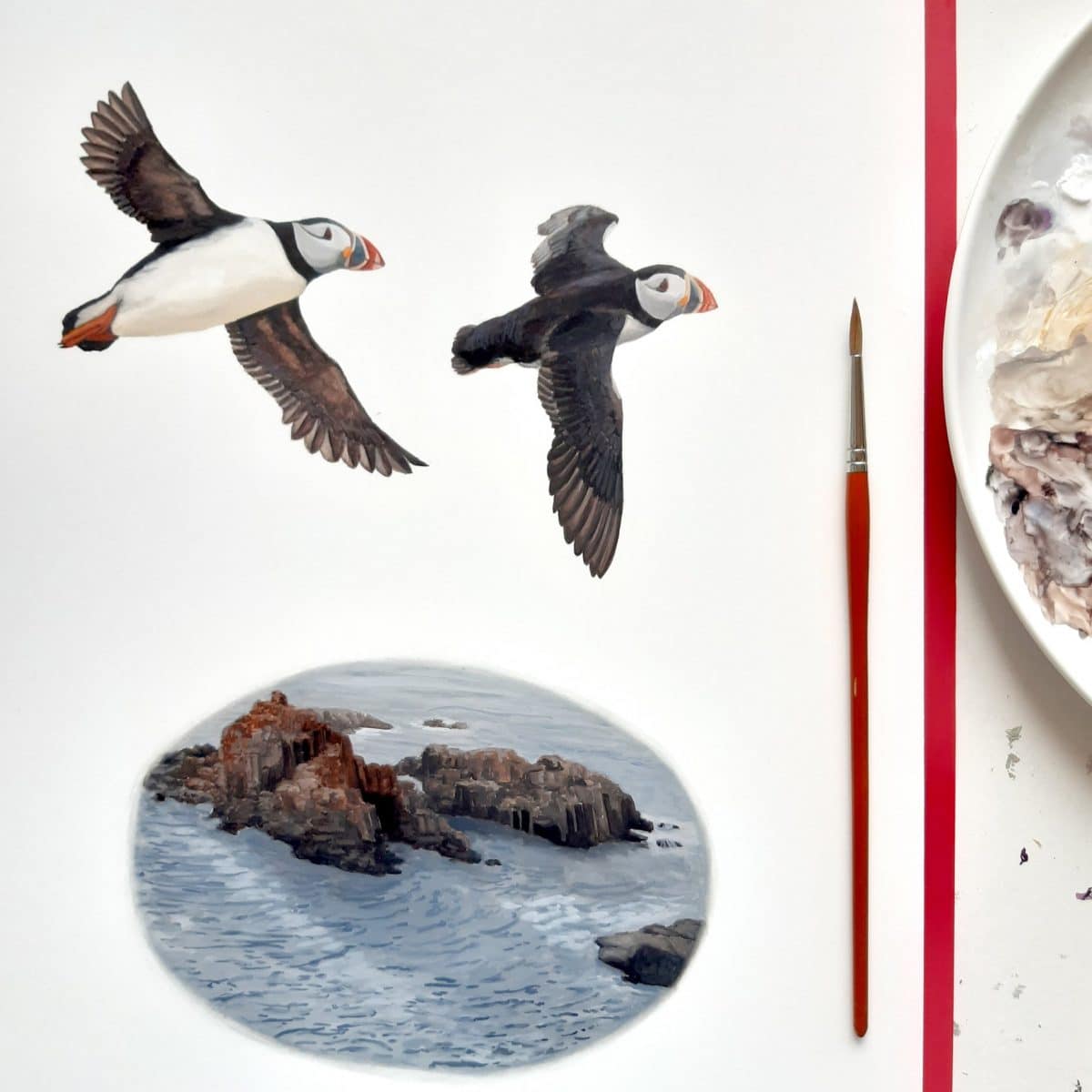 Chantal Rousseau, Puffins (work in progress)
Queen's University
36 University Avenue
Kingston, Ontario
Canada K7L 3N6
Agnes Etherington Art Centre is situated on traditional Anishinaabe and Haudenosaunee Territory.