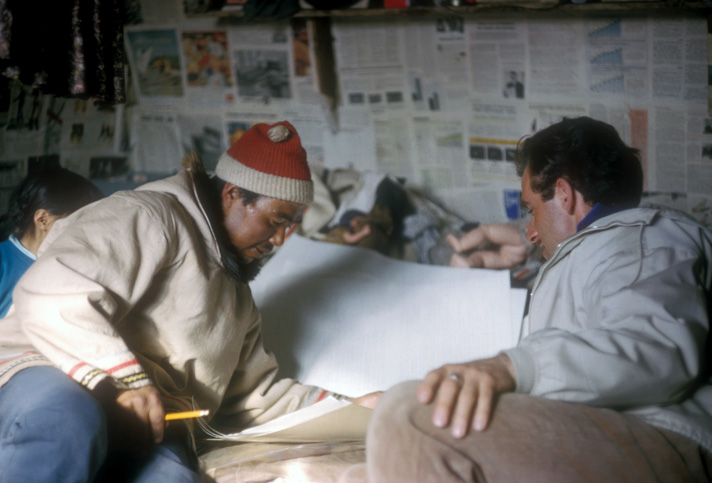 For his first job in the Arctic, Terry Ryan tended the meteorological station in Clyde River between 1956 and 1958. In 1960, he returned to the Arctic, but this time as the Arts Advisor and General Manager of the Cape Dorset art studio. Within these two years, Terry Ryan noticed that the Eastern Arctic had undergone sizeable changes. More outsiders (scientists, civil administrators, police, teachers, tradespeople) were travelling into the north, and an increasing number of Inuit were moving off the land to live permanently in the new wooden homes being shipped from the south. Terry Ryan also recognized that these changes would only accelerate due to day schools and residential schools, and the Federal Government's efforts to assimilate Inuit into "mainstream" Canadian society.
In 1963 Terry Ryan applied for a Canada Council Art Grant to "encourage and collect drawings from the people of North Baffin Island…before such chances are gone." He proposed to travel to three communities in the North Baffin region—Clyde River, Pond Inlet and Arctic Bay—distributing paper and pencils on his way in, and then purchasing completed drawings at his own expense on his way out. Terry Ryan specifically picked communities in North Baffin that had no formalized art programs, because he felt people would express themselves more directly, unhindered by the perception of having to make drawings that were acceptable to southern tastes.
By all accounts, Terry Ryan offered little to no instruction about what or how people should draw. Some people expressed concern about his intentions. Terry Ryan responded that the drawings would "introduce their talents to the people in the south, and be retained as a collection for their children." Most drawings include some Inuktitut writing, and virtually every drawing is signed, whether in syllabics, Roman letters, or with "disk numbers" (a government-issued unique identifying number used between the 1940s and 1970s). Terry Ryan did not travel to Igloolik but he sent paper to that community and invited people to make drawings, which were later mailed to him upon completion.
In early February 1964, Terry Ryan flew from Iqaluit (then Frobisher Bay) on lower Baffin Island, to Clyde River, Nunavut. He knew many people in the community due to his meteorological work six years earlier, which greatly facilitated his efforts. He spent more than a week in Clyde River, hiring a dog team and guides to travel to the outlying encampments to distribute paper and visit with old friends, such as Sakkiasie Arreak. With Arreak, along with Simeonie Qayak and James Jaypoody as guides, he travelled by dog team to Pond Inlet, a distance of nearly 400 kilometres. With the beautiful North Baffin Mountains as a backdrop, but beset by illness and slowed by rough sea ice, this trip took fourteen difficult days. After spending several weeks in Pond Inlet distributing paper, he flew to Arctic Bay, another 240 kilometers west. After Arctic Bay, he retraced his journey on his way home, collecting drawings at Pond Inlet and Clyde River before returning to Iqaluit in May 1964. He resumed his duties at Cape Dorset later that summer. The Hudson's Bay Company continued to mail drawings down to Terry Ryan over the coming months.
Biographical Note

Terrence Ryan, O.C., G.G., A.O.C.A., was born in Toronto in 1933 and graduated from the Ontario College of Art and Design in 1954. He first travelled into the Arctic in 1956 as a meteorologist in Clyde River and remained there for two years. He was hired by the West Baffin Eskimo Cooperative in 1960 to be the Arts Advisor for the fledgling art studio in Cape Dorset, Nunavut, and was promoted to General Manager in 1962. Terry Ryan remained in Cape Dorset for thirty years as General Manager, playing an important role overseeing three generations of graphic artists, sculptors, filmmakers and craftspeople in Cape Dorset. In 2000, he became the Director of Dorset Fine Arts, the West Baffin Eskimo Cooperative's Toronto-based marketing branch and remained there until his retirement in 2008.

A pragmatic and savvy manager, Terry Ryan advocated an "open studio" policy that brought an array of southern artists to Cape Dorset to create an open forum in which ideas and skills were shared between northern and southern artists. He promoted Cape Dorset art tirelessly, helped bring it to an international audience, and encouraged artistic experimentation with media such as ceramics, textile weaving, letterpress printing, and animation. He pushed Cape Dorset's print studio forward, leading it to become Canada's longest running private print studio. In recognition of his dedication and achievement, he was made a member of the Order of Canada in 1983 and was honoured with a Governor General's Award in Visual and Media Arts in 2010.